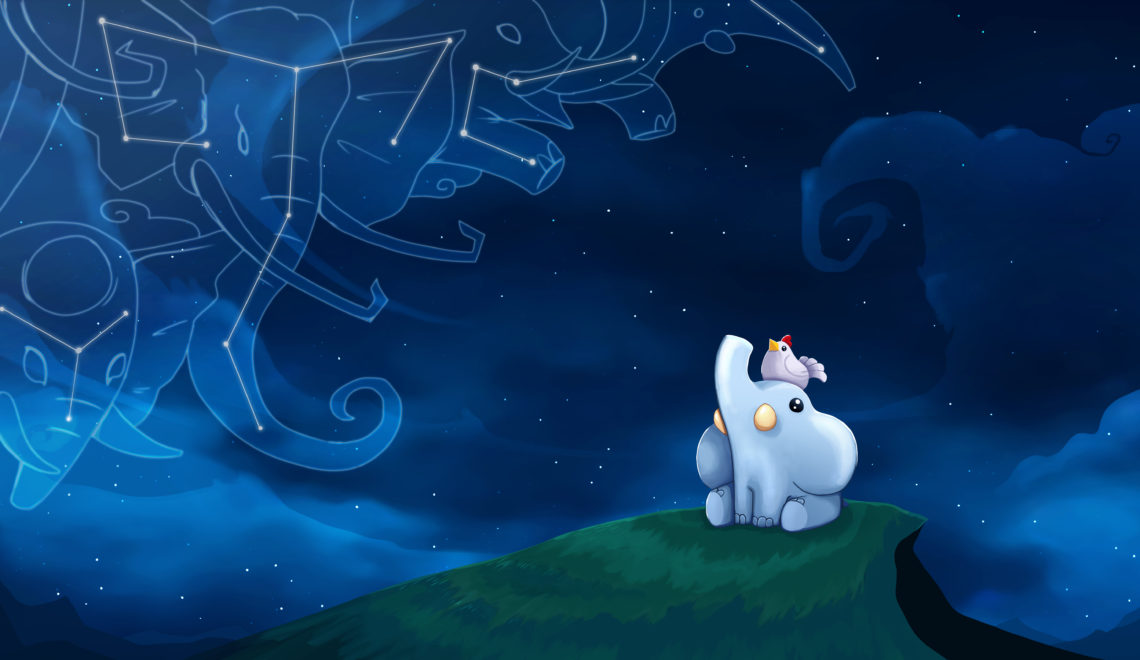 Available on eShop 10.12.2017
Yono and the Celestial Elephants
At first glance, this game looks like a really cute little casual game. After playing it for a few hours, though, it is so much more than that. I've found myself unable to put it down (even to just write this review).
Loading up the game and getting used to the mechanics, I became overwhelmed with joy that Yono could pick up cute little creatures and run around with them on her head. At first a turtle, then a chicken, even a hedgehog. I have to admit that I spent longer than I should have running around giggling at a chicken bouncing on my head.
The graphics are crisp and beautiful, definitely high on my aesthetic standards. Nice color choice for every aspect of the game and the crispness gives it a great feel. The layout and the land give almost an isometric feel, sort of like the MegaMan Battle Network games. It was nice and refreshing to see this style used again. The cuteness of this game, though, has left me wanting a Yono plush to adorn my bed.
But why, you may ask, do you play an Elephant and not a human? Well, according to the game's lore,
"Elephants are a mighty protector of the world, born from the stars once per millenium. This is the age of Elephant Yono. But Yono is still so very young and in a kingdom inhabited by feudal Humans, undead Bonewights and robotic Mekani. It's not easy to keep one's trunk out of trouble."
Yono is essentially a Celestial Spirit, sent from the stars to fix a world gone wrong.
Yono and the Celestial Elephant boasts a grand adventure, puzzles, treasure hunts and combat. As Yono, you fight to save a world and a people you have never met before (and a people who have never seen an elephant before!). Through the game, you will explore the rich history of a kingdom where humans, zombies and robots live side-by-side. Use your elephant trunk to solve puzzles and find secrets. Load it up with air, water and other things for different effects. Explore forests and caves to find treasures and upgrades. Piece together ancient texts to uncover the history of the world, the development of humankind and the influence of past Elephants.
As I first dabbled in to the game, after I got over the hilarity of animals bouncing around on Yono's head, I quickly became entranced in this world. Humans, yes, but I became very curious about the robots and the Bonewights. Who are they, why are they here, and do we like them? I won't give you the answers, though, you will have to find that out by playing the game.
Moving around the game was easy enough, you have the option of using either the D-pad or the joy stick to move Yono around. The one [mild] reservation I had about the game is that I found it sometimes difficult to target things (robogoblins or boulders) in order to headbutt them in to oblivion. While it was a small issue, it really didn't take away from the game play or make me want to put the game down; I just had to adjust how I played a little bit.
For this game, I definitely would recommend it to anyone who is looking for a cute and fun Indie game to play on the Nintendo Switch. I have thoroughly enjoyed playing it thus far and, believe me, I will be obsessively playing it until I have beat it. A must have for Nindies, for sure.
About the Development
Yono and the Celestial Elephants was developed by one person, Niklas Hallin, over the course of two years. Part of the development time was spent in
Stugan
, a game developer accelerator program deep in the forests of Sweden. The whole project was funded with money saved up while working as a game art freelancer for several years and by living cheeply.
Follow Niklas on:
Available on eShop 10.12.2017