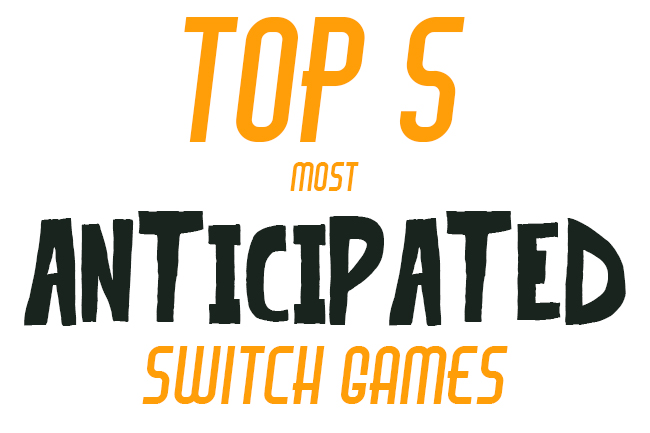 As discussed in a previous article
 (Top 5 Nintendo EShop Highlights) the Nintendo Switch has some absolutely brilliant games available, but we decided to go one step further and look into a few upcoming games that have caught our attention for all the best reasons, be it unique gameplay, interesting story or something that fits the Nintendo Switch in a perfect harmony. Some of these games may be ones that 
you
 have already heard of, but read on and see what else we are really looking forward too, because you may just discover something new like we did.
1) 

Yoku's

 Island Express – Team17

 
This beautiful game mixes adventure and pinball in a truly innovative experience. As the titular character 
Yoku
, you find yourself suddenly thrust upon the role of Postmaster when your now-predecessor departs. As you begin to roll through this gorgeous looking world you will discover the truth of what is happening on the island and begin an adventure that is a huge step for one little dung beetle. The gameplay of 
Yoku's
 Island Express strikes an incredible balance between 
it
s
 pinball sections and adventuring.  Having been lucky enough to demo the game at EGX 2017, I am so thrilled with just how well this game works on the Nintendo Switch. The controls are so intuitive and responsive, the artwork and music really bring an amazing quality of life to the game and ultimately, who can deny the sweet little face of 
Yoku
? 
Yoku's
 Island Express will be coming to the Nintendo Switch in 2018.
2) Fossil Hunters – 

Reptoid

 Games

 
A recent Kickstarter 
favourite
 and success story from 
Reptoid
 Games, Fossil Hunters takes the Action/Adventure genre to new depths with its inspired idea of being a paleologist who is plumbing the depths of the world to find fossils. Your objective here is to search for undiscovered fossils and build them together in whichever way you choose. With monsters that you cannot fight thrown into the mix, you have to use puzzle solving knowledge to get past the obstacles they present. Boasting character 
customisation
 for your explorer, a sandbox mode to freely construct new fossils and local co-op, Fossil Hunters looks set to be a great choice for the Nintendo Switch and I can't wait to fill the 
in-
game
 journal with all kinds of notes and sketches as I create some incredible fossils. Fossil Hunters is planned for release on the Nintendo Switch in 2018.
3) Flipping Death – 

Zoink

 Games

 
Flipping Death promises to be a dark adventure as you take on the role of Penny 
Doewood
, who thanks to a terrible accident finds herself in The 
Otherside
, which unfortunately for her means that she is dead. A morbid way to start a game leads into a funny and spooky adventure as Penny soon finds herself with a job in The 
Otherside
 (Whatever happened to Rest 
i
n
 Peace?) and a new ability to return to the living world and 
possess
 the people around her to help out the restless spirits with their unfinished business. Flipping Death easily fits the Nintendo Switch with its unique gameplay ideas (who wouldn't want to torment the living from the afterlife?) and 
Zoink
 Games have a great reputation of making funny and interesting games. Flipping Death is planned for release on the Nintendo Switch in Early 2018.
A twin stick shooter that is being specially crafted to fit the Nintendo Switch, RIVE Looks set to take the eShop by force. Boasting an impressive 
360
–
degree
 scope for blasting a trial of destruction wherever you find yourself, this 
game will be an impressive 
adventu
re
that also features the ability to hack enemy robots as you progress. Not to be outdone by simply looking impressive, Two Tribes have also taken great care to make special additions to the game with the Nintendo Switch HD Rumble, improved loading time on the console and the 60fps that a lot of gamers love to see. RIVE also has multiple game modes added in as well, including a 
speedrun
 mode and Battle Arenas, which will add a whole new 
layer 
of
 challenge. RIVE will be blasting its way onto the Nintendo Switch eShop later in 2017.
My Time at Portia – 

Pathea

 Games/Team17

 
The last entry to this list of games is My Time at Portia, a 3D Sandbox Adventure title which takes inspiration from titles such as Animal Crossing, Harvest Moon, Dark Cloud 2 and the works of Hayao Miyazaki. The game builds 
its
 world on the remains of an ancient 
civilisation
 and will focus on your character as you arrive in the town of Portia and using the workshop that you inherit from your Pa, you set about building a new life for 
yourself
 while building upon the town itself. My Time at Portia features a wide variety of things you can do, ranging from gardening, exploring, mining, building and battling across various different landscapes and dungeons. This is shaping up to be a great looking game and we can't wait to see what comes after the Kickstarter, especially after 
Pathea
 Games announced they have partnered with Team17 to work on the game. My Time at Portia will be releasing in late 2018.
So that brings us to the end of our most anticipated Nintendo Switch games! These games all look incredibly exciting and further reinforce the fact that the Nintendo Switch eShop has just a diverse choice in available and upcoming games. Did you learn about any new games from reading this? Is there a game you are really excited for? Let us know!