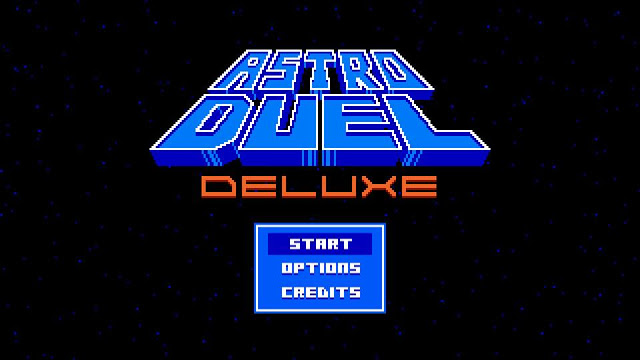 Developed By :
Panic Button                                      
Published By :
Panic Button
Release Date :
May 30, 2017
Mike Benton
Sometimes, a game doesn't actually need to be big, to have the feeling like it is. Astro Duel Deluxe certainly is a title that fits that description. It's a multiplayer (or solo vs computers) top-down spaceship combat game,pitting all the pilots in one of a dozen arenas against each other.
There are three different game modes featured in
Astro Duel
, Classic, Party and Chaos. All three revolve around the same basic mechanics, with minor tweaks applied to each mode, so let's cover the main gameplay first and then I'll discuss the differences.
In each round, you need a minimum of two pilots, and can have up to four or six depending on which mode you play (any combination of human and CPU). The pilots zip around the levels, shooting at each other with the basic gun that comes with each ship, or firing off the special weapons that can be picked up in each level. The last ship left standing is the winner. Rinse and repeat until one pilot has enough victories to win the whole tournament.
The length of the tournament is determined before you enter the first round, and you can make it short, normal, or long by setting the number of kills that must be achieved before victory is claimed. You can also decide if you just want to destroy ships, or if you want to kill the pilots themselves. If you decide on pilot kills, once the ship is destroyed, the pilots float around and can still be "driven" around the level. If you can survive like this for a short amount of time, your ship will respawn and you can continue on in the round.
There's a handful of different powerup weapons you can pickup in the levels, including a scatter shot, reflector, shield, jouster (which allows you to just drive into opponents), missiles and proximity mines. These are all single use weapons, and in the case of the shield it protects you for one extra shot, and the reflector also protects you from one shot that you take to the front and sends it back.
All of this is consistent no matter which of the three modes you choose to play Astro Duel Deluxe on. In Classic mode, the rounds feature between two and four pilots, while Chaos mode mus be five or six pilots. The biggest different is in Party mode. This is played with the Switch flat down on a tabletop, it uses the touch screen of the console, and instead of you getting free flight controls, you can only turn to the right by tapping and holding on the screen in your respective corner.
This game is a lot of fun, and extremely hard to put down. The only thing missing is online support, but multiplayer is supported no matter what way you're playing this game.