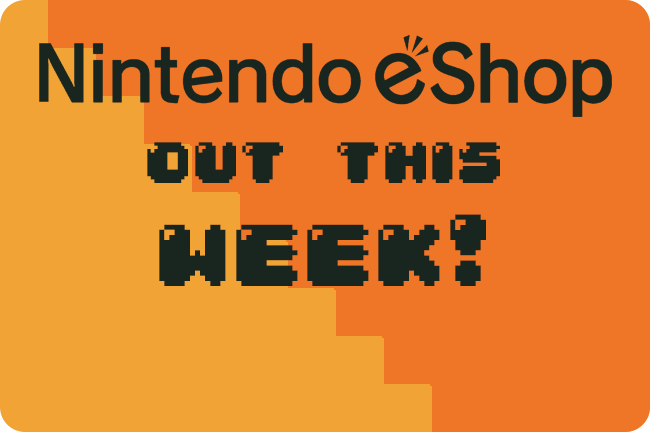 Out This Week 02.26 – 03.04
Nintendo Switch
Spot The Difference
Price – $9.99
Release Date – Feb 26
No. of Players – 1-2
Category – Arcade
Publisher – Sabec
From the original creators of the World famous Spot-The-Difference amusement machine game we bring you Spot-The-Difference on NINTENDO SWITCH, a TWO player version so you can play head to head against anyone, anytime.
This special edition of Spot-The-Difference has the same exciting game play as the original amusement machine game and just like the amusement machine It will take sharp eyes and quick wits to uncover all the differences before you opponent or against the clock in single player mode.
PAYDAY 2
Price – $49.99
Release Date  – Feb 27
No. of Players – up to 4 players
Category – Action, First Person, Multiplayer
Publisher – Starbreeze AB
Developer – OVERKILL SOFTWARE – A Starbreeze Studio
Also Available Physically
PAYDAY 2 is an action-packed, four-player co-op shooter that once again lets gamers don the masks of the original PAYDAY crew – Dallas, Hoxton, Wolf and Chains – as they descend on Washington DC for an epic crime spree.
Up to four friends co-operate on each heist, and as the crew progresses the heists gets bigger, better and more rewarding. Along with earning more money and becoming an infamous criminal comes new customization that lets players build and alter their guns and gear.
PAYDAY 2 comes with full touch screen menu support, and a newly developed rumble feature that responds as you, for example, fire weapons or throw grenades. There's also an added local multiplayer mode to the CRIME.NET – called CRIME.NET Local Play, that will make you able to set up a local game and invite friends that share the same local network. Finally, PAYDAY 2 comes with an exclusive character called Joy who's initially releasing only on Nintendo Switch™ – complete with her own mask and weapons.
Bridge Constructor Portal
Price – $14.99
Release Date – Feb 28
No. of Players – 1 player
Category – Simulation, Puzzle
Publisher – Headup Games
Developer – ClockStone
The bridge is a lie!
Enter the Aperture Science Enrichment Center and experience Bridge Constructor Portal – the unique merging of the classic Portal™ and Bridge Constructor™ games.
As a new employee in the Aperture Science test lab, it's your job to build bridges, ramps, slides, and other constructions in 60 test chambers and get the Bendies safely across the finish line in their vehicles.
Make use of the many Portal gadgets, like portals, propulsion gel, repulsion gel, aerial faith plates, cubes, and more to bypass the sentry turrets, acid pools and laser barriers, solve switch puzzles, and make it through the test chambers unscathed.
A Normal Lost Phone
Price – $5.99
Release Date – Mar 01
No. of Players – 1 player
Category – Adventure, Puzzle, Board Game, Other
Publisher – Plug In Digital
Developer – Seaven Studio
A Normal Lost Phone is a game about exploring the intimacy of an unknown person whose phone was found by the player.
The game takes the shape of a narrative investigation: you have to search the phone's text messages, pictures and applications, in order to learn about its former owner. Through this phone, you uncover Sam's life, friends, family and relationships, until the evening when they turn 18 and mysteriously disappear.
Features
An immersive and intuitive way of introducing the narrative through a fake smartphone interface.
A game that bridges the gap between reality and fiction by letting players act as themselves. The game asks a simple question: if you close the app but still think about the game, have you truly stopped playing?
A relatable story that helps build empathy with the characters, allowing to explore difficult topics.
Play in Portrait or Landscape mode and enjoy HD Rumble
Damascus Gear Operation Tokyo
Price – $14.99
Release Date – Mar 01
No. of Players – 1 player
Category -Action, Role-Playing
Publisher – Arc System Works Co., Ltd.
Developer – Arc System Works Co., Ltd.
Due to the bio weapons, "Rages" of which we lost control, the surface of the earth as we know it has been taken over. Wield the humanoid robot, "Gears" to take back the city!
Gears are enhanced through equipping a variety of over 460 parts.
Find the perfect combination that suits your playstyle.
―Story―
The GEAR System was developed sometime in the middle of the 21st century, by the Atsuga Corporation, and allowed pilots unprecedented motor-control and maneuverability with their machines. Mankind developed the system further, to create man-operated mechs and robots, known as GEARs.
In the year 2050, the world goes to war, in what would be known as World War IV. Nonetheless, the outcome, no one could have predicted…
The GEARs, which were the primary forces in battle became uncontrollable by their operators, and turned against mankind. GEARs that have gone berserk were named RAGEs, and left a mark on human history that can never be forgotten.
In 2097, the human population that remained was forced to live underground. And, in order to reclaim what they have lost to the RAGEs, they call upon the GEAR System once more.
Detention
Price – $12.99
Release Date – Mar 01
No. of Players – 1 player
Category – Adventure, Puzzle
Developer – Red Candle Games
Publisher – Coconut Island Games
Detention is a unique atmospheric horror game heavily influenced by Taiwanese/East Asian culture, religious elements and mythology. Based on the 1960's Taiwan under martial law, in this 2D atmospheric horror side-scroller, the player control characters who venture into the school beset by hostile supernatural events to uncover stories behind the haunted place. Incorporated the game provided players with unique graphics and gaming experience.
Little Triangle
Price – $14.99
Release Date – Mar 01
No. of Players – 1-4 players
Category – Action, Adventure, Fighting, Multiplayer
Publisher – KONANDENKI
Developer – Cotton Game
Little Triangle is a side-scrolling action game. Complete the stages by defeating the unique enemy characters and bosses.
Story Mode (1 player)
Packed with a variety of over 30 stages
Each stage contains hidden areas and caught citizens
Discover them all to complete the stages
MultiPlayer Mode (2-4 players)
Contains "Combat" and "Cooperation"
Play the Combat mode to enjoy the different stages with friends!
Cooperation mode will be played by a single player but with the help to complete the story mode
Single player mode will contain distinctive bits created specially for this mode
Challenge (1 player)
Challenge the boss stages with a time score
Mulaka
Price – $19.98
Release Date – Mar 01
No. of Players – 1 player
Category – Action, Adventure
Publisher – Lienzo
Developer – Lienzo
Dive into northern Mexico's breathtaking landscapes with Mulaka, a 3D action-adventure game based on the rich indigenous culture of the Tarahumara. Renowned for their impressive running abilities, embark on the journey of a Sukurúame – a Tarahumara shaman – as you fight back the foulness corrupting the land, while drawing upon the powers of demigods. From solving puzzles in environments inspired by real Sierra Tarahumara locations, to heated hand-to-hand combat with creatures pulled from the region's mythology, find out why the Tarahumara have earned a reputation for being superhumans.
Packet Queen #
Price – $4.99
Release Date – Mar 01
No. of Players – 1 player
Category – Puzzle, Board Game
Publisher – Studio F-Sharp
Developer – INFOARISE Co., Ltd.
Divide up the packets that appear one after another, and aim to get a higher score than your opponent. This is a competitive-type active solitaire game where you aim for a high score by gathering the necessary packets while avoiding specific colors and putting them together in poker-style hands. There are 39 stickers to collect based on how you play. Includes VS Mode where you can compete against other players over the Internet. Aim for a high rank after completing story mode!
[Story]
Juno is a girl living in Gaiapolis, who works hard everyday to become independent. She started working in data salvage because she heard that it pays well, but as a beginner, she just can't seem to increase her income. If only there was some way to increase her skills so that she could tackle more difficult assignments… Just as she's thinking this, the AI Prae, who lives in her head, suggests a certain game. The title of the game is Packet Queen and just playing it increases one's technical abilities. Juno lightheartedly decides to give it a go, unaware that the game conceals an outrageous secret…!
Paper Wars: Cannon Fodder Devastated
Price – $9.99
Release – Date Mar 01
No. of Players – 1 player
Category – Action, Arcade
Publisher – iFun4all
Paper Wars: Cannon Fodder Devastated is the refreshed, updated, remastered, and enhanced edition of the beloved Wii tower defense-like game! With updated graphics built from the ground up in Unity and a brand-new chapter where we've exchanged soldiers for zombies, it's just better than ever!
Prepare to face wave after wave of enemy soldiers and vehicles trying to cross the battlefield – don't let them!!! Get in your tank, take control of the cannon, and wipe them out. Collect power-ups to call in an airstrike, use a special triple-shot skill, or slow time, well, to slow time! Simple and effective. Just be careful not to blow up the power-ups. Friendly fire, soldier! Friendly fire!!!
The game contains:
Three campaigns, each with 20 missions.
One brand-new campaign designed from scratch…
… with zombies in it! Fighting robots was boring.
Sketch-like art style that could only be created by sleepy kindergartners.
Three difficulty settings.
And a survival mode!
Subsurface Circular
Price – $5.99
Release Date – Mar 01
No. of Players – 1 player
Category – Adventure, Puzzle
Developer – Mike Bithell Games
Publisher – Ant Workshop
A detective stationed on the Subsurface Circular investigates a series of disappearances among the city's robotic working class. Collect words and phrases, then use them in dialogue puzzles to uncover the world's secrets and determine its future.
Inspired by classic adventure games and modern dialogue systems, Bithell Games has created a single session story which respects your time and your intelligence.
A MATURE, POLISHED, ONE-SITTING GAME
Developed by the award-winning team behind Thomas Was Alone and Volume.
A GRAPHICAL TWIST ON THE CLASSIC TEXT-BASED ADVENTURE
Use 'Focus Points', a unique vocabulary-based inventory system.
ORIGINAL SOUNDTRACK BY DAN LE SAC
As part of immersive and atmospheric soundscape.
EXPLORE THE ART BEHIND THE GAME
Comprehensive art gallery featuring the detailed work that went into this world.
AFTER IT'S OVER, ENJOY AN IN DEPTH COMMENTARY
Unlockable 'BithellBot', our interactive take on a developer's commentary.
Totes the Goat
Price – $4.99
Release Date – Mar 01
No. of Players – 1 player
Category – Arcade, Puzzle, Platformer, Action
Publisher – Atooi
Developer – Atooi
Happily hop your little goat through this modernized vision of classic and beloved arcade gameplay. Totes the Goat is a charming game with vibrant voxel art and a cast of fun playable characters to unlock. It will have you leaping like a kid in no time!
Jump from platform to platform – bringing each one back to life – while avoiding hazardous Wily Wolves, Cranky Crows, and Bully Bears – oh my! Once a level is fully rejuvenated, hop down to the next level for an endless journey of jumps!
Super Toy Cars
Price – $9.99
Release Date – Mar 02
No. of Players – 1-4
Category – Racing, Arcade, Sports
Publisher – Eclipse Games
Developer – Eclipse Games
Super Toy Cars is a tabletop arcade combat racing game featuring fast and cool looking cars, impressive tracks made of everyday objects and a bunch of power-ups that will let you destroy your opposition. Collect all cars and upgrades to keep up with competition while you progress in career mode or have a quick race either against AI opponents or against friends. You can play up to 4 players locally.
There are 16 different cars in the game each one with its unique handling model. You can experiment with them and play the ones that best suite your driving style and the different situations you'll find in our 15 tracks. Oh, and maybe you'll want to use different cars depending on which type of event you're playing, because we have 48 events in career mode, but not all of them are races! Super Toy Cars is big and with lots of options for you to tinkle and play with, but most importantly this game has been carefully crafted to be fun play and fun to race, either alone or with friends.
Buy All This Weeks Releses Here: Nintendo eShop
Source :Nintendo