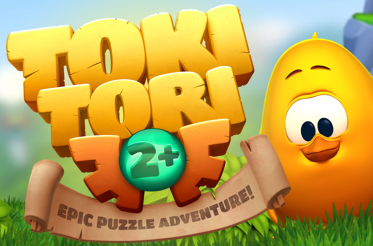 Toki Tori
Toki Tori was the first game ever released by Two Tribes, in 2001 on Game Boy Color. It was a level-based egg collection puzzle platformer starring a cartoon chicken, that was remade into a WiiWare launch title in 2008. It's appeared on many platforms since, including PC, Mac, PlayStation 3, iOS, Android, Wii U and Nintendo 3DS.
Toki Tori 2+
After the initial Toki Tori 2 Wii U eShop release in 2013  Toki Tori 2 was improved for the PlayStation 4 release and now for the Nintendo Switch release.
Toki Tori 2+: Nintendo Switch Edition
Experience Toki Tori's Epic Puzzle Adventure on the go, for the first time ever!
Explore an enthralling forest island, learn magical songs and interact with the local wildlife to solve environmental puzzles.
Toki Tori 2+'s ingenious game design requires just two moves: whistle and stomp. It's super accessible, yet it builds up to incredible complexity later on.
There's a ton to do, too. After puzzle-solving your way to five Ancient Frogs and saving the island from a strange pollution, you can still find 100s of golden wings and snap dozens of creature pictures.
Toki Tori 2+ is better than ever on Nintendo Switch, with lots of gameplay tweaks and even some new secrets and puzzle solutions. Plus, you can now create checkpoints wherever you like, allowing for easy experimentation.
A unique take on the Metroidvania formula
Follow the path, or stray off-road and tackle the expert puzzles
Whistle magical songs to rewind, fast-travel and more
Snap dozens of Tokidex creature pictures
Better than ever on Nintendo Switch:
Tweaked gameplay, new secrets and solutions
Buttery smooth graphics at 60 fps
Featuring in-game Achievements
HD Rumble support
Video capture support
[youtube https://www.youtube.com/watch?v=gHgD5_aL0_Q&w=1024&h=576]
Source: http://twotribes.com/