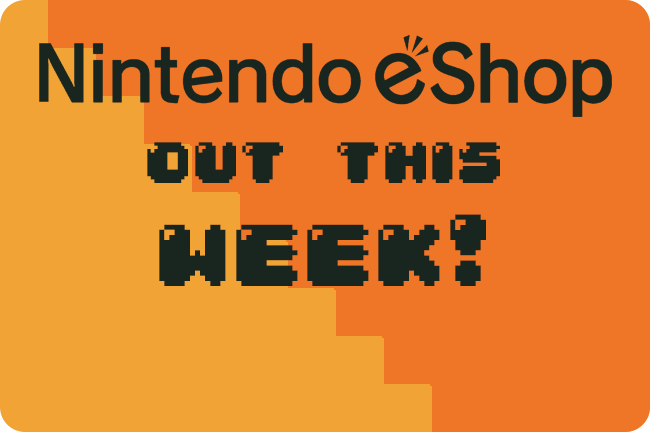 Out This Week 03.05 – 03.11
Nintendo Switch
Fear Effect Sedna
Price – $17.99
Release Date – Mar 06, 2018
No. of Players  – 1 player
Category – Strategy, Action, Puzzle
Developer – Sushee Games
Publisher – Square Enix
Thrilling action and stealth gameplay enhanced by the Fear system, an exciting story and ultra-stylish cutscenes. Harness your team's dynamic abilities to tackle enemies and puzzles like never before. This is the quintessential sequel for existing fans and a perfect starting point for newcomers.
The Fear Effect: When your fear meter rises, you will be more susceptible to injury but will receive a boosted damage output and special abilities. Deny fear with stealth and strategy through the new isometric viewpoint and Tactical Pause feature.
Enter the spirit realm: Encounter mystical forces of the Inuit and supernatural creatures of the spirit realm. Will you dare to face the unexpected?
Cinematic cut scenes: Striking animated visuals bring life to a wild, engaging story and dynamic characters.
An array of weapons and character abilities: From silenced pistols and defensive turrets to flamethrowers and monstrous transformations!
North
Price – $2.99
Release Date – Mar 06, 2018
No. of Players – 1 player
Category – Adventure, Puzzle, Other
Publisher – Sometimes You
In NORTH you play a man who applies for asylum in a city filled with strange creatures and strange customs.
Dealing with the issue of the contemporary refugee crisis while at the same time being deeply rooted in a classical cyberpunk atmosphere à la Blade Runner, NORTH features a dark synthpop soundtrack, a sprawling mega-city and weird monster-like inhabitants.
The gameplay is very straightforward and mostly consists of exploration and simple puzzles. The main difficulty is to understand what you have to do in order to get asylum. You've come from an foreign land in the south and find yourself lost and confused – a confusion you convey through letters to your sister back home. An important part of the gameplay, these letters help you understand your tasks while at the same time moving the narrative of the game forward.
Scribblenauts: Showdown
Price – $39.99
Release Date – Mar 06, 2018
No. of Players – 1 to 4 players
Category – Party, Multiplayer
Publisher – WB Games
Developer – Shiver Entertainment
Also Available Physically 
Use your imagination and go head-to-head in the ultimate multiplayer showdown! Enjoy a party-style Scribblenauts experience, conjuring from over 35,000 objects from the vast Scribblenauts dictionary to outsmart your opponent in over 25 mini-games!
Play solo or with up to 4 of your friends in Showdown Mode and imagine your way to victory through card-based strategy and creative skill.
Face off against a friend or the CPU in Versus Mode.
Go nuts in the Sandbox – Create Anything in 8 different Sandbox levels and watch what happens, solo or with a friend.
Create your own Scribblenaut by unlocking hundreds of wacky costume pieces and vehicles.
Bit Dungeon Plus
Price – $8.99
Release Date – Mar 08, 2018
No. of Players – 1 to 4 players
Category – Role-Playing, Action, Arcade, Adventure
Publisher – Dolores Entertainment S.L.
You wake up what seems like hours, maybe even days later trapped in a prison cell, and your friend is missing. You find a sword in your cell and vow revenge against the beasts who took your friend – the quest to find your friend one and destroy the demons begins!
Explore randomized dungeons and hack and slash your way through dangerous bosses. The difficultly increases as you become stronger and stronger. Build your character how you want with deadly passive abilities.
Just like the classic quarter crunchers of old, if you die you lose everything and start all over. Can you make it to the end and save the day?
Features
Large procedural dungeon generation, every time you play is different.
Randomly generated items.
4 Player couch co-op
Massive Bosses
Unlockables
Multiple endings
Bleed 2
Price – $14.99
Release Date – Mar 08, 2018
No. of Players – 2 players simultaneous
Category – Action, Adventure, Fighting, Platformer
Publisher – Digerati
Developer– BOOTDISK REVOLUTION
A furiously fun and fast-paced arcade action game, Bleed 2 welcomes back pink-haired heroine Wryn, the world's greatest – and only remaining – hero, as she fights to defend the globe from an invading force of villains. Master the art of air-dodging and bullet-reflecting to stylishly take down a relentless barrage of bad guys and bosses (and naughty kittys!), and make sure Wryn lives up to her title as the Greatest Hero of All Time!
GAME FEATURES
7 intense levels with over 25 boss fights
Unique controls let you shoot, dodge, reflect bullets and slow time all at once
4 difficulty levels that remix enemy placement and boss patterns
2-player local co-op for all modes
Unlockable weapons, characters and abilities
Arcade Mode: Tackle the game on a single life.
Challenge Mode: Fight up to three bosses at the same time
Endless Mode: Test yourself against a gauntlet of randomly-generated levels and daily challenges
EARTHLOCK
Price– $29.90
Release Date – Mar 08, 2018
No. of Players – 1 player
Category – Adventure, Role-Playing, Strategy
Publisher – Snowcastle Games
Developer – Snowcastle Games
EARTHLOCK is an adventure RPG inspired by the classic 3D RPGs of the late 90's, with a fresh take on turn based combat and character progression.
Enter a beautiful world haunted by its fateful past and join a party of unlikely heroes on their journey to rescue Amon's uncle from an ancient cult and uncover the secret of EARTHLOCK.
Explore the magical world of Umbra.
Fast-paced and highly strategic turn-based battles.
Harvest magical materials to craft helpful items and perks on your home island.
Utilize Your Talent Table: combining a classic 'skilltree' and equipment to customize your character's progression.
Alternate between 6 playable characters.
Grow your friendships between different character pairs for a strategic advantage in combat.
Help the people of Umbra along they way to unlock more useful items.
I, Zombie
Price – $4.99
Release Date – Mar 08, 2018
No. of Players – 1 player
Category – Puzzle, Strategy
Publisher – Awesome Games
Developer – Awesome Games Studio Sp. z o.o.
Command your zombie horde and infect the whole world! Fool the military and ensure no one stays safe – it's the Zombiepocalypse, with built-in level editor!
Once you were a human, like everyone else, but that doesn't matter anymore. Your sole purpose is simple – eat as many brains as possible and turn everyone into your kind. Become a leader of your horde and infect all the humans on the map. Whenever you turn another poor human being into a brainless, green-skinned creature, you gain full control over their existence. You can command your horde to attack armed soldiers, infect helpless civilians, follow you, or await orders. Each scenario requires a different tactical approach and careful planning to achieve world domination.
And if you think you're done after spreading your plague on all campaign levels, it's time for the next step – I, ZOMBIE's built- in level editor lets you build your own maps and challenge your skills just the way you like.
I, ZOMBIE MAIN FEATURES
Be a zombie, eat brains!
Control your minions by simple commands – you might be dead, but who said the dead can't come up with great strategies?
Simple, arcade and puzzle-like rules – be smart, be sneaky, unleash the zombiepocalypse!
A comic setting – zombies are cute and funny too!
In-game level editor – endless fun, and even more brains!
Midnight Deluxe
Price – $3.99
Release Date – Mar 08, 2018
No. of Players – 1 player
Category – Arcade, Puzzle, Sports, Adventure
Publisher – Ratalaika Games
Developer – Petite Games / Ratalaika Games
Introductory offer for a limited time! Offer will expire on March 18th.
In this golf-like game with a perpetual darkness setting, your task is to guide a little square-shaped fairy, named Midnight.
Use your controller or touch-screen controls, to launch Midnight into the night sky, but watch out! The world of Midnight is a dangerous one thanks to the likes of spikes, circular saws and plenty of other dangerous objects and even if you do manage to get Midnight into the safe zone, to advance to the next level, there's the added challenge of trying to complete each level in the least amount of shots as possible to get all three Stars.
Features:
70 engaging levels that get progressively harder.
Enhanced graphics that are even greater than those seen in 36 Fragments of Midnight.
Controller support added: Touch-screen controls have also been added for the players who would rather use their fingers.
A soothing piano soundtrack throughout to complement gameplay.
Steredenn: Binary Stars
Price – $12.99
Release Date – Mar 08, 2018
No. of Players – 1-2 players
Category – First Person, Multiplayer, Arcade, Fighting
Publisher – Plug In Digital
Developer – Pixelnest
Endless chaotic space shooter. Ruthless roguelike inside.
Steredenn: Binary Stars is an award-winning mashup of a classic shmup and a rogue-like, carved in big beautiful pixels, with insane boss battles. Fly solo or co-op with a friend, fighting off the worst scourges of space in a never-ending struggle for survival.
Steredenn: Binary Stars is the hugely expanded version of the acclaimed Steredenn. Enjoy infinite replayability and unforgiving gameplay through intense boss fights, (almost) randomly generated environments, twisted space events and a massive arsenal of weapons.
Enhance your ship during your flight with upgrades aplenty, and forge your own path across the universe!
QUICK, INTENSE SESSIONS: with rock-hard boss battles that'll keep you coming back for "just one more run"
INFINITE REPLAYABILITY: Endless arcade action, where levels are (practically) randomly-generated.
LOCAL COOP MODE: 2 ships, 4 weapons, 1 lifebar – test your friendships!
5 PLAYABLE SHIPS: each with its own special ability and playstyle
MIGHTY ARSENAL: 42 weapons and 30 upgrades with tons of customisation options
BOSS RUSH: fight a weekly selection of epic bosses and work your way up the leaderboard
DAILY RUN: Try to get to number one in a special daily leaderboard where all players share the same run, guns and bosses. Be ready – you only get one chance per day!
ARENA: Unlock a boss by defeating it in the main game. Then, train against it in a 1-on-1 duel. Your guns, your laws, your fight.
THE ULTIMATE EDITION: Loads of new content, reworked balancing, scoring, optimisation & always more polish
The Men of Yoshiwara: Ohgiya
Price – $14.99
Release Date – Mar 08, 2018
No. of Players – 1 player
Category – Adventure
Publisher – D3Publisher
Developer – D3 PUBLISHER Inc.
"The Men of Yoshiwara: Ohgiya" is a popular romance game in Japan aimed at a female audience. Step into the pleasure district of Yoshiwara with the roles of male and female reversed and enjoy a heart-rending love story.
Available in Japanese, English, and Traditional Chinese.
The Story
Yoshiwara, housed in the center of the island, always had a beautiful glow to it…
Hoping to attend one of the banquets held every night in Yoshiwara, you, daughter to a wealthy merchant, enter the pleasure district with the bodyguard Musashi Takenouchi at your side.
Once at the banquet, you find yourself presented with men so beautiful you can scarcely believe they're of this world.
They beguile you with tempting eyes and practiced movements.
One of them lightly whispers loves to you, and as you find yourself drawn to and suspicious of him, you want to see him again. Which one of them is it? Who will you choose?
The Trail: Frontier Challenge
Price – $14.99
Release Date – Mar 08, 2018
No. of Players – 1 player
Category – Adventure, Simulation, Role-Playing, Strategy
Publisher – Kongregate
Developer – 22cans
Are you ready to climb the tallest mountains, wear the finest clothes, and earn a fortune beyond compare?
Then welcome to the New World! Welcome to The Trail: Frontier Challenge!
Join pioneers from across land and sea in an epic journey across an undiscovered country! Walk down the single track path of destiny at a calm and measured pace! Get out there and make your mark upon the world, adventurer!
And you are not alone in your travels! Every person you meet on The Trail is another player who will trade with you at campfires located along the way.
Race, collect and compete in a variety of fun challenges
Choose from five professions (Lumberjack, Hunter, Cook, Tailor, and Explorer)
Earn skill points and level up in your chosen profession to become a Master!
Learn to craft increasingly valuable items and amass a fortune
Customise your style with a variety of outfits and clothing items
Fill your backpack on The Trail, but be careful! Those who take too much can end up collapsing and losing precious items!
Settle down in the town of Eden Falls
Join other players and form your very own community
Make your house a home with a wide variety of furnishings
Get your very own pet dog to accompany you wherever you go
Upgrade your house to be the envy of all your neighbours
Trade and share with other players to expand your town for the benefit of all
Grow together, work together, and one day, perhaps you might even become mayor!
World Conqueror X
Price – $8.99
Release Date – Mar 08, 2018
No. of Players – 1 player
Category – Strategy, Simulation
Publisher – CIRCLE Ent.
This entry in the long-running series offers varied missions, with a strong focus on history to add intrigue to each battle.
Across dozens of battles and multiple modes you manage a diverse range of troops and military units in turn-based conflict, utilizing advanced strategies such as air defenses, while always being mindful of battlefield environments and cities. You can level up your HQ, capture enemy strongholds and also strengthen your own cities, build landmarks and gain access to powerful Generals. Battles take place on the ground, at sea and in the air, requiring careful strategy for victory.
There are two main modes that combine to offer many hours of challenging strategic warfare. Scenario Mode includes Axis and Allied missions from WWII in Europe and in the Pacific, as you experience key historic battles from both sides. There are 40 missions (plus tutorial stages) to conquer.
You can also engage in Conquest Mode, choosing a starting point of 1939 or 1943. Choose from over 20 countries and seek strategic and military dominance over your foes.
Features:
Turn-based strategic warfare based around key events from World War II.
Engage in historic battles from both the Allied and Axis perspective in Scenario Mode, with 40 battles in total.
Build your own wartime empire in Conquest Mode, choosing from over 20 countries.
Develop your HQ, earning access to powerful Generals and perks to turn the tide of battle.
Consider all aspects of strategy – ground units, air and sea battles, establishing defenses and evolving your cities to boost your chances of success.
Utilise touch controls in handheld mode or use a controller for portable, desktop or TV play.
A Switch console exclusive.
Flinthook
Price – $14.99
Release Date – Mar 09, 2018
No. of Players – 1 player
Category – Action, Platformer, Adventure, Arcade
Publisher – Tribute Games
Developer – Tribute Games Inc.
HOOK INTO ACTION! SHOOT, LOOT AND PLUNDER!
Live the life of space captain Flinthook! Armed with your mighty hookshot, your uncanny slow-motion powers and your trusty blasma pistol, plunder and fight your way through an infinite variety of randomly-assembled spaceships for treasure, loot and fame!
Flinthook is a fast action-platformer with "roguelike" elements. Become space's greatest pirate with your hookshot, pistol and slowmo powers!
Zip around with your mighty hookshot! Aim freely and toss your giant anchor at golden rings to propel yourself around the levels at high speeds, giving you the agility and swiftness needed to dodge hazards and enemy bullets.
Shoot in 360° through your Blasma Pistol! Take down all sorts of enemies with fresh hot bullets!
Look really cool with slow-motion powers! Your Chrono Belt slows down time to adjust your aim or pull off a tight stunt – it recharges real quickly so you can use it often and look at least 200% cooler.
Blast through randomly-assembled pirate spaceships! Each level is special, as ships are procedurally built from hundreds of hand-crafted rooms, modified by various variants, filled with extraordinary treasure and populated by random waves of enemies.
Hunt down the pirate bosses of the Cluster Clan! Feed your compass creature to pinpoint the bosses' location, then take them down and bring your bounty home. Your rivals are no space chumps, make sure you're ready for the challenge!
Collect rare relics and powerful perk cards! All the treasure you loot builds up your legend – unlock new equippable perks as you level up, buy permanent upgrades in the Black Market, and hoard collectible relics and lore pages!
Who will be the best pirate today? Compete for the best score and time in the daily & weekly challenges!
Uncover some mysterious secrets?! I don't know, are there secrets in this game? O_O
One Eyed Kutkh
Price – $4.99
Release Date – Mar 09, 2018
No. of Players – 1 player
Category – Adventure, Puzzle, Education
Publisher – Sometimes You
Developer – Sometimes You
One Eyed Kutkh – an exciting space adventure based on the fairy tales of the Far North.
A single traveler on his way home crashes on a mysterious planet. To continue his journey, he'll have to get to the ninth heaven, deceive the Sun and the Moon and steal their space-boats.
Game features
The unique graphic style
A mix of fiction and fairy tales of the Far North
Explore the World Tree
Two playable characters
The game tells its story through the action
Interesting and simple puzzles for everyone: from child to elder
Spy Chameleon
Price – $7.99
Release Date – Mar 09, 2018
No. of Players – 1 player
Category – Arcade, Puzzle, Adventure, Other
Publisher – Unfinished Pixel
Spy Chameleon is an arcade-puzzle game where the player must avoid being seen thanks to the chameleon's ability to change colors and camouflage.
Through 5 missions and 75 levels, the player will discover different enemies and abilities to complete these super-secret missions: taking photos of a celebrity with her lover and stealing the secret formula of a successful soft drink are just two examples.
Watch your enemies, choose the best path and run to the next safe point. The duration of each level can mean finishing a game in just minutes or spending hours trying to complete the missions and all the challenges, getting the best time among your friends or completing all the achievements.
Game features:
change colors to camouflage yourself with your surroundings
75 levels where the difficulty increases as you learn new mechanics
3 challenges in each level: gather collectables and beat a time
playability that combines reflexes, synchronization and strategy (at 60 FPS in 1080p)
compare your best times with those of your friends or the whole world
TurtlePop: Journey to Freedom
Price – $19.99
Release Date – Mar 09, 2018
No. of Players – 1-4 players
Category – Platformer, Puzzle, Adventure, Multiplayer
Publisher – DigiPen Game Studios
Developer – Zengami Pte. Ltd.
Zesty Turtle Surprise, the Platform-Puzzle game arrives!
TurtlePop: Journey to Freedom is a platform puzzle game that introduces Bebo, Deephi, Slimmie, Smarts, Willis and Sparky the Turtle. Master new gameplay with multi-character control and turtle-linking, environment manipulation, item deployment and match 3 mechanics that make challenges even more fresh, intense and fun!
They are aided by 'The Genie,' who is an airborne support turtle that you can use to manipulate the game world and enhance the abilities of the turtles!
In Campaign mode, free the turtles from a menagerie of over 100 stages across seven game worlds in single or two player co-op modes.
Along your journey, hunt for Sun-Coins, Moon-Pearls, secret treasure and hidden turtles. Earn Treasure Chests to discover and level-up over 15 types of Building Cards and more than 40 special items to enhance your powers and abilities!
Battle and play with friends in local Multiplayer with 1-4 players in versus or co-op modes. Arena Battle Crown Thief and Arena Battle Lick'em Up modes pit players against one another in a classic Arena Battle tournament format where the aim is to wear the crown the longest or lick, color and free the most turtles to achieve victory. In Turtle Clash mode, battle your friends in split screen on over 75 stages that can be unlocked in Campaign mode.
TurtlePop: Journey to Freedom is exclusive and optimized for Nintendo Switch running at native 1080p 60 when docked and native 720p 60 in Tabletop or Handheld modes.
Buy All This Weeks Games Here: Nintendo eShop
Source: Nintendo