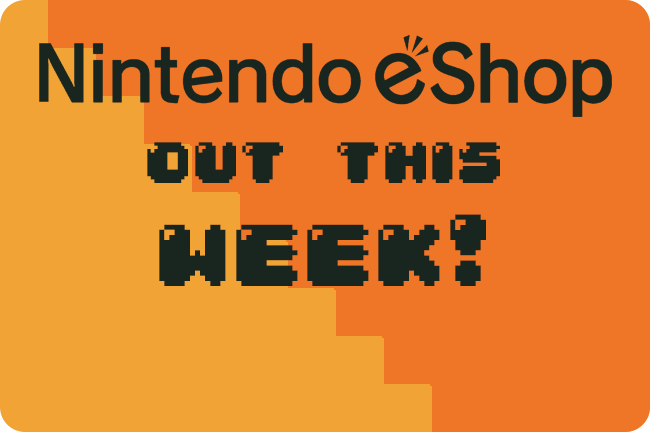 Out This Week 03.26 – 04.01
Nintendo Switch
D/Generation HD
Price – $9.99
Release Date – Mar 27, 2018
No. of Players – 1 player
Category – Arcade, Puzzle, Adventure
Publisher – West Coast Software
Developer – West Coast Software
Hours after receiving an urgent call in his Parris apartment, the protagonist of D/Generation, a nameless courier, arrives in London via his Jet-Pack, touching down on the 80th floor of Genoq Biolabs' medical research facility with an important package for lead Genoq scientist Jean-Paul Derrida. As soon as he enters, however, the doors shut and seal themselves behind him. This, however, proves to be the least of his problems, as the receptionist soon informs him of Genoq's dire state. All lines of communication to the outside world have been severed, and furthermore the building's security systems and dangerous Neogens have run amok. Despite the perils within and the receptionist's adamant warnings, the courier chooses to proceed, perhaps believing that the item in his possession holds the key to stopping the chaos which grips Genoq.
Over the course of his journey into the building's upper reaches, the courier learns that Genoq had been steeped in the realm of illegal bioweapon development for some time, and that their medical research, which had long ago become unprofitable for them, was little more than a front for their more lucrative practice of creating and selling biological weapons called Neogens. Derrida had been brought on by the company to spearhead a project which would create the ultimate Neogen, and the fruit of his efforts, an artificial organism dubbed D/Generation, was ultimately the source of the disturbances within the building. Further complicating matters, he also learns that Genoq's corporate leaders have authorized an airstrike against the building in order to prevent details of their activities from going public.
Outlast 2
Price -$29.99
Release Date – Mar 27, 2018
No. of Players – 1 player
Category – Action, Adventure
Publisher – Red Barrels
Developer – Red Barrels
set in the same universe as the first game, but with different characters and a different setting, Outlast 2 is a twisted new journey into the depths of the human mind and its dark secrets.
Outlast 2 introduces you to Sullivan Knoth and his followers, who left our wicked world behind to give birth to Temple Gate, a town, deep in the wilderness and hidden from civilization. Knoth and his flock are preparing for the tribulations of the end of times and you're right in the thick of it.
You are Blake Langermann, a cameraman working with your wife, Lynn. The two of you are investigative journalists willing to take risks and dig deep to uncover the stories no one else will dare touch.
You're following a trail of clues that started with the seemingly impossible murder of a pregnant woman known only as Jane Doe.
The investigation has lead you miles into the Arizona desert, to a darkness so deep that no one could shed light upon it, and a corruption so profound that going mad may be the only sane thing to do.
Warp Shift
Price – Nintendo Switch
Release Date – Mar 27, 2018
No. of Players – 1 player
Category – Puzzle
Publisher – Isbit Games
Developer – Isbit Games
an audio-visual voyage through time and space
Warp Shift is a unique puzzle game set in a mysterious world. It takes you on a marvelous journey that challenges your mind and stimulates your senses. Experience beautiful visuals, challenging puzzles and intriguing sound design.
Guide the little girl Pi and her magical companion through the maze-like confines of the enigmatic ancient chamber that keeps them trapped. Think ahead and alter your surroundings wisely to usher Pi back home – one move after another. Embark on an audio-visual voyage through time and space, never knowing where your next step will lead you.
A work of art: Enjoy a mesmerizing game that stimulates your eyes, ears and brains.
A unique kind of puzzler: Alter your maze-like surroundings to open new ways.
From one realm to another: Explore 5 unique worlds with 15 levels each.
Uncover the mystery: What secrets lie buried in the ancient chamber?
Flexible play styles: Play in front of your TV at home or on the go with full touch control support!
No stress or hurry: Play to relax, escape and clear your mind.
ClusterPuck 99
Price – $9.99
Release Date – Mar 29, 2018
No. of Players – 1 to 8 players
Category – Multiplayer, Party, Arcade, Sports
Publisher – Coatsink Software
Local multiplayer madness! ClusterPuck 99 is an 8 player sports game built for parties, competition and smack talk! Bash your friends to gain control of the puck and then fight your way through to your opponent's goal. Try to score while avoiding spikes and utilizing speed boosts to blast past other players.
Compete in intense local multiplayer matches on 30 maps designed to bring out your competitive spirit! Enjoy Single Player Challenge Mode, Instant Replays, Stat Tracking, Customization and a fully featured Level Editor!
Gotcha Racing 2nd
Price – Nintendo Switch
Release Date – Mar 29, 2018
No. of Players – 1 to 4 players
Category Racing, Action
Publisher – Arc System Works Co., Ltd.
Developer – Arc System Works Co., Ltd.
Get parts from the gacha! Customize your machine and drive the tracks!
Get parts from the gacha and customize your own original machine. Win a variety of races and aim for the top of the Grand Prix!
There are about 700 varieties of parts. Roll the gacha by prize money from racing, and upgrade to better parts! You can fuse the parts remaining to make the machine more powerful. Design your own original machine with them!
The machine spec is not only thing that make the difference in the match. Use the machine actions and heat up the racing!
Use a variety of effects such as variant, boost, barrier and interference, and defeat your rivals!
Drive 16 courses with simple operability and easy drifting! There are game modes that provide excitement for both single and multiple players!
Grand Prix Mode
You repeat racing and rolling gacha to upgrade your machine, and win and advance grades A through F in Grand Prix in this mode.
Time Attack Mode
The mode where you can enjoy competing the time attack results in each courses. In addition to the normal Time Attack, there are Time Attack events where you can get special parts. Your time can be submitted for ranking online to compete with rivals worldwide.
VS Mode
This mode allows a racing match with two to four players. You can enjoy exciting races at anywhere with controllers and the Nintendo Switch.
Minigame
You can enjoy the Mini GP race which is playable with unusual controls in the circuit that just fits in the screen, and the car battle where you use spin attack to knock off your opponents from the square shaped stage.
What will you choose to aim for, Grand Prix winner or the world top record? The world of exciting racing game is waiting for you!
Johnny Turbo's Arcade: Bad Dudes
Price – $7.99
Release Date – Mar 29, 2018
No. of Players – 1- 2 players
Category – Action, Arcade, Fighting, Multiplayer
Publisher – FTE Games
Developer – Flying Tiger Entertainment, Inc.
"Rampant ninja related crimes these days… Whitehouse is not the exception…". As soon as that occurs, a Secret Service agent asks two street-smart brawlers, the "Bad Dudes" named Blade and Striker: "President Ronnie has been kidnapped by the ninjas. Are you a bad enough dude to rescue Ronnie?" After hearing that, the Bad Dudes pursue the ninjas through the New York City streets, a moving big rig truck, a large storm sewer, a forest, a freight train on an old Southern Pacific line, a cave and into an underground factory in order to save President Ronnie.
TENGAI for Nintendo Switch
Price – $7.99
Release Date – Mar 29, 2018
No. of Players – 2 players simultaneous
Category – Arcade, Action
Publisher – Zerodiv
Psikyo is coming back!! TENGAI for Nintendo Switch
A great commander ruled an eastern plain for a long time, but his mind completely changed one day.
His evil power extended to his neighboring countries and the princess of western contry, fell into his hand. Princess Futsu learned about his dreadful plot inside the castle. The great commander gathers young ladies' souls to create an ultimate creature. That creature eats the souls to grow. When it's completely grown up, it could burn the entire world for only a short period of time. Princess Futsu's soul is the last key for its body to be completed.
The ceremony of Yorishiro (object representative of a divine spirit) will be held the next day at sunset. There is only one day left. She released her family treasures, the hisou stones, outside the castle.
The stones flew into the sky and fell into 5 brave warriors. The tale starts now!!!!
The Adventures of Bertram Fiddle: Episode 1: A Dreadly Business
Price – $4.99
Release Date – Mar 29, 2018
No. of Players – 1 player
Category – Adventure, Puzzle
Publisher – Chorus Worldwide Games
Developer – Rumpus Animation
The Adventures of Bertram Fiddle is a hilarious tongue-in-cheek point and click adventure game that mixes the classic formula up with riveting action elements all weaved together lovingly by Rumpus Animation.
In a quirky take on a Victorian London inhabited by strange characters, with even stranger noses, self proclaimed leading explorator, Bertram Fiddle, finds himself in a bit of pickle. Help him follow the clues and track down the elusive serial killer known only as Geoff the Murderer before he strikes again.
"It is quite possibly one of the finest point-and-click comedy murder mystery adventure games set in Victorian London you will play today" – Bertram Fiddle
Featuring
Intrigue, murder, mystery and terrible PUNS!
Beautifully animated interactions
Over 30 locations to explore
An original soundtrack composed by Cam Reynolds inspired by 1970s B movies
Unique Voice Acting
Riveting action sequences
HD art
The Charming Empire
Price -$24.99
Release Date – Mar 29, 2018
No. of Players – 1 player
Category – Adventure
Publisher – D3Publisher
Developer – OperaHouse Corporation
"The Charming Empire" is a dating simulation game set in the Taisho Roman era of Japanese history. Popular voice actors known for their talent in anime and video games bring our five main characters to life. Your ears will thank you to hear their performances across all the main scenarios.
Story
Our heroine, Amane Kosaka, was living a simple yet happy life in the countryside until one day she was suddenly taken away to live in the empire, summoned by her brother Soshi Amazaki — the current ruler. Though she was unaware of the underlying circumstances, she finds herself brought to this lively and palpable central city.
Living in the immaculate royal palace, our heroine comes to learn that the empire might not be as joyful as it seems.
Her brother is no longer the gentle man she once knew…
A corrupt organization secretly runs things behind the scenes…
The heroine's fate guides her down the path of love.
Voice Actors
Toki Tanba CV: Tetsuya Kakihara (柿原徹也)
Kei Yoshimine CV: Toshiki Masuda (増田俊樹)
Koichiro Sera CV: Takuya Eguchi (江口拓也)
Kagemitsu Togawa CV: Toshiyuki Toyonaga (豊永利行)
Soshi Amazaki CV: Kenjiro Tsuda (津田健次郎)
Illustrations
Zombillie
Price – $4.99
Release Date – Mar 29, 2018
No. of Players – 1 player
Category – Puzzle, Arcade
Publisher – Forever Entertainment
Help Zobillie reach the legendary meat farm!
The world has changed. Irrevocably and completely. Green parks have been replaced by grey ruins. Colourful meadows have become toxic swamps. Once vibrant lands are now littered with dust, rubble, concrete, and debris.
Most creatures did not survive the Great Change. The survivors faired rather poorly in the immediate aftermath, becoming prey to all manner of predator. However, a lucky few managed to survive even then, to adapt, to thrive, to evolve. Zombillie was one such creature.
Zombillie lived a comfortable life in his humble cave, hunting for meat, and as he hunted, he grew, and grew, and grew. Everything was going relatively well for Zombillie, except for one problem: Zombillie didn't have enough meat!
Help Zombillie reach the legendary meat farm! A long road lies ahead: 90 complex levels full of puzzles and traps. So stand on your feet – all 100 of them – and just ride!
Features
Almost 100 challenging levels
3 completely different environments
Lots of power-ups & gadgets to find
Various levels
2 additional types of mini-games
Addictive gameplay
Alteric
Price – $4.49
Release Date – Mar 30, 2018
No. of Players – 1 player
Category – Platformer, Arcade, Puzzle
Publisher – Sometimes You
Developer – Sometimes You
You are alone. Are you lonely? You're lost. Or stuck? Somewhere…but where? And most importantly, who are you?
Only Yesterday You Were A Man.
Today Everything Has Changed.
You Died.
But your soul is still there. It's a piece of light energy trapped in the alien space between two worlds.
Alteric
A single player 2D-platformer
Bright minimalistic graphics
Hardcore gameplay with physics, gravity and logic
2 interconnected parallel worlds
A variety of obstacles and dangerous bosses
Atmospheric soundtrack
According to the developers – 'We tried to develop a game in such a way that the player realized: here, Thomas meets with Dark Souls'
Farm Expert 2018 for Nintendo Switch
Price – $29.99
Release Date – Mar 30, 2018
No. of Players – 1 player
Category – Simulation, Strategy, Adventure, Role-Playing
Publisher – SimFabric
Developer – SimFabric Sp. z o.o.
The special edition of farming simulator Farm Expert 2018 for Nintendo Switch which succeeded on mobile platforms last year with over 2 million installations now on Nintendo Switch.
Farm Expert 2018 for Nintendo Switch includes over 20 unique agricultural machines and 4 open worlds, as well as over 50 hours of gameplay at the highest level of quality: driving the machines, managing the resources, a broad selection of agricultural activities.
You can plow, fertilize, harvest grain, breed cows, grow fruit orchards, buy and sell resources.
All of those features await in the most unique farm simulator that has ever appeared for mobile platforms.
Game features:
Over 20 agricultural machines
4 game worlds (American, German, Polish and English farms)
Over 50 hours of gameplay
Cow breeding, comprehensive field labor and fruit-growing
A store to buy the necessary materials and machines
and much more…
Shadow Bug
Price – $8.99
Release Date  -Mar 30, 2018
No. of Players – 1 player
Category – Platformer, Action, Adventure, Puzzle
Publisher – Muro Studios
Developer – Muro Studios
You are the overpowered ninja hero Shadow Bug! Save your home forest from the evil factory by slicing monsters to pieces. Adventure through beautiful and twisted landscapes full of action and adventure as the ultimate ninja.
A completely new take on platformer games.
36 hand crafted levels filled with action, exploration and puzzles.
Unique core mechanic: move by attacking enemies.
Breathtaking soundscape with an epic soundtrack and immersive sound effects.
Leaderboards for speedrunning levels.
Mesmerizing art with picturesque parallax backgrounds and mystical silhouettes.
6 memorable boss fights.
Toki Tori
Price – $4.49
Release Date – Mar 30, 2018
No. of Players – 1 player
Category – Puzzle, Platformer
Publisher – Two Tribes Publishing
Developer – Two Tribes
Take control of Toki Tori, a surprisingly heroic chicken, as he puzzles his way through 80+ levels spread over 5 unique worlds.
Toki Tori isn't very athletic, he can't even jump! Luckily he has some great tools at his disposal, including the Telewarp, Freeze-o-Matic and InstantRock™.
Creative thinking and problem solving are required to collect all eggs in each level, but don't worry! When you get stuck, you can always rewind the time. And if all else fails, use the Wildcard to skip a level.
Toki Tori for Switch is the most detailed portable version of the game so far. And at this price, why wouldn't you give it a go?
Classic egg-collecting puzzle platformer
80+ levels, 5 worlds, dozens of hours of gameplay
A wide variety of puzzle-solving items and weapons
Never get stuck: rewind the time or skip a level
Super smooth graphics at 60 fps
HD Rumble support
Video capture support
Spartan
Price – $11.99
Release Date – Apr 01, 2018
No. of Players – 1 player
Category – Platformer, Arcade, Action
Publisher – Sinister Cyclop
King Leo kicks platforming back to the arcades!
Sparta, 500 BC. The city-state's weapons, armor and gold have mysteriously vanished. Magical portals begin to appear throughout ancient Greece. As a king and the world's most fearsome warrior, Leonidas sets out to discover who is behind the threat, and recover everything that was stolen. You, are King Leo. And your aim is to make whoever is responsible and whatever stands in your way, rue the day they crossed your path.
Block, stomp, run, jump, fall, climb, cling, push, spring & slice your way to victory. Outsmart intelligent enemies, tread carefully through obstacles and use your wits to defeat bosses in epic battles.
FEATURES
Immerse yourself
Powered by UE4.
Memorable atmospheric soundtrack with ethnic overtones.
Crisp and detailed handcrafted art.
Hyper-smooth 2D physics based mesh animations.
Fun, intelligent and reactive enemies.
A huge variety of traps and obstacles.
Non-linear Levels
No matter which path you choose, you can always return to any point. Feeling greedy and want to go back and collect all of the coins? No problem! There is no area you cannot return to. But remember to plot your routes and keep track of where you've been, because without retrieving all of the artifacts or chests you won't be able to activate the magical escape portal. Not happy with your score? You can replay any level, any time, once it's been unlocked.
Pixel-perfect controls
When the margin for error is small, responsive controls are a sheer delight. You command, and King Leo executes with lightning speed. You say "Jump!", and he says "How high?" If your reflexes are fast enough, his reflexes will be fast enough. Every step counts and every move is in your hands.
Clocking in at a stable 60fps, "Spartan" leaves gamers no excuse to not succeed.
20+ Hours of Gameplay
More, if you want to unlock the entire gallery and learn some ancient Greek words!
With 4 distinct worlds and 24 challenging levels, you'll find yourself proclaiming: "Tough, but fair!"
100% Indie. Created by two brothers.
Buy all this week's great games here
Source : Nintendo