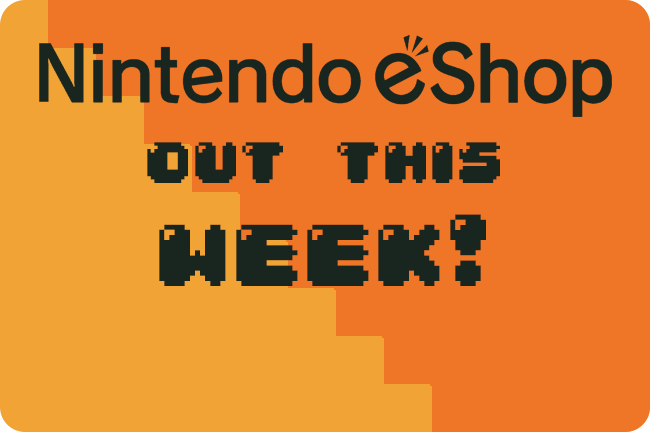 Out This Week
On The eShop
04.09 – 04.15
The Bunker

Price –  $12.99
Release – Date Apr 09, 2018
No. of Players – 1 player
Category – Adventure
Publisher – Wales Interactive Ltd.
Developer – Splendy Games / Wales Interactive
The multi-award winning FMV gameThe Bunker is a live-action psychological horror game starring Adam Brown (The Hobbit) and Sarah Greene (Penny Dreadful) with writing talent behind The Witcher, Broken Sword and SOMA.
As the last remaining survivor in a nuclear bunker, John's daily routine is the one thing that keeps him sane. But when an alarm goes off, his mind starts to self-destruct. Venture into long forgotten areas, recover repressed childhood memories and unlock the dark secrets of The Bunker.
Masters of Anima

Price – $17.99
Release Date – Apr 10, 2018
No. of Players – 1 player
Category – Adventure, Strategy
Publisher – Focus Home Interactive
Developer – Passtech Games
Masters of Anima is an original adventure game that takes you deep into the magical world of Spark. Battle against the forces of evil in strategic, action-packed battles, where making tactical decisions quickly is vital. Summon and control large armies of up to 100 Guardians, thanks to intuitive and innovative gameplay.
Play as Otto, an apprentice of Anima gifted with incredible powers and aspire to the rank of Master to finally marry your betrothed Ana – captive of the terrible Zahr and his fearsome Golems!
Use the powers of Anima to summon an army of magical Guardians. During your adventure, learn to control new types of Guardians, each with their own unique abilities useful for exploring the world of Spark, as well as for taking down formidable bosses on your way. Acquire new powers for both yourself and your Guardians, and become a true Master of Anima.
Save your fiancée – and maybe even the world while you're at it!
Super Daryl Deluxe

Price – $19.99
Release Date – Apr 10, 2018
No. of Players – 1 player
Category – Role-Playing, Action
Publisher – Dan & Gary Games
Developer – Dan & Gary Games
Experience high school again in Super Daryl Deluxe, the last totally normal high school-themed RPGvania you'll ever want.
Super Daryl Deluxe is an RPGvania with brawler-style combat set inside of a perfectly normal, sprawling, multi-dimensional high school. Like any other perfectly normal school, its students and faculty are going missing and the classrooms have been locked down for weeks. Yes, there's nothing remarkable happening at WFHS whatsoever – just ask the new principal.
Things are bound to get stirred up when an enthusiastic, bizarrely dressed new kid wanders into town. This go-getter's name is Daryl, and he just wants to make friends. What starts out as an innocent effort to help jump-start a young contraband textbook business turns into a harrowing quest through the school and its enormous, monster-filled classrooms in the hope of becoming the most popular kid in town. Oh – and saving everyone's lives is top priority, of course.
No need to worry. There's nothing to see here at Water Falls High School.
Bombslinger

Price – $11.99
Release Date – Apr 11, 2018
No. of Players – 1-4 players
Category – Arcade, Action, Board Game, Strategy
Publisher – Plug In Digital
Developer -Mode4
Wear the poncho of the Bombslinger, a ruthless bandit turned peaceful rancher on a quest to avenge the murder of his missus and destruction of his ranch at the hands of his former posse.
Bomb your way through hordes of enemies and master the classic bomb-slinging gameplay in a solo adventure with procedurally generated levels, character progression with skill upgrades, and a variety of offensive and defensive items.
And when you want a break from the solo adventure, take the fight to your friends in hectic 4-player deathmatch battles!
#Breakforcist Battle

Price – $11.99
Release Date Apr 12, 2018
No. of Players up to 4 players
Category Arcade, Multiplayer, Party, Puzzle
Publisher Lucid Sheep Games
Developer Lucid Sheep Games LLC
Are you hungry!? Introducing an all new version of the cult favorite breakfast/exorcism-themed waffle-busting game, #Breakforcist Battle! Use your magic paddle & ball to rescue breakfast with classic brick-breaking gameplay. Work together with a friend in cooperative play or challenge your friends in an all new competitive battle mode!
A collaboration between Lucid Sheep Games & visual artist Pete Ellison.
FEATURES:
An endless twist on classic brick-breaking gameplay, complete with crazy powerups!
Experience competitive brick-breaking in Battle Mode with up to 4 players! Clear waves quickly to win rounds while launching all-new attack powerups at your foes!
The original arcade-style game in solo play – try to survive endless waves of waffles and get a high score!
Work together in 2-player cooperative mode! You share one playfield but can only move on your half – you'll need teamwork to get a high score!
Bacon lasers!
An all original EDM soundtrack featuring songs like "WAFFLE♡LOVE" and "Brunch My Body"
You want characters? There's 8 of them!
Giant pancakes, that may or may not be flammable.
One-handed gameplay; get a high score while eating your breakfast!
Experience 0-button gameplay with the tilt control option.
Seriously, the soundtrack is really, really good.
Asdivine Hearts

Price – $12.99
Release Date – Apr 12, 2018
No. of Players – 1 player
Category – Adventure, Role-Playing, Simulation, Strategy
Publisher – KEMCO
Developer – Exe Create Inc.
One year ago, the world of Asdivine was enveloped by a brilliant flash of light. Since that time, the influence of shadow has only continued to grow ever more powerful across the face of the land. Although the event itself was undoubtedly connected with the heavens, few people seem to have realized the far-reaching implications of what transpired. Now turning to the present, a surprising revelation awaits a young man by the name of Zack and his childhood friend, Stella, in the capital from a chubby cat claiming to be none other than the Light Deity and declaring the world to be on the verge of destruction…
Asdivine Hearts boasts of groundbreaking visual quality, plenty of subquests, a battle arena, treasure to dig for, and an enemy guide to complete. By taking puzzle piece-like jewels and setting them in a box known as a rubix, players are able to customize characters! How far can you level and how many millions of damage can you dish out? All these challenges await you and more!
Burly Men at Sea

Price – $9.99
Release Date Apr 12, 2018
No. of Players 1 player
Category Adventure, Puzzle, Board Game, Other
Publisher Plug In Digital
Developer Brain & Brain / Seaven Studio
One of TIME's top ten games of the year, Burly Men at Sea is a folktale about a trio of large, bearded fishermen who step away from the ordinary to seek adventure.
Set in the waters of early 20th-century Scandinavia, the game's story branches through a series of encounters with creatures from folklore. You play as storyteller and wayfinder, shaping the narrative around three ungainly heroes. Play through once for a single tale, then set sail again to uncover paths to new adventures.
"5/5" – TIME
"It's whimsical and charming; a real breath of fresh air." – Paste Magazine
…
BRANCHING STORY: Play through multiple choice-driven adventures, each designed to be completed in a single sitting.
INNOVATIVE CONTROLS: Shape the narrative through a unique, draggable viewport and your interactions within it.
PLAYFUL AESTHETIC: Colorful art style with handcrafted animation, set to a whimsical original soundtrack inspired by the game's Scandinavian setting.
…
Burly Men at Sea is the second game from husband-and-wife team Brain&Brain, developed during their own adventures as nomads and erstwhile farmhands.
Don't Starve: Nintendo Switch Edition

Price – $19.99
Release Date – Apr 12, 2018
No. of Players – 1 player
Category – Adventure
Publisher – Klei Entertainment Inc.
Developer – Klei Entertainment
In Don't Starve: Nintendo Switch Edition, You play as Wilson, an intrepid Gentleman Scientist who has been trapped by a demon and transported to a mysterious wilderness world. Enter a bizarre and unexplored world full of strange creatures, dangers, and surprises. Learn to exploit the environment and its inhabitants to escape and find your way back home.
If you're ready for a new challenge, Reign of Giants expands the entire world of Don't Starve with new characters, seasons, creatures, biomes, and other challenges to Don't Starve.
If you're looking for adventures at sea, Shipwrecked will set you off to explore a mysterious new tropical archipelago that you can explore on both land and sea! Don't let the tropical breeze lull you into a false sense of security – the world might be different, but it is still equal parts unforgiving and uncompromising.
Do whatever it takes to survive, but most importantly, Don't Starve!
Regalia: Of Men and Monarchs – Royal Edition

Price – $24.99
Release Date – Apr 12, 2018
No. of Players – 1 player
Category – Adventure, Role-Playing, Strategy
Publisher – Crunching Koalas
Developer – Pixelated Milk
Regalia: Of Men and Monarchs is a tactical RPG about the restoration of a fallen kingdom to its former glory. Embark on an adventure that will remind you of your best jRPG experiences – assemble a party of valiant individuals, manage your realms, forge alliances, and vanquish your foes in challenging turn-based combat!
After your father's passing you inherit a wondrous land far, far away… There's a catch, however, your realm is drowning in terrible debt. Now, through some good old-fashioned adventuring, you have to return your family seat to its long gone greatness!
Traverse through lands of robust turn-based battles, diverse quests and distinct bosses.
Bond with dozens of colorful, fearless characters who will help you in your journey.
Tons of humor and a fair amount of epicness; Samurai dwarves?!
Hours of demanding gameplay that bring back the best jRPG memories.
The Royal Edition includes all additional in-game content.
Rogue Aces

Price – $10.40
Release Date – Apr 12, 2018
No. of Players – 1 player
Category – Action, Arcade
Publisher – Curve Digital
Developer – Infinite State Games
It's time to join the Rogue Aces and liberate the islands from The Baron and his dreaded pilots. Will you be able to face the fiercest of foes with only one life and three planes?
Take down waves of dastardly enemies in this endlessly emergent air combat rogue-like where nothing is the same twice. With a multitude of game modes to discover, no loading screens to stutter the action and a whole lot of landscape to take back, jump in the cockpit and take back what's yours!
Skies of Fury DX

Price – $19.99
Release Date – Apr 12, 2018
No. of Players – 1-4 players
Category  – First Person, Action, Multiplayer, Arcade
Publisher – IlluminationGames
Developer – Seed Interactive
Fight as both British and German pilots during WWI's battle for the skies!
Take to the skies and experience WWI as a fighter pilot! Skies of Fury DX offers players the chance to engage in epic, aerial combat in historic Bloody April, 1917, as both British and German pilots.
Using 10 distinctive aircraft from WWI, players fly through stunning, hand-painted environments. Dogfight through the missions as a single player, or challenge your friends to a multiplayer, split-screen battle.
Skies of Fury DX features:
100 different missions
Unlockable comics based on the real history of Bloody April
Multiplayer modes, Survival and Versus, for up to four players
Hundreds of unlockables to customize your plane
Play to unlock upgrades for your flying and combat abilities
Streets of Red – Devil's Dare Deluxe

Price – $8.99
Release – Date Apr 12, 2018
No. of Players – 1-4 players
Category – Arcade, Fighting, Party, Action
Publisher – Secret Base
Developer – Secret Base Pte Ltd
In Streets of Red – Devil's Dare Deluxe, the only thing scarier than being eaten alive is running out of quarters! A permadeath multiplayer horror beat'em up that bestows players with the skills of retro gaming heroes in a fight against a legion of undead monstrosities.
Streets of Red was designed to be played over and over again, with each run offering up the potential for new content. Six unique playable characters and an ever-growing level selection work to keep the gameplay from getting old and rotten, while the easy to learn but hard to master combat system allows for plenty of depth.
With every kill, you earn cash that can be spent on upgrades, or to revive yourself when you die. You better learn how to make cash fast and spend it smart in Streets of Red because when you're dead, your save data dies with you. The chills, thrills, bills, and opportunity to learn new skills here won't stop until every street runs red with blood! Are you up for the challenge of an anti-lifetime?
Pirates: All Aboard!

Price – $5.99
Release Date – Apr 13, 2018
No. of Players – 1-4 players
Category – Action, Fighting, Party, Multiplayer
Publisher – QubicGames
Developer – QubicGames
Buy all this week's great games