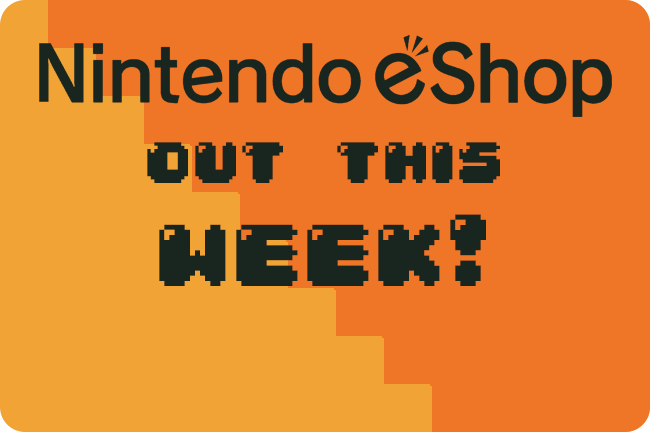 Out This Week
On The eShop
05.14 – 05.20
Battle Chasers: Nightwar

Price – $39.99
Release Date – May 15, 2018
No. of Players – 1 player
Category – Role-Playing, Action
Publisher – Nordic Games
Developer – Airship Syndicate
Battle Chasers: Nightwar is an RPG inspired by the console genre-greats, featuring deep dungeon diving, turn-based combat presented in classic JRPG format, and a rich story driven by exploration of the world.
Traditional turn-based combat with a unique overcharge mana system and incredible Battle Bursts.
Explore an overworld peppered with hidden dungeons, rare bosses and randomly appearing friends and foes.
Action oriented, randomly-generated dungeons loaded with traps, puzzles and secrets. Use each hero's unique dungeon skills to survive
Build your adventuring party by choosing three of six available heroes from the famed Battle Chasers comic series, each with unique abilities, perks, items and dungeon skills
Dive into the deep crafting system, using the unique ingredient-overloading system to create epic items!
The best-selling comic book Battle Chasers was first released in the late 90s and quickly generated a passionate cult following.
The Adventures of Elena Temple

Price – $4.99
Release Date – May 15, 2018
No. of Players – 1 player
Category – Platformer, Puzzle, Adventure, Arcade
Publisher – GRIMTALIN
Developer – GrimTalin
Ever miss being a child, playing games at your grandma's or in your old bedroom? Then look no further! The Adventures of Elena Temple is the classic you never knew existed. And the best part is that you can play it on virtual old machines that kind of sort of maybe existed. It's not like you can remember for sure anyway, right?
The game is a monochromatic puzzle platformer made to look as if it were created in the 80s. Overcome obstacles, figure out how to collect all the coins, find all the gems and remember your childhood while doing it! Progress through the game's dungeon through non-linear exploration and keep an open eye for secrets to find.
Features:
A dungeon of 50+ rooms to overcome, each its own mini-level
Open exploration, choose which way to go, but don't worry, a helpful map is just one button press away
Challenging, old-school platforming
Collect as many coins as you want, but we both know you want them all
Coins will make you rich, but there's no escaping the dungeon without all the gems
Secret scrolls to find for the more observant player
Best of all, play the game on a selection of 7 virtual old machines, from the Pomo D'or 4, to Maple and Some Toy and all the way to the NS-Bos PC
Heads up!
The Adventures of Elena Temple is just one game you can play on seven simulated machines. Aside from the different look, the game plays the same on all machines and has the exact same content! The purpose of these old machines is to remind you of the old days, so feel free to pick whichever you like best without any fear of missing out on game content.
I'm a solo indie developer, I loved making The Adventures of Elena Temple and I hope you enjoy it! Thank you for your support!
Wizard of Legend

Price – $15.99
Release Date – May 15, 2018
No. of Players – 2 players simultaneous
Category – Action, Adventure, Arcade
Publisher – Humble Bundle
Wizard of Legend is a fast-paced dungeon crawler with an emphasis on dynamic magical combat. Quick movement and even quicker use of spells will allow you to chain spells together to unleash devastating combinations against your enemies! Unlock over 100 unique spells and discover powerful spell combinations! A wide variety of elemental spells allows you to create a hand best suited to your play style. Dive head first into the fray or stand back and let your minions do the work for you. Play solo or co-op! The choice is yours!
Banner Saga 1

Price – $19.99
Release Date – May 17, 2018
No. of Players – 1 player
Category – Strategy, Role-Playing
Publisher – Versus Evil
Developer – Stoic
Live through an epic role-playing Viking saga where your strategic choices directly affect your personal journey. Make allies as you travel with your caravan across this stunning yet harsh landscape. Carefully choose those who will help fight a new threat that jeopardizes an entire civilization. Every decision you make in travel, conversation and combat has a meaningful effect on the outcome as your story unfolds. Not everyone will survive, but they will be remembered.
Key Features
Player choice that drives your own narrative– every decision you make in travel, conversation and combat has a meaningful effect on the outcome as your story unfolds.
Over 25 playable characters from 2 different races, human and varl, the horned giants– embark on your epic journey with a variety of characters from 7 different classes, each with unique abilities and upgrade options to fit your play style.
Strategic combat with consequences- victory or defeat and even the permanent loss of a character depends on which characters you choose to take into battle and what decisions you make afterwards.
The journey is as important as battle – your role in building and managing your caravan as you travel the vast frozen landscape is critical to not only your own survival but the survival of an entire civilization.
An epic Viking saga brought to life in 2D glory – beautifully hand drawn combat sequences and animations, accompanied by an evocative score from Grammy-nominated composer Austin Wintory, will immerse you into a fantasy realm inspired by Norse mythology.
Multiplayer Combat Enhanced – sharpen your combat skills in the free multiplayer game "Factions." Compete against other players with many of the character classes you see in The Banner Saga.
The Banner Saga is the first part of a planned trilogy. If you complete this game, your unique progress and storyline will carry over to the next part of the story.
Fairune Collection

Price – $8.99
Release Date – May 17, 2018
No. of Players – 1 player
Category – Adventure, Role-Playing, Action, Puzzle
Publisher – Flyhigh Works
Fairune is a retro-styled adventure RPG. Our heroine embarks upon a journey to unlock three mysterious statues and seal away a great evil. Throughout the journey she will need to solve puzzles, fight monsters, discover new weapons and improve her abilities.
Fairune 2 brings our heroine back for another perilous quest, this time to find a lost fairy. This sequel delivers a bigger world for those that are ready for the challenge.
Fairune Origin, being released for the first time, offers an intriguing look at the beginnings of the IP. It provides a short but fun adventure and illustrates how SKIPMORE conceptualised the gameplay of the two games that followed.
Fairune Blast is an unlockable treat, meanwhile, to offer something completely different. It's a colourful shoot-em-up, perfect for pick-up-and-play action on Nintendo Switch!
Features:
Fairune and Fairune 2 have re-designed user interfaces for Nintendo Switch.
Explore, solve puzzles, level up and fight monsters on your journeys.
Simple controls make it accessible to all players ready for adventure!
Fairune Origin and Fairune Blast make their console debut and bring the game total to 4!
Retro 8-bit style visuals, designed for the modern era.
Perfect for headphones with a catchy chiptune soundtrack.
FRAMED Collection

Price – $8.99
Release Date – May 17, 2018
No. of Players – 1 player
Category – Puzzle, Adventure, Music
Publisher – Surprise Attack
The FRAMED Collection is a new compilation of the critically-acclaimed, multi-award winning noir puzzle games FRAMED and FRAMED 2.
Rearrange the panels of an animated comic book to craft the story of a noir-styled spy adventure. Presented in an extensive series of visual puzzles, requiring logic and imagination, each panel move changes the current narrative, leading to all kinds of comedic blunders, untimely deaths, and–when solved correctly–stylish heists, fast getaways and nail-biting escapades.
The FRAMED Collection for Switch includes a completely updated UI, but retains the intuitive tactile controls of FRAMED and FRAMED 2. Perfectly suited for the portable play that the Switch is renowned for, the puzzle format of the FRAMED Collection can turn a quick train trip into a pleasurable escape, or a night away on holiday into an adventure.
FEATURES
The Complete FRAMED experience
The FRAMED Collection is a new compilation of the award-winning, noir puzzle games FRAMED and FRAMED 2. Escape effortlessly into the stylish, pulp-noir spy world of FRAMED, before delving deeper with the more challenging prequel FRAMED 2.
Simple, but uniquely clever puzzle design
Select animated comic panels and move them around using your logic skills and your imagination to craft the best outcome. Getting the story 'wrong' is as much part of the experience as getting it 'right', with every rearrangement telling a different, satisfying–and sometimes very comedic–story.
Hand-crafted noir art and animation
From the first frame to the last, the FRAMED collection oozes with stylish, noir, award-winning art and animation. Unique, hand-drawn silhouetted characters, incredibly fluid animations, and beautiful, mysterious settings all bring the FRAMED world to life with a wink of mischievous personality.
Multi-award winning, genre-bending design
FRAMED Collection features a fusion of unique game mechanics and clever narrative puzzles that bend genres and constantly deliver a satisfying experience with every panel arrangement. A winner of multiple game awards, and a finalist of IGF 2015's 'Excellence in Design' Award, Hideo Kojima named FRAMED his Game of the Year in 2014–"without any doubt."
An all-original live jazz soundtrack
Featuring live jazz performances fused with modern themes and funky beats, the soundtracks to FRAMED and FRAMED 2 are as mesmerising as they are evocative, setting the mood and upping the mystery-laden tension.
Ice Cream Surfer

Price – $8.00
Release Date – May 17, 2018
No. of Players – 2 players simultaneous
Category – Action, Arcade, Adventure
Publisher – Dolores Entertainment S.L.
The evil Broccoli, irritated by the fact that kids hate vegetables and love ice creams, has created an army of vegetables to destroy the flavor galaxy. Only the Ice Cream Surfer with the help of his 4 super tasty friends can prevent that.
Straight to the action, we aren't here to tell stories, but for button-mashing. Are you ready to shot Ice Cream balls filled with pure cooling energy?
GAME FEATURES
6 different worlds – You will travel the whole Gourmet Universe to get to the No-Flavor Zone and destroy the bad taste. Each world is completely different and has its own enemies.
5 different characters – In this game you will be able to be one of the members of the Cream Team , each of them with its own attacks and special abilities.
2 Player couch co-op
Invisiballs

Price – $12.99
Release Date – May 17, 2018
No. of Players – up to 4 players
Category – Arcade, Party, Action, Puzzle
Publisher – Digital Kingdom
Developer – Digital Kingdom
Next-gen hide 'n' seek
Invisiballs is a competitive local multiplayer game for 2 to 4 players. Played on a single, top-down, shared screen, everyone controls an invisible ball inside a maze and must capture a golden artifact to win the game. Designed entirely around a new type of gameplay set in a minimalist universe, Invisiballs is simple with a deep learning curve. Nervous and precise, Invisiballs is for players who love to play competitive games with their friends.
Johnny Turbo's Arcade: Super Burger Time

Price – $6.99
Release Date – May 17, 2018
No. of Players – 2 players simultaneous
Category – Action, Arcade, Adventure, Platformer
Publisher – FTE Games
Developer – Flying Tiger Entertainment, Inc.
Super Burger Time, play as Peter Pepper Jr. and complete the burgers, but watch out for Mr. Hot Dog, Mr. Egg and the dangerous Mr. Pickle!
White Night

Price – $14.99
Release Date – May 17, 2018
No. of Players – 1 player
Category – Adventure, Puzzle, Action
Publisher – Plug In Digital
Developer – Osome Studio
The dark will reveal all!
Explore the macabre past of an old mansion in the 1930's and solve puzzles of light and shadows in this fully black & white survival horror! Players are trapped in this nightmare where darkness is a constant threat!
Classic Survival-Horror 3D Mechanics: Solve puzzles of lights and shadows to survive
Shed Light on the Mysteries of the Mansion: Collect matches to light your way and reveal the next passage
Dark Entities Lurk in the Shadows: Avoid apparitions to continue your search for answers
Immerse Yourself in the Noir: Unique art style engrosses the player in the tone of Film Noir
Yonder: The Cloud Catcher Chronicles

Price – $26.99
Release Date – May 17, 2018
No. of Players – 1 player
Category – Adventure, Simulation, Lifestyle, Role-Playing
Publisher – Prideful Sloth
Developer – Prideful Sloth
Yonder is set in the world of Gemea.  A natural island paradise with eight distinct environments ranging from tropical beaches to snow-capped summits.
But Gemea is not as perfect as it seems.  The mysterious Murk has taken hold of the land!
As the hero of Gemea, you can seek out the hidden and whimsical creatures known as Sprites. Use their power to clear the Murk and restore nature's beauty.
As you explore Gemea, you can barter with friendly locals, discover unique materials to craft with, befriend the adorable wildlife and even create your own working farm.
Yonder offers a world to lose yourself in; a world filled with the wonder of discovery and the spirit of adventure.
Hyrule Warriors: Definitive Edition

Price – $59.99
Release Date – May 18, 2018
No. of Players – 2 players simultaneous
Category – Action, Adventure, Fighting
Publisher – Nintendo
Developer – KOEI TECMO GAMES CO., LTD.
Cut down enemy hordes as Legend of Zelda™ characters—in full 1080p TV mode—or in two-player on one system! Link and Zelda can battle in costumes from the Legend of Zelda: Breath of the Wild game, while Tetra and King Daphnes appear in scenes based on the Legend of Zelda™: The Wind Waker game. Find and care for fairies who will aid you in battle! All features and downloadable content from past versions of the game, including My Fairy mode and elements from The Legend of Zelda: The Wind Waker, can now be enjoyed in crisp HD on the Nintendo Switch™ system. This time, you won't face the dark sorceress, Cia, alone. Command legendary heroes and villains in battle to achieve objectives as you unleash special attacks. Advance the story to unlock characters, each with their own moves and weapon types. Collect rupees and other items to upgrade weapons and craft badges, which bolster your warriors' abilities. The fate of Hyrule rests in your hands!
Henry The Hamster Handler

Price – $3.69
Release Date – May 18, 2018
No. of Players – 1 player
Category – Arcade, Puzzle
Publisher – Pocket Money Games
The ancient art of Hamster alchemy, a long-forgotten lore…. Until now.
Join the team at Hamsters Inc. as they delve into the practice and reveal that hamsters must endure as many near-death experiences as possible and over time the little furry balls of fun turn into bronze, silver, and gold! It's your job to ensure that they survive the ordeal before they get melted down and turned into a fancy pair of earrings!
Little Nightmares: Complete Edition

Price – $29.99
Release Date – May 18, 2018
No. of Players – 1 player
Category – Platformer
Publisher – Bandai Namco Entertainment
Developer – Tarsier Studios
Do you remember your childhood fears? Immerse yourself in Little Nightmares, a dark whimsical tale that will confront you with your childhood fears as you help Six & The Kid escape The Maw – a vast, mysterious vessel inhabited by corrupted souls looking for their next meal!
THE ALL-IN-ONE EDITION FOR NINTENDO SWITCH – Embark on a delectably dangerous journey with Six and The Kid to unveil all the secrets of The Maw in two parallel escape stories that will put your cool to the test.
A SPOOKY PUZZLE PLATFORMER – Trapped in an oversized dollhouse inhabited by monstrous residents, light your way through darkness, hide & sneak to avoid danger and run for your life to find a way out.
REKINDLE YOUR CHILDLIKE JOYS – Find your inner child and bend your imagination to find the way out by solving complex 3D puzzles. Each room is a cell, each resident a threat, and both are puzzles to untangle.
TAILORED TO THE DEVICE – Undock your Nintendo Switch and continue your delectably dangerous journey everywhere, anytime with full HD rumble support for the Joy-Con controllers for a more immersive experience.
Buy all this week's great games