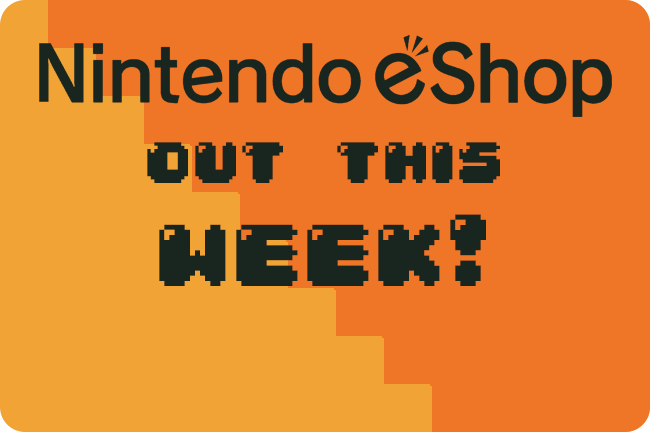 Out This Week
On The eShop
05.28 – 06.03
Die for Valhalla!

Price – $9.99
Release Date – May 29, 2018
No. of Players – up to 4 players
Category – Action, Multiplayer, Adventure, Arcade
Publisher – Monster Couch
Developer – Monster Couch sp. z o. o.
Die for Valhalla! is an action RPG where you hack, slash and crush your enemies! Possess and take full control of heroes, monsters and other things to help Vikings save their realm!
You are a Valkyrie, from Old Norse valkyrja "chooser of the slain". You embark on a quest that will lead you through strange lands where Norse Mythology collides with Lovecraftian mythos. Sounds Weird? Well, because it is!
You can play solo or with friends locally (up to 4 players).
Two ways to enjoy the story:
There are two story modes in the game: Beat 'Em Up and Rogue-lite.
Beat 'Em Up mode procedurally generates a larger world to explore with a more relaxed difficulty curve. You can revive your friends and the potions you find have useful or hilarious effects (or both).
Rogue-lite mode generates a smaller world featuring steeper difficulty curve and permadeath. Some of the potions you find have malicious effects and you have to learn which ones to avoid in each run.
Key Features:
Randomized levels generated from hand-picked modules.
Action gameplay inspired by classic beat 'em ups.
More than 10 Viking Clans to discover and unlock . Each Clan has a special bonus and access to different Viking Classes.
Each of the 7 Viking Classes comes with unique play styles and combos.
Over 80 skills to choose from when leveling up your Valkyrie.
Cute but bloodthirsty creatures will become your companions. Each has a different ability to aid you on your journey.
Four player local co-op.
Deathmatch Challenge : Battle other players in a free-for-all battle.
Survival Challenge: Test your skills and compete with your friends.
Fallen Legion: Rise to Glory

Price – $39.99
Release Date – May 29, 2018
No. of Players – 1 player
Category – Action
Publisher – NIS America
Return to the battlefield of Fenumia, where a besieged nation stands on the brink of war.
See the conflict through the lenses of Princess Cecille and Legatus Laendur, one who would restore her kingdom to its former glory and one who would see a new nation rise in its place. Combining both Fallen Legion: Flames of Rebellion and Fallen Legion: Sins of an Empire for the first time on one console, Fallen Legion: Rise to Glory includes all new art, Exemplars, monsters, bosses and challenges not found in the original releases. See the story from all sides anywhere you go in Fallen Legion: Rise to Glory.
Harvest Moon®: Light of Hope Special Edition

Price – $39.99
Release Date – May 29, 2018
No. of Players – 2 players simultaneous
Category – Role-Playing, Simulation
Publisher – Natsume
Developer – Natsume
Looking for a fresh start and some new surroundings, you set off on a voyage to begin your new life! Unfortunately, the weather has different plans, as your ship is hit by a storm, and goes down! You drift into a small harbor town, now in shambles from the storm, where a young doctor named Jeanne saves your life. The town has been deserted, but you're never one to back down from a challenge! It will be up to you to help rebuild the town and save the lighthouse…but it won't be easy!
Nevertheless, with some hard work growing crops, tending livestock, and gathering materials for repairs, you will be able to make new friends, start a family, revive the lighthouse, and save the town, your new home!
Collect important materials to rebuild the town and restore the lighthouse!
Complete requests from villagers to unlock new areas and items!
Grow crops, tend livestock, and gathering materials, either by yourself or with a Co-Op friend!
New and unique festivals, including the Dog Racing Festival!
Make new friends, get married, and start a family from a variety of bachelors and bachelorettes, including a secret one!
Ikaruga

Price – $14.99
Release Date – May 29, 2018
No. of Players – 2 players simultaneous
Category – Action, Arcade
Developer – Treasure
Publisher – Nicalis, Inc.
A rebel pilot named Shinra must battle an enemy nation using a specially-designed fighter called the Ikaruga, which can switch between two energy polarities (black or white) at the touch of a button. Bullets that are the same color as Shinra's ship can be absorbed, while the opposite color will do damage – this polarity-switching mechanic is the game's core feature and the foundation for its stage and enemy design. It's now up to Shinra makes his final stand, as the Ikaruga might be the rebel federation's last chance to defeat the oppressive Horai regime!
Knights of Pen and Paper +1 Deluxier Edition

Price – $14.99
Release Date – May 29, 2018
No. of Players – 1 player
Category – Role-Playing, Strategy, Board Game, Adventure
Publisher – Plug In Digital
Developer – Seaven Studio / Behold Studios
The ultimate pen and paper RPG simulation experience
Set out on a grand adventure in this turn-based, retro style, pixel-art RPG, inspired by the great titles of the 90's. Take on the roles of in-game players taking on the roles of their characters in a traditional pen and paper RPG session in the ultimate meta roleplaying experience.
As both the playing characters AND the game master, players can choose which battles to fight. Put together a bunch of monsters to make for a challenging fight and your efforts will be equally rewarded!
Choose from multiple classes, such as knights and mages, pick your characters to control those classes, like grandma or kid brother, and take on the loads of quests, monsters, items and equipment littered throughout Knights of Pen & Paper +1 Deluxier Edition. Blacksmiths, enchanters, mining, gathering, hidden treasures and a whole lot more await, giving players a lot of room to personalize their gameplay experience.
Don't wait any longer, the Pen & Paper world needs you!
Key Features
The ultimate pen and paper RPG simulation experience
Put together your own role-playing group complete with the game master, the role-players and their respective classes
Fight and explore your way through a perilous fantasy world to defeat the dark mage
Level up and get your hands on more gold to unlock epic items and gear for your party
As the game master, you can set up the fights yourself and choose how many monsters to battle
The +1 Deluxier Edition includes these all new features:
New dungeons to explore with monsters, traps, treasures, and powerful bosses
The Tavern, a place to stash heroes and switch out party members
More options for characters to implement during battles, adding more depth and variation to fights
Extended campaign filled with lots of new content
Legend of Kay Anniversary

Price – $29.99
Release Date – May 29, 2018
No. of Players – 1 player
Category – Arcade, Action, Adventure
Publisher – Nordic Games
Developer – Kaiko
10 years after its initial release, Legend of Kay – Anniversary is a thoroughly remastered version of the original game: high-resolution textures; new, more detailed character models; modern rendering techniques and crystal-clear surround sound give this great classic a new shine.
Experience the unique blend of Martial Arts-combat, action adventure, Jump 'n' Run and puzzle solving
Meet, befriend or fight loads of quirky animal characters like Gorillas, Rats, Foxes, Hares, Pandas and Frogs
Learn to master various weapons and special skills to defeat hordes of well-armed enemies
Confront huge bosses to test your Martial Arts skills
Discover and secure the treasures of the demons' underworld
Explore a world inspired by the threats and beauties of ancient China, by foot, well, paw, or on the back of a wild boar, a wolf or even a dragon
Shift Quantum

Price – $19.99
Release Date – May 29, 2018
No. of Players – 1 player
Category – Puzzle, Platformer, Action
Publisher – Red Panda Interactive
Developer – Fishing Cactus
Axon Vertigo, the world's leading authority and most trusted friend in cerebral contentedness programming, promises to deliver better life quality for everyone with the Shift Quantum program.
Connected to the cyber-noir action-puzzle platformer, you will be tasked to solve puzzles and create negative space by inverting the world to transform barriers into escape routes.
Shift the world, twist your environment, bend your mind to unveil its secrets and solve each brain-drilling level.
Make use of all special gameplay blocks to overcome obstacles and get to the exit to find the happiness you have been searching for and promised by Axon Vertigo.
Join Axon Vertigo's Level Editor for the Shift Quantum program to create your own custom levels and publish them to the community to get played, rated and featured.
Don't limit your challenges, challenge your limits.
Street Fighter 30th Anniversary Collection

Price – $39.99
Release Date – May 29, 2018
No. of Players – up to 8 players
Category – Fighting
Publisher – Capcom
Developer – Digital Eclipse
Celebrate Street Fighter's historic legacy with the Street Fighter 30th Anniversary Collection. In this massive collection of 12 Street Fighter titles, which encompass the Street Fighter I, Street Fighter II, Street Fighter III and Street Fighter Alpha series, perfect arcade balance makes it to consoles for the first time ever. Hop online and relive the arcade experience through the online Arcade Mode or play with friends in the online lobby within four of the most definitive Street Fighter titles in the collection.
The celebration continues in the Museum, where fans and historians alike can follow the timeline of how Street Fighter has evolved over the past 30 years. Learn more about the Street Fighter cast, view key animation sprites in the character viewer and take a behind-the-scenes look at the design documents that helped solidify the franchise that produced generations of World Warriors!
Yoku's Island Express

Price – $17.99
Release Date – May 29, 2018
No. of Players – 1 player
Category – Platformer, Adventure, Puzzle, Arcade
Publisher – Team17 Digital Ltd
Developer – Villa Gorilla
Yoku has arrived on Mokumana and he's ready for the easy life, soaking up the sun and delivering parcels on a tropical paradise!
However, an ancient Island deity is trapped in a restless sleep – and it's all down to Yoku to traverse the island using a unique blend of pinball mechanics, platforming and open world exploration, in an amazing adventure to help those in need!
Flip and bump our pint-sized protagonist around the stunning hand-painted island on your quest to rebuild the post-office, and wake an old god from its deep slumber.
Key Features:
OPEN-WORLD PINBALL ADVENTURE: Coupled with its unique pinball platforming play style, Yoku's Island Express offers non-linear gameplay that gives you the freedom to choose your own path across multiple questlines.
WELCOME TO MOKUMANA ISLAND: Seamlessly Explore multiple regions of the island, including tropical beaches, lush jungles, snowy mountains, mysterious caves, and steamy hotsprings!
UNLOCK THE AMAZING NEW ABILITIES: Help the friendly locals and earn a range of fantastic new power-ups! Vacuum explosive slugs and wake up sleepy villagers with the Noisemaker!
CAPTIVATING STORY: Meet a cast of unforgettable characters across multiple storylines – whilst uncovering the islands deepest secrets. And maybe rebuild the post office too!
EPIC BOSS BATTLES: Get ready to take on giant bosses using Yoku's trusty ball to 'deliver' the final blow.
BEAUTIFUL ARTWORK: Feast your eyes on the breathtaking hand-painted artwork created by games industry veteran artists.
ACA NEOGEO NINJA COMBAT

Price – $7.99
Release Date – May 31, 2018
No. of Players – 2 players simultaneous
Category – Action, Arcade
Publisher – HAMSTER, Co.
Join the battle to destroy the evil ninja clan KAGE ICHIZOKU!
"NINJA COMBAT" is an action game released in 1990 by SNK. In order to defeat the evil ninja clan KAGE ICHIZOKU, justice-seeking ninjas head towards the NINJA TOWER. Enjoy battling with a wide array of weapons and ninja magic as well as the ability for a friend to join the action.
The "ACA NEOGEO" series has faithfully reproduced many classic NEOGEO masterpieces.
Players can change various game settings such as game difficulty, and also reproduce the atmosphere of arcade display settings at that time. Players can also compete against each other from all over the world with their high scores.
Defoliation

Price – $9.99
Release Date – May 31, 2018
No. of Players – 1 player
Category – Adventure, Puzzle
Publisher – COSEN
Developer – Rising Win Tech
Puzzle-solving adventure-suspense game set in Taiwan
Storyline
The young characters and the old woman, who met through an unfortunate accident, may not have had a good start, but they eventually open up and the youngsters end up visiting the woman at her house as friends.
One day, when they are headed to the old woman's house as usual, they are suddenly hit by paramnesia. When they wake up, the woman's house looks different to what they knew.
Under fear of being watched by someone, they begin their puzzle-solving journey for survival.
What are the secrets behind the eternal autumn leaves—the key to the game—and the missing schoolgirl?
Can these young characters make it through the game and make it back alive?
Game Description
It all starts from searching the house. The player can solve puzzles or look for hints for solving them, by touching the screen or moving the mouse pointer to click on the places they want to search. There are various tricks in the house, and you can move forward as you solve the puzzles along the way. You can also master the use of items to increase the chance of discovering unexpected breakthroughs. Click the Hint Button when you are stuck. It may give you hints about what you may have missed in the screen.
ICEY

Price – $9.99
Release Date – May 31, 2018
No. of Players – 1 player
Category – Action, Role-Playing, Adventure, Fighting
Publisher – X.D. Network
Developer – FantaBlade Network
ICEY is a 2D side-scrolling action game. As you follow the narrator's omnipresent voice, you will see through ICEY's eyes and learn the truth about her world.
"Alright, you caught me! This ISN'T really just a simple 2D action game, and you WON'T be seeing through ICEY's eyes… NOR will you learn the truth about her world." says the narrator.
ICEY is a Meta game in disguise. The narrator will constantly urge you in one direction, but you must ask, "Why? Why am I following his directions? Why can't I learn the truth about this world and ICEY's purpose here?" Fight against his tyranny, and uncover what's really going on for yourself!
In fact, you can become ICEY, and let loose the shackles of your own identity. You are ICEY, and ICEY is you… if you want it that way. Feel free to keep hold of your own self, if you wish.
Now Is the Time For You to Discover the Truth.
Johnny Turbo's Arcade Joe and Mac Caveman Ninja

Price – $6.99
Release Date – May 31, 2018
No. of Players – 2 players simultaneous
Category – Arcade, Adventure, Platformer, Multiplayer
Publisher – FTE Games
Developer – Flying Tiger Entertainment, Inc.
Grab your club and get ready to go on a wild, prehistoric adventure with the Cavemen Ninjas – Joe & Mac! Help Joe and Mac, two cavemen who fight against enemy cavemen and dinosaurs using prehistoric weapons.
The game stars the green-haired Joe and the blue-haired Mac, cavemen who battle through numerous prehistoric levels using weapons such as boomerangs, bones, fire, flints, electricity, stone wheels, and clubs. The objective of the game is to rescue the "Cave Babes" who were kidnapped by a rival tribe of cavemen. Play alone or together with a friend on Co-Op.
Just Shapes & Beats

Release Date – May 31, 2018
No. of Players – up to 4 players
Category – Action, Music, Multiplayer, Arcade
Publisher – Berzerk Studio
Developer – Berzerk Studio
"Just Shapes & Beats" is a chaotic co-op musical bullet-hell based on three simple things: avoid Shapes, move to the rad Beats, and die, repeatedly. It's a new spin on SHMUPs, adding a layer of coop that's at the core of the game: 'cause everything is better with friends.
Play alone or with up to four players, local or online, through the game's Story Mode or Challenge Runs.
MUSIC TO YOUR EARS, AND HANDS
You like music? SO. DO. WE. That's why we have 35 hand crafted stages with licensed tracks from over 20 chiptune and EDM artists.
Hits like a ton of brick straight into your eardrums and your eyeballs; BAM
EVERYTHING IS BETTER WITH FRIENDS
Gather up your squad and play up to 4 player co-op, drop-in drop-out, either all on your couch for a house party, or an online party!
Don't have/like your friends? WE GOTCHU MY DUDES, make new or BETTER friends by playing a few quick online challenge runs. Let us pick your new best buds for the next hours; strangers are just friends you haven't met yet.
Kind of a lone wolf, back hurts from carrying people, would rather play with yourself? Do it, the game is just as fun, just a different experience waiting for you; ain't nobody judging here yo.
SOMETHING FOR EVERYONE
We have many different game experiences to offer! Story mode helps you learn the ropes with our intermediate-ish tracks and the optional Casual mode. When you think you're ready, Challenge Runs is where you get to prove yourself: get judged on your skills by playing through randomly picked tracks.
Need some kind of training montage to get better? Rip off your sleeves and practice the tracks you're struggling to master in the Playlist.
PARTYYYYY
Literally the soundtrack for your party! Let the game play in Party Mode and let it light up your social gatherings, + you can even still have people playing this if they like, WE'VE THOUGHT ABOUT EVERYTHING.
So yea, go ahead and throw the most epic party of your life thanks to us, you are welcome.
Lost Sea

Price – $9.99
Release Date – May 31, 2018
No. of Players – 1 player
Category – Action, Adventure
Publisher – eastasiasoft
After a freak storm over the Atlantic, you find yourself stranded on the shores of a mysterious island. Do you have what it takes to escape the Lost Sea?
Lost Sea is an action-adventure game set inside the Bermuda Triangle. Recruit a crew of survivors who can help you explore the hazardous islands as you hunt for the artifacts needed to navigate the Lost Sea.
Features:
Explore millions of procedurally generated islands.
Encounter an array of deadly traps and dangerous critters.
Recruit from a large cast of stranded with their own traits.
Challenging gameplay and permadeath for you and your crew.
Unlock powerful new player abilities and special moves.
Discover useful items that will help you survive.
Buy valuable ship upgrades that will assist you in your journey.
Pirate Pop Plus

Price – $4.99
Release Date – May 31, 2018
No. of Players – 1 player
Category – Arcade, Action
Publisher – 13AM Games
Developer – dadako
Join Pete Jr on his quest to defeat the nefarious Bubble Pirate, an evil villain who has trapped the innocent townsfolk in bubbles! Dodge and pop bubbles with your anchor while collecting power-ups and managing Bubble Pirate's constant gravity-switching mischief! When you feel at your Piratey-est, test your skill in the ultra-challenging Hyper Mode… The game may be faster and harder, but you'll find treasures beyond your wildest dreams. Coins as far as the eye can see! Collect coins to unlock content in the game's shop like new music, new faceplates, buttons, backlights, and even characters for your bubble-popping mayhem! Yarr!
Quad Fighter K

Price – $7.99
Release Date – May 31, 2018
No. of Players – up to 4 players
Category – Arcade, Action, Multiplayer
Publisher – Aksys Games
In the far distant future, a mysterious alien race set its sights on nothing less than the conquest of the Earth and the total annihilation of the human race. To counteract this threat the nations of Earth formed the EDC (Earth Defense Corps) and launched an all-out counter attack. Despite humanity's best efforts, the alien invaders superior technology proved too much to overcome and they took over most of the planet.
With enemy forces at the gates of the last fortress of the EDC and the fate of the planet hanging in the balance, the leaders of Earth's forces decide on a desperate course of action: throw everything they had left at the enemy's headquarters. With the help of the erratically brilliant "Dr. AKEMI," the goal is no less than the destruction of the very heart of the alien stronghold.
Features of Quad Fighter K include:
It's Dangerous to Go Alone
The alien forces are an overwhelming force, but one you don't have to face alone. Bring along three friends and face the alien hordes with local co-op play!
It's not Retro, it's Timeless
With 8-bit graphics and a focus on pure arcade shooting action, Quad Fighter K harkens back to the times when it was all about you (and perhaps a couple of friends), a quarter, and lightning-fast reflexes.
Quad Fighter Powers, ACTIVATE!
Do your best work solo, or unleash real damage by linking your ship with a teammate to crush your foes and save the planet. Unlock different attacks by connecting your ship with your allies.
Should I Stay or Should I Go?
Whether you're gaming at home or on the run, thanks to the mighty morphing powers of Nintendo Switch™, you can take out the alien hordes threatening our alternate Earth whenever, wherever.
Smoke And Sacrifice

Price – $19.99
Release Date – May 31, 2018
No. of Players – 1 player
Category – Role-Playing, Adventure
Publisher – Curve Digital
Developer – Solar Sail Games
Smoke and Sacrifice sees Sachi, a mother forced to give up her son, adventure into a grotesque underworld on a quest that will lead her to a darker truth.
Smoke and Sacrifice is an open-world, narrative-driven RPG, where exploiting living ecosystems is the key to your survival. Craft, fight, survive and explore the huge open world in this beautifully hand-painted, gothic adventure where every character has their tale to tell.
Sachi's home is the one tiny patch of fertile land which remains in an icy wasteland of a world. Her farming community thrives thanks to their devotion to the blazing Sun Tree, which replaces the lost light of the failed sun. After sacrificing her firstborn child to the Sun Tree, Sachi discovers a darker secret beneath the aura of priestly benevolence. Will she discover the truth hidden in the secret underworld, or perish in its swirling, deadly smoke?
With the odds stacked against her, strange creatures challenging her every step, and the ever-looming smoke waiting to steal life and memory, will Sachi ever discover the truth of what happened to her son?
West of Loathing

Price – $11.00
Release Date – May 31, 2018
No. of Players – 1 player
Category – Adventure, Role-Playing
Publisher – Asymmetric
Developer – Asymmetric
West of Loathing is a single-player slapstick comedy adventure role-playing game set in the wild west of the Kingdom of Loathing universe. Traverse snake-infested gulches, punch skeletons wearing cowboy hats, grapple with demon cows, and investigate a wide variety of disgusting spittoons.
Talk your way out of trouble as a silver-tongued Snake Oiler, plumb the refried mysteries of the cosmos as a wise and subtle Beanslinger, or let your fists do the talking as a fierce Cow Puncher. Explore a vast open world and encounter a colorful cast of characters, some of whom are good, many of whom are bad, and a few of whom are ugly.
Features:
A sprawling open world, chock full of danger, quests, puzzles, and mysteries
Lush hand-drawn black and white graphics
Thousands of jokes, gags, and goofs
Crunchy turn-based combat (but only if you want it)
Liberal use of the Oxford comma
Over 50 hats
Disreputable saloons
Several gulches
A drunk horse
Buy all this week's great games