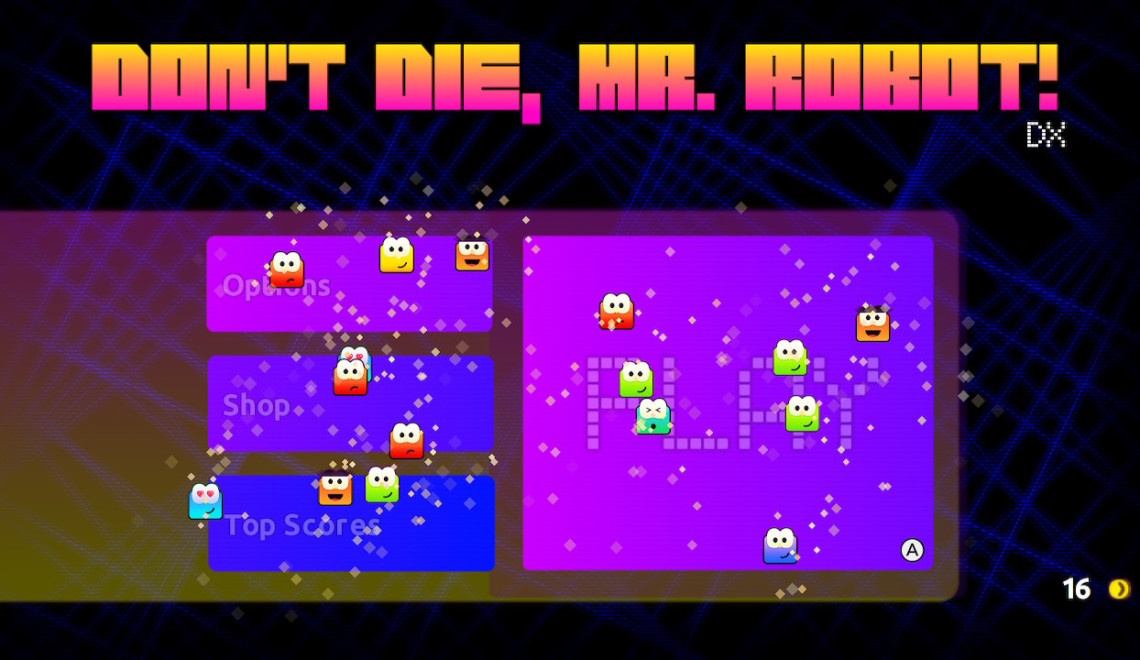 Don't Die Mr. Robot DX
Reviewed by Kieran
Developer: Infinite State Games
Publisher: Digerati
Composer: Infinite State Games
Category: Bullet Hell
Release Date: 05.03.2018
I Hope He Didn't Die. Unless He Left A Note Naming Me His Successor, Then I Hope He Did Die.
When I initially began to play Don't Die Mr. Robot DX, I felt a strong urge to kill Mr. Robot, the little scallywag. In fact, there were times in the early days when I wished this game was called 'Die, Mr. Robot'. I would have happily obliged. In those infant hours with Mr.Robot, I found him to be intrusive, seemingly more suited to mobile devices than dedicated gaming systems. How dare he waste valuable space on my beloved Switch.
Given that I had to write a review about this little cuboid however, I persevered, determined to find something in this package that would make him endearing. And you know what, in the end, I did. But first, a little history for you all to enjoy.
Originally released in 2014 for PSVita then ported to PS4 and IoS in 2016, this is in fact the 3rd coming of the quaint quadrilateral. This is also its finest outing yet as this time, exclusively for Nintendo Switch, it's the DX package. Boasting improved artwork, a wider array of acid house music and many game play tweaks and buffs. And on top of all of that, it's now 78% more trippy. That's not my opinion, but that of the developers themselves.
Far out man!!
Presentation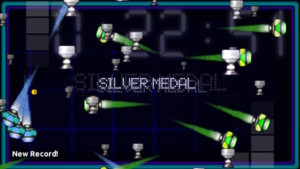 The soundtrack is electric, eclectic and just a little bit eccentric. As previously mentioned the music in Don't Die Mr. Robot DX is the type of artificial, head pounding medley of beats, melodies and snare ticks that would make a lesser beings head simply implode.
Visually, Mr. Robot is very simple. Everything takes place in a grid which is always the same size. Be that as it may, the artwork is colourful,  vibrant and bright and the game runs smoothly with a solid frame rate. Which is a good thing as it can get pretty busy on that little grid. In reality, there would be no excuses from developer if this wasn't the case. Making a game this simple run optimally shouldn't be any problem at all.
Arigato Mr. Roboto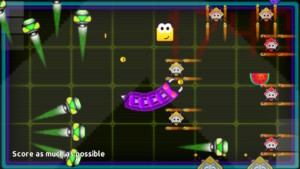 Every time that I picked up this game I found myself enjoying it a little bit more. And above all, that's the point, right?
Mr. Robot, our four sided friend, likes to eat fruit. It's kind of a double edged sword though, as, when he does, it explodes. This in turn becomes the main form of attck in this game. Eat fruit, defeat your foes. Take note kids. After all, the old adage 'An apple a day keeps the doctor away' is so 20th century.
In addition to this aspect of the game, if you narrowly avoid an enemy, you get bonus points. As a result of this I found myself flirting dangerously close to deaths door on more than 1 occasion. Because of this I did find my reflex times improved considerably. On balance, the level of skill in this title is quite extraordinary, all things considered.
The idea is to stay alive as long as possible, in the process collecting a trophy. As well as the bronze, silver and gold collectables, there is something much more important at stake. Bragging rights. I found myself pumping so much time and energy into besting my previous high score.
The HD rumble in Don't Die Mr. Robot DX is insane. By default it's set to 100%, I found that turning it down to 25% still offered adequate rumble, without waking your sleeping neighbours.
Conclusion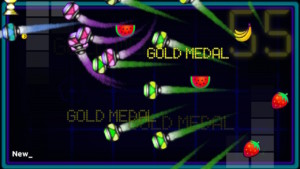 Don't Die Mr. Robot DX  is an addictive little number that grows on you the more you play. The learning curve is steep and the screen can become pretty packed at times.
Don't Die Mr. Robot DX offers the kind of balance that makes the Switch such a versatile system. Alongside the big money blockbusters, such as Breath of the wild, Xenoblade and Super Mario Odyssey, as well as the AAA indie titles such as SteamWorld Dig 2 and Blossom Tales, not to mention the epic 3rd party offerings such as Skyrim, L.A. Noire and Doom, to name but a few, this game is perfect for simply picking up and playing. There were times where I simply played for a few minutes and times where I played for far too long. It's the execution in versatility that makes this title stand out in its own right.
TL:DR
Trippy soundtrack. Highly addictive gameplay. Perfect for short or extended play sessions. Unlimited replay value albeit a shallow experience. Strongest HD rumble in the history of things that are strong.
3/5

Buy Don't Die Mr. Robot For $8.99
Or For £7.19
Follow Infinite State Games

Follow Digerati