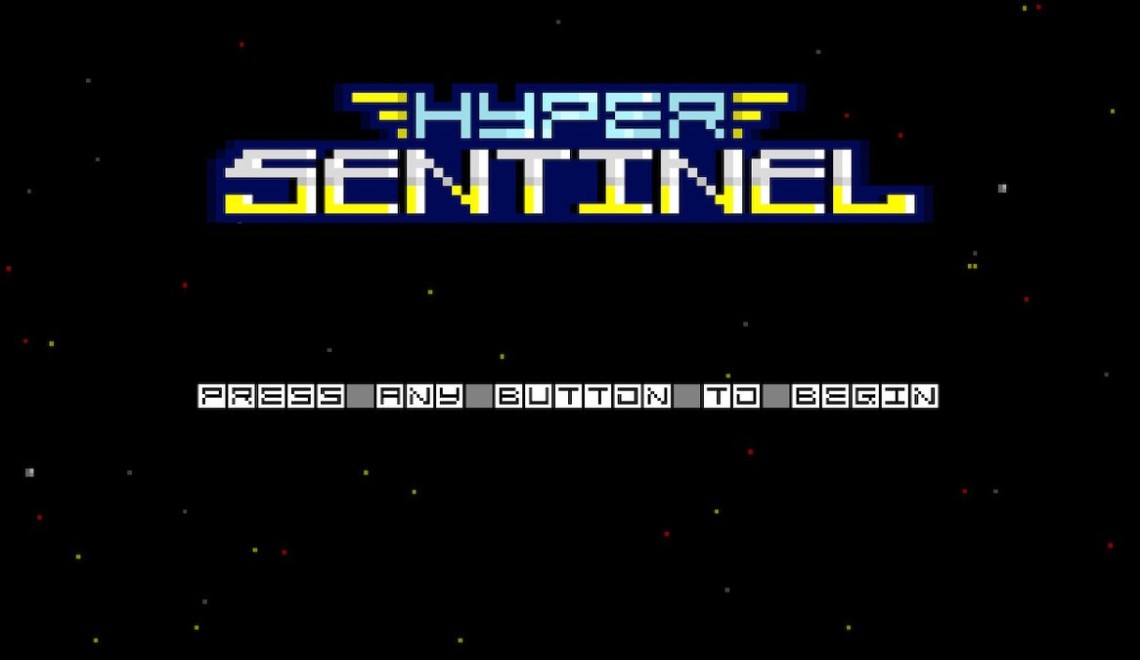 Hyper Sentinel
Nintendo Switch
Reviewed by Brett
Publisher – Huey Games
Developer – Four5Six Pixel
Music – Rob Fenn
Category – Action, Arcade
Release Date – May 11, 2018
Hyper Speed
Hyper Sentinel  is a modern retro arcade game that's loaded up with features. It's very much inspired by our favorite arcade games of yesterday like Defender and Cybernoid. Wonderful to look at and play Hyper Sentinel is the modern arcade game we deserve.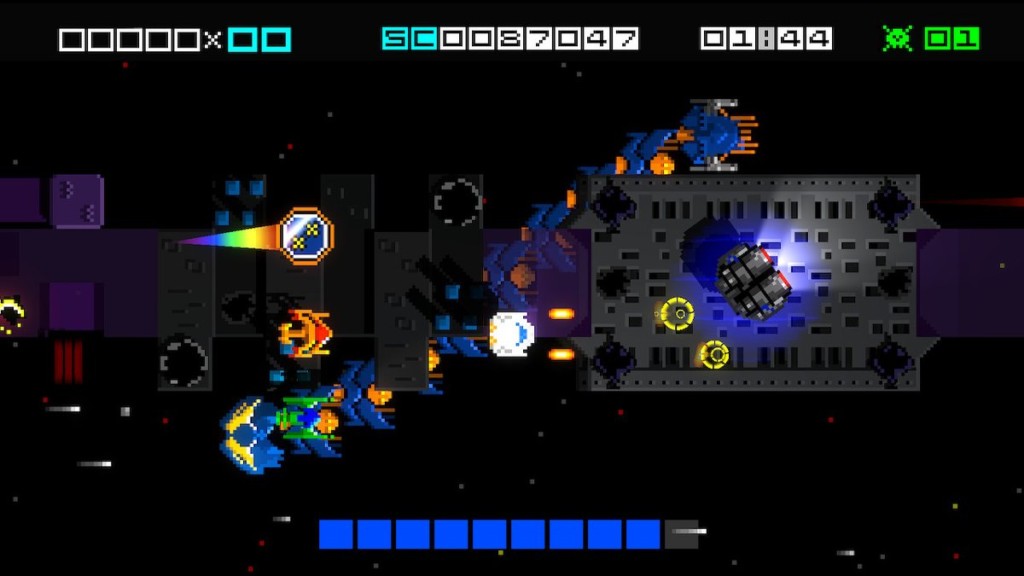 Story
In Hyper Sentinel  you save the earth from hostile invaders in classic arcade fashion. That's all there is to it and that's just fine for this beautiful new age arcade gem.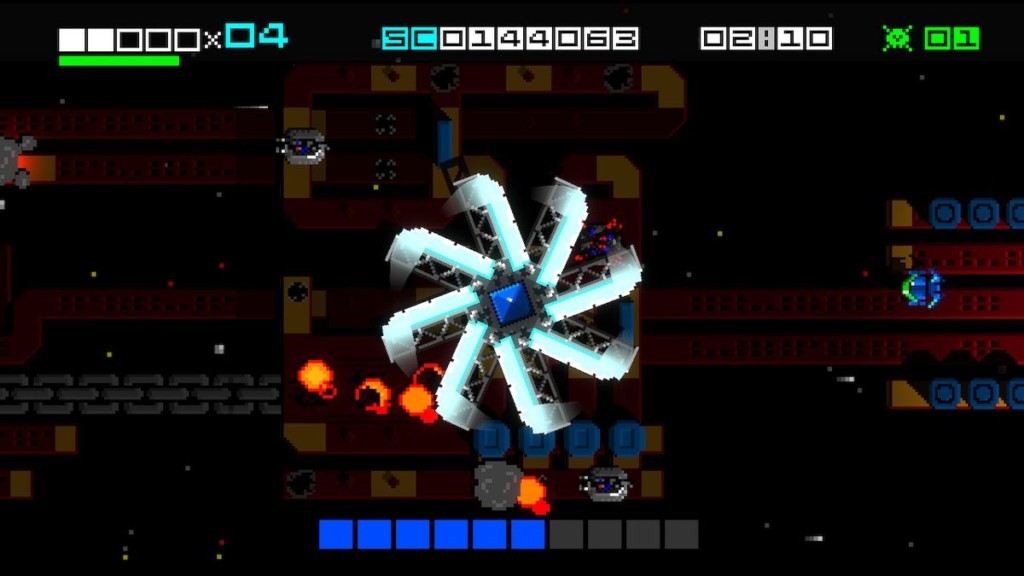 Gameplay
Here is where all the meat of Hyper Sentinel Lies and its a prime cut. First off it runs in a silky smooth 60 fps in 4K which is nice. With twelve levels, awesome challenging bosses, three difficulty modes, three game modes, online leaderboards and sixty medals to earn there is a metric ton to do and have with. The basics of gameplay is shoot down all enemy spaceships and ground weapons on the large space craft that serves as each level. You zip back and forth across the screen with great speed if you wish shooting all things as you pass. You can turn directions and increase speed with the push of a button at any time, picking up timed weapon upgrades and shields as you go. Weapon upgrades include homing missiles, powerful duel lasers, Swinging maces, drones and a heap of other fun things.
Arcade is your most traditional or classic mode. You progress through each stage in a level and fight a boss at the end. Survival as you might imagine, sees you facing  nonstop waves of enemies trying to survive as long as you possibly can. Then we have Boss mode which puts you directly at the end of a level to face the boss and finish it as quickly as possible.
Each stage can take anywhere from 30 seconds to a few minutes, the quick rounds make it fantastic for quick gameplay sessions on the go or trying to beat your best time over and over again.  With three difficulty levels and three game modes per stage there is a massive amount to do, add onto that five medals to complete on each stage of varying difficulty and Hyper Sentinel will have you busy for a long time to come. Medals are great fun to try and complete and really add a lot to the oval content and value of the game.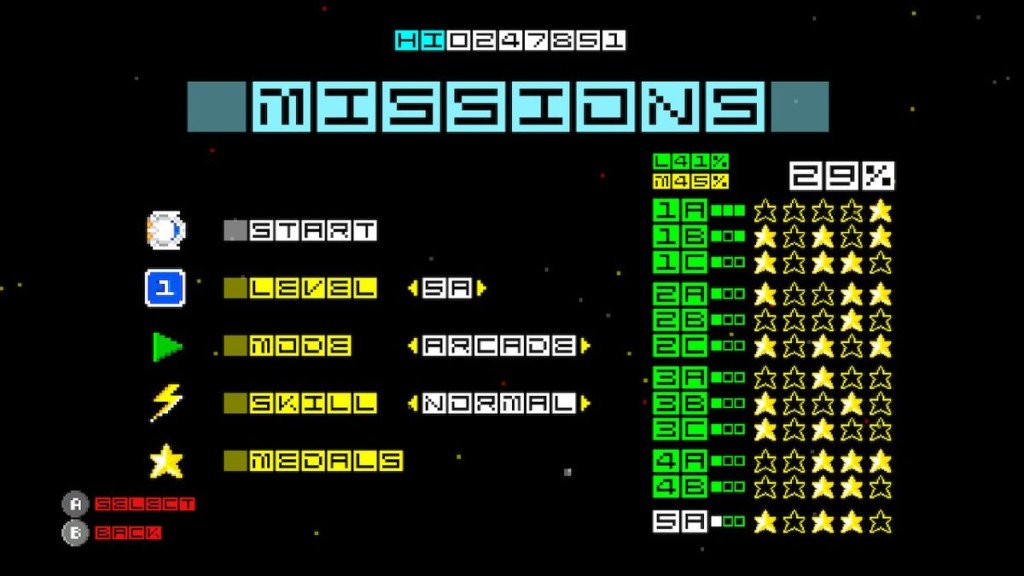 Presentation
Hyper Sentinel looks fantastic. What you see in these pictures is more or less what you get. Great looking easy to navigate menus. Beautiful vivid colors on top of a space backdrop that makes said colors pop. Four different visual filters that emulate classic systems and TV's. Enemy ship designs look great and are pretty varied with bosses in particular really standing out. Each one is very different and unique to go against. The soundtrack by Rob Fenn is absolutely kick'n. Its high energy, amazingly well done and a great fit for Hyper Sentinel.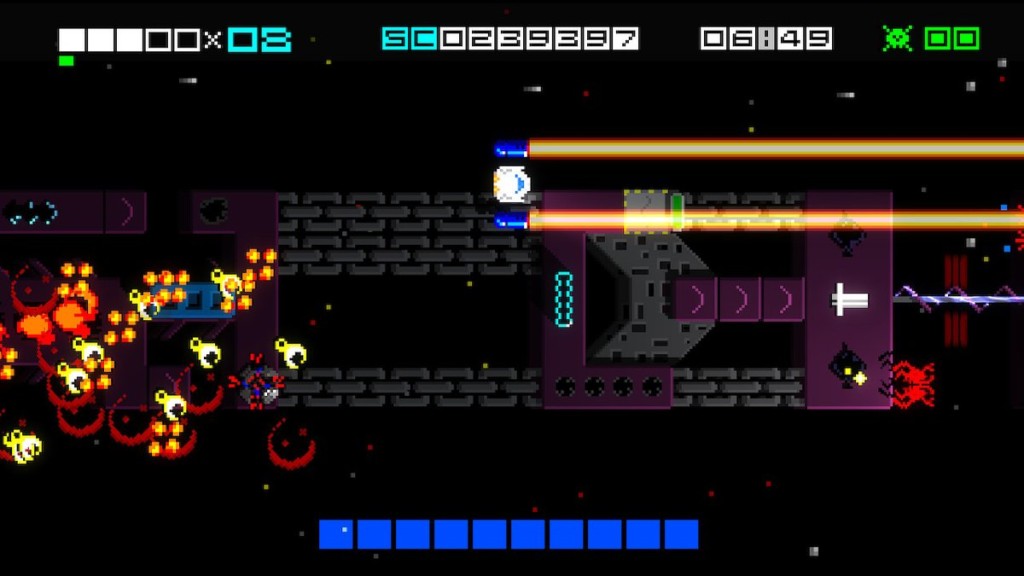 Verdict
Hyper Sentinel is an all around fantastic game. It's an action packed, white knuckle, arcade space shooter that will test your hand eye coordination and will have you coming back again and again. With and amazing soundtrack and a million things to do the replayabilty is extremely high. Hyper Sentinel is a game to be enjoyed by everyone of all ages and skill levels and should not be missed and at $13 its a steal. Pick it up, you wont be sorry.
5/5





Buy Hyper Sentinel
$12.99


 Follow Four5Six Pixel


Follow Huey Games

   

Check out their usb copy of Hyper Sentinel that comes jam packed with goodies