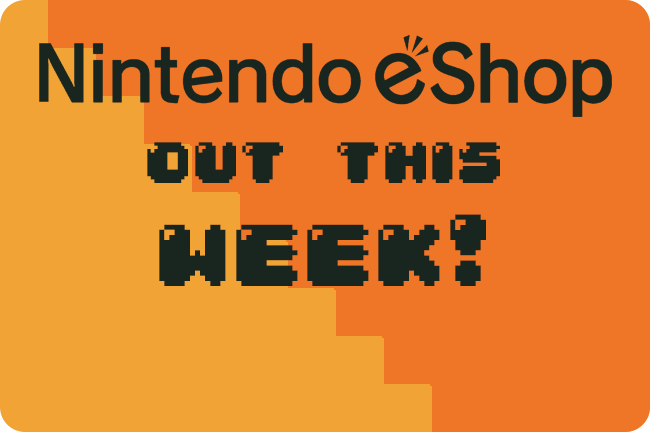 Out This Week
On The eShop
06.04 – 06.10
Happy Birthdays

Price – $39.99
Release Date – Jun 05, 2018
No. of Players – 1 player
Category – Simulation, Other
From legendary creator Mr. Yasuhiro Wada (TOYBOX Inc.) comes Happy Birthdays: a sandbox game in which players create cube-shaped worlds that give rise to diverse and unique lifeforms. With careful experimentation, players can shape the geography and alter the temperature of the world to create the conditions for life and witness the birth of an entire ecosystem!
The Infectious Madness of Doctor Dekker

Price – $12.99
Release Date – Jun 05, 2018
No. of Players – 1 player
Category – Adventure
Publisher – Wales Interactive Ltd.
Developer – D'Avekki Studios
Ask any questions and collect the evidence as you uncover the identity of the randomly generated murderer whilst trying to figure out the chaos that was left behind.
The Infectious Madness of Doctor Dekker is a Lovecraftian FMV murder mystery, which gives players full freedom to question suspects by typing their own questions or by picking from a predetermined list.
They'll have questions for you too but be careful what you say. Your words will determine their eventual fates, and your own!
FMV – 1600+ HD full-motion video responses.
RANDOM MURDERER – Chosen at the start of the game to combat spoilers.
FREE TEXT INPUT – Ask whatever you want, type questions, phrases or keywords will full touchscreen support.
SUGGESTED QUESTIONS – An additional question system optimised for console.
MULTIPLE ENDINGS – Find out whodunit, and what happens to you and your patients…
MULTIPLE STORIES – 6 main suspects and 5 side-quests inc. John Guilor (Contradiction)
SIMPLE UI – View evidence, make notes, watch replays, and see your question history.
Shape of the World

Price – $14.99
Release Date – Jun 06, 2018
No. of Players – 1 player
Category – Adventure, Other, Simulation, Music
Publisher – Plug In Digital
Developer – Seaven Studio / Hollow Tree Games
The world that grows around you… The environment and flora constantly flourish and fade as you wander in Shape of the World, a serene and surrealist first-person explorer. You'll travel through dream-like forests, aquatic caves and peaceful shores accompanied by psychedelic wildlife. No ticking clock or hidden perils laying in wait will prevent you from enjoying your journey… A couple of hours escape from work, anxiety and stress.
Game Features
First-person explorer:
Unwind as you wander at your own pace in surreal environments that beckon you to explore, hinting at distant landmarks and encouraging you to delve deeper into the woods.
Play with an organic and mysterious ecosystem:
Interact with graceful animals, ephemeral flora, and intriguing monoliths. Your actions will alter the world you discover in vibrant and unexpected ways, leaving you wondering what will happen with each path you forge and every hollow you stumble upon.
A living world:
The forest only materializes as you move through it and regrows anew as you pass through areas you've previously explored. The handcrafted world offers you landmarks and familiar terrain to guide you through to the end of your trip.
A dynamic soundtrack that responds to the player's travels:
The audio shifts along with the visuals, providing an enveloping aural experience to match your psychedelic journey and amplify your immersion.
A Magical High School Girl

Price – $14.99
Release Date – Jun 07, 2018
No. of Players – 1 player
Category – Role-Playing, Action, Adventure
Publisher – Sekai Games
Developer – illuCallab
A Magical High School Girl is a magic crafting rogue-like RPG! The only weapon you possess is the magic you conjure from within. You can freely name your magic. The elemental properties and effects are generated automatically with what you typed in.
ACA NEOGEO RIDING HERO

Price – $7.99
Release Date – Jun 07, 2018
No. of Players – 1 player
Category – Racing, Arcade
Publisher – HAMSTER, Co.
Every split second counts in this intense game! Tear through the circuit on your motorcycle!
"RIDING HERO" is a realistic racing game released in 1990 by SNK. WGP (World Grand Prix) mode is where you can compete against top riders of the world. Story mode puts you in the shoes of a young street racer aiming to challenge an eight-hour endurance race and comes packed with RPG elements. Experience realistic motorcycle action that will keep you at the edge of your seat.
The "ACA NEOGEO" series has faithfully reproduced many classic NEOGEO masterpieces.
Players can change various game settings such as game difficulty, and also reproduce the atmosphere of arcade display settings at that time. Players can also compete against each other from all over the world with their high
Banner Saga 2

Price – $19.99
Release Date – Jun 07, 2018
No. of Players – 1 player
Category – Strategy, Role-Playing
Publisher – Versus Evil
Developer – Stoic
The award-winning adventure continues in Banner Saga 2! This epic, story-based, role-playing game continues its emotional journey across a breaking world. Bold leadership decisions, wise use of resources, and skillful battle tactics are vital to ensure your Viking clans make it through alive. If played, your choices will carry over from the first game, or you can start fresh with new preset characters.
As the world continues to crumble around you, only one bastion of hope remains, but getting there will require strong leadership, hard sacrifices, influencing new heroes, and sound strategy in combat.
New Characters and a New Race, the Horseborn.
Improved Strategic combat with consequences – improved, more strategic battle boards enhance combat and permanent loss of characters will still weigh heavy on your mind long after the battle is over.
The journey is as important as battle – your role is critical in building and managing your caravan as you travel the vast landscape.
GRIDD: Retroenhanced

Price – $11.99
Release Date – Jun 07, 2018
No. of Players – 1 player
Category – Action, Arcade, Racing
Publisher – Kongregate
Developer – Antab Studio
Intense cyberpunk neon hacking action!
GRIDD: Retroenhanced is an intense arcade-style cyberpunk hacking shoot 'em up with an incredible soundtrack, procedurally generated elements, and electric visuals.
Pilot your craft to hack through an evolving set of punishing enemies, deadly lasers, and other fiendish obstacles as you attempt to take down an unrelenting security mainframe to take out the system's AI, and cement your place on the leaderboard!
Inspired by cyberpunk dystopian films, early home computing, and a pulsing synthwave soundtrack from Dream Fiend, GRIDD takes a classic bygone era and evolves it into a modern arcade experience.
Iro Hero

Price – $12.99
Release Date – Jun 07, 2018
No. of Players – 1 player
Category – Arcade, Action
Publisher – eastasiasoft
Developer – Artax Games SL
Iro Hero is a vertical shoot 'em up with beautiful pixel art graphics inspired by many old-school classics. Staged across 9 action-packed levels, Iro Hero features a unique and fresh approach to the popular color polarity mechanic, with interactive level elements, color zones, reflective surfaces and much more.
Encounter 10 different types of enemies with over a hundred different behaviors, and defeat 10 final bosses in the vein of classic arcade games. Unlock special skills throughout the game to help you land a final blow or escape from desperate situations.
Story
The year is 2306. A century after the Nyagu taught mankind how to obtain electricity from their inner energy, enterprises started to exploit humans in farms to produce energy. What had started as a gift became a curse, reducing people to nothing more than simple power supplies… Only when his mother dies in one of these farms, Iro realizes he has the power to change the order of things.
Features:
Experience a color polarity system, with a twist to puzzles and smart decision making.
Discover an exciting story that takes place across 9 action-packed levels.
Encounter 10 different types of enemies with more than one hundred different behaviors.
Defeat 10 final bosses in the vein of classic arcades.
Unlock special skills, offering many creative and strategic options.
Acquire upgrades to increase the firepower and capabilities of your spaceship.
KADOBAT WARS

Price – $3,89
Release Date – Jun 07, 2018
No. of Players – 2 players simultaneous
Category – Puzzle, Action, Board Game, Other
Publisher – ITTARO
The real time card battle game features simply attacking with energy-accumulated cards but hottest battle!
KADOBAT WARS! is a action card game battle game featuring fights by drawing out many cards using energy accumulated in real time!
There are 2 types of alien:
Prove your strength by fighting as either alien!
Friend battle is also available!
50 challengeable stages waits for you!
Let's be the winner making the best of many players and various effective cards!
Samurai Defender: Ninja Warfare

Price – $7.20
Release Date – Jun 07, 2018
No. of Players – 1 player
Category – Action, Strategy, Fighting
Publisher – Flyhigh Works
Samurai Defender: Ninja Warfare is the tower defense game we have all been waiting for! Defend your castle against the waves of enemies laying siege to your gate! Test your tactical abilities and be your own master of strategy: To win, you must utilise the capabilities of your men to repel the daunting invading forces!
As enemies move towards your gates, you have no time to lose.
Fight your way in high-octane Boss battles against historically famous Commanders and Generals:
"Oda Nobunaga"
"Shogun:Tokugawa Ieyasu"
"Sanada Yukimura"
"Date Masamune"
"Takeda Shingen"
"Akechi Mitsuhide"
and others!
Expand and empower your units with all the strategic options you can come up with!
Features:
High-speed battles: resist massive armies of foes!
Understand the strengths of your men and use them to your advantage!
Upgrade your capabilities using Gold and Copper earned in battle!
Fight bosses that are based on famous historical commanders!
Characters in top-quality Kawaii design!
All upgrades optimized for Nintendo Switch!
Operation Hardcore

Release Date – Jun 08, 2018
No. of Players – 2 players simultaneous
Category – Arcade, Action, Platformer, Adventure
Publisher – Greenlight Games
An action-packed 2D side-scrolling shooter inspired by classic twitchy action games of yesteryear, but with modern touches and conveniences.
Dateline: Earth, 1999. An unprovoked alien invasion is underway. You, a total badass, don't really appreciate it. You won't stand for it. You're downright outraged. You pack up some essentials–guns, cigars, whiskey–and head out into the night. Little do you know that tonight you will make history. This is: Operation Hardcore.
Fight your way past enemies using a range of weapons
Double-jump your way around obstacles and hazards
Activate your traditional plasma-based shield to deflect enemy fire
Drink some whiskey to slow time and increase damage (…at the expense of mental clarity)
Strap on a jetpack and get airborne for some classic forced-scrolling challenges
Collect coins to purchase items, weapons and upgrades between levels
Meet or beat level par times to earn yourself a brag-worthy Badass Rank(™)
Grab a friend for some friendly and/or competitive 2 player local co-op
Game Features
12 levels of fiery, bloody, explosive-y alien-blasting mayhem
4 playable badasses
Analog controls for precise 360 degree aiming
Modern sound design and electronic soundtrack by Snug
Intense 2 player local co-op
Modern particle/atmospheric and lighting effects
Multiple difficulty settings, upgrade paths and secret areas
Unlockables for the overachieving, enterprising badass
Sushi Striker: The Way of Sushido

Price – $49.99
Release Date – Jun 08, 2018
No. of Players – 2 players simultaneous
Category – Puzzle, Action
Publisher – Nintendo
Developer – Nintendo
Help Musashi end the Empire's tyrannical monopoly of the world's sushi supply by becoming a Sushi Striker! Devour conveyor-belt sushi, matching plates and sushi types to defeat any enemy or boss who stands between you and victory. Befriend Sushi Sprites and use their powerful skills in battle. Deliciously strategic action-RPG-puzzle battles await!
Buy all this week's great games