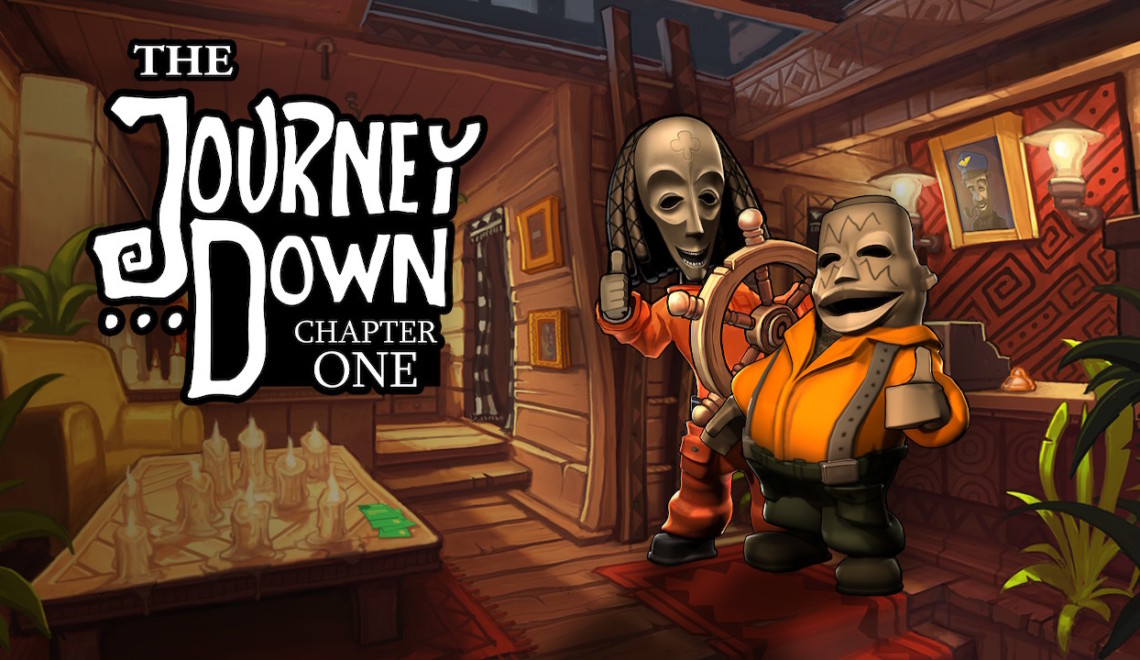 The Journey Down: Chapter One
Reviewed by Kieran
Developer:  SkyGoblin
Publisher: BlitWorks
Category: Adventure, Puzzle
Release Date: 06.21.2018
The flames went higher
The Journey Down is a point and click adventure with a Caribbean twist. As is the norm with this type of game, the story is fantastical and as a result can seem fractured. Consequently, the developer has released this in an episodic format.
This chapter introduces you to the game mechanics and characters, and sets the tone for the rest of the trilogy.
Herein lies my biggest gripe with this title, the cost. The first chapter costs $9.99, with the second and third coming in at $19.99 each. That's $50 all in, give or take a few cents. There is also a bundle available for $39.99 which gives early adopters adopters access to the next chapters a little early.  Accordingly, a discount is applied if you have purchased the 1st chapter.
Even so, this isn't a cheap indie game, by any stretch of the imagination and for something that is readily available elsewhere, for a lot less of your hard earned cash, I simply, in good conscience can't recommend this title. Unless of course you're either a Switch only gamer or a big fan of the point and click adventure!
In fact, maybe a combination of both of those things would make it plausible.
Mixed feels
The inclusion of a Caribbean cast would have been a really fantastic thing if the developer of the game was also of this cultured. The fact that they are not just makes things a little awkward at times. There are times when Asian influences slip in, as well as African, which just seems a little bit off for my liking. While I admire that the dev wanted to step away from a Guybrush Threepwood like character, they really should have done a little bit more research. This just comes across as a little lazy at times, for example when there are African masks that have Asian symbols on.
Originally released as a free title way back when, this remastered version came to steam back in 2012. As well as aesthetic improvements, it boasted voice acting which wasn't present in the original free release.
Story
A chance encounter for a couple of hapless hacks has life altering results that lead our heroes to the mythical Underland. Set in a presumably Jamaican port and it's surrounding area, you must help Bwana get his plane working. With the help of his lifelong friend Kito, you must pilot an important passenger to deliver some potentially ground breaking news.
Presentation
The art style is actually pretty decent, some of the hand drawn illustrations are really pretty. Along with the reggae inspired soundtrack which does seem to draw from the right culture. Whilst simple in execution, the attention to detail is precise and all of the backgrounds are interactive with plenty going on. The harbour has a hotel in the background that overall looks very detailed. You can see glimmers from the lights and curtains being drawn.
The presentation can in no way be faulted and is one of the highlights this title. If you can get past the cultural inaccuracies then there is enough on offer to keep you entertained, albeit briefly.
Gameplay
In the same vein as games such as Monkey Island, the puzzles are intuitive and also at times absolutely ridiculous, in the best possible way. Whether it's using a fishing rod to remove a ceiling fan, in order to fix the propeller on your broken plane. Or using chewing gum you find on the floor to keep a Switch in place. Point, click, combine. Study your environment, pay attention to details and occasionally just do something so random, so silly, that it just might work.
Conclusion
Overall, The Journey Down offers 3-4 hours of light hearted or very stressful fun, depending entirely on your nuance for the genre. If you're a veteran of the aforementioned Monkey Island series, or even more modern masterpieces such as Thimbleweed Park, then the chances are you'll find enough in this title to justify the hefty price tag. On the other hand, if you find bizarre, convoluted puzzles involving seemingly unrelated objects frustrating, avoid this like the plague.
The Journey Down tries to do things differently, for better or for worse and generally succeeds in doing so. Throughout, the presentation is very pleasant, the music uplifting and the voice acting quite excellent. Whilst the game play is generic, the humour required of a point and click title is present in fairly palatable amounts. Aside from some peculiar cultural discrepancies, the Caribbean overtures offer something different and generally work very well. This inaugural chapter in the trilogy puts things in place and depending on how the second instalment pans out, it could be an interesting story.
Much like the Matrix…..
Be that as it may, I simply don't feel that this title offers particular value for money, all things considered. On the whole it just doesn't seem worth $40.
To sum up, not inherently a bad experience, in fact its a reasonably well made game. If you're willing to pay the asking price, knock yourself out, not literally speaking, obviously.
TL;DR
Stylish point and click adventure seasoned with a twist of the Caribbean. Gorgeous hand drawn environments and soundtrack that will keep your head bopping. Orthodox, generic puzzles. Instances of inaccurate cultural references. Worth a go if you grew up playing Lucas Art games. Or if you're incredibly wealthy and wish to splurge some hard earned dollar bills.
3/5



Buy The Journey Down: Chapter One for $9.99

Or for £8.99

Follow SkyGoblin

Follow BlitWorks