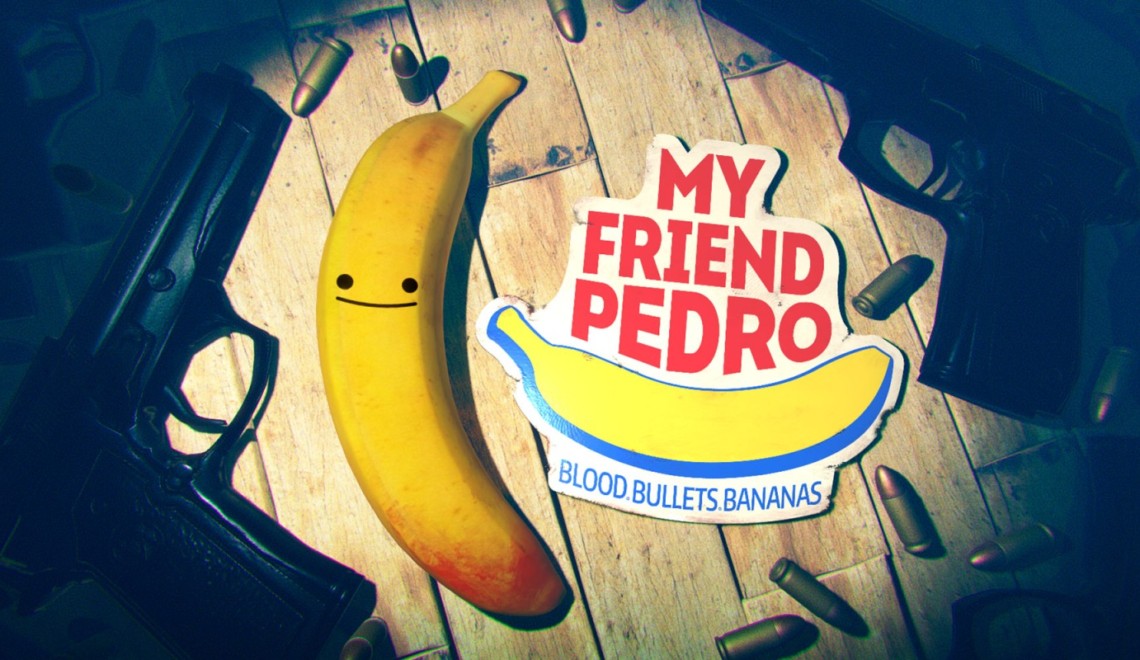 My Friend Pedro – Nintendo Switch
Developed By : Deadtoast
Published By : Devolver Digital
Category : Action, Adventure, Arcade, Platformer
Release Date : June 20, 2019
Reviewed by: Shaun Hughes
a sadistic grin and a perky outlook…
I awoke to the sound of a banana chatting away as it hovered above my head. Smiling at me, it informed me of our plans for the day. With a sadistic grin and a perky outlook, my friend, Pedro, led me along an unpredictable and unnerving quest through the heart and soul of the internet…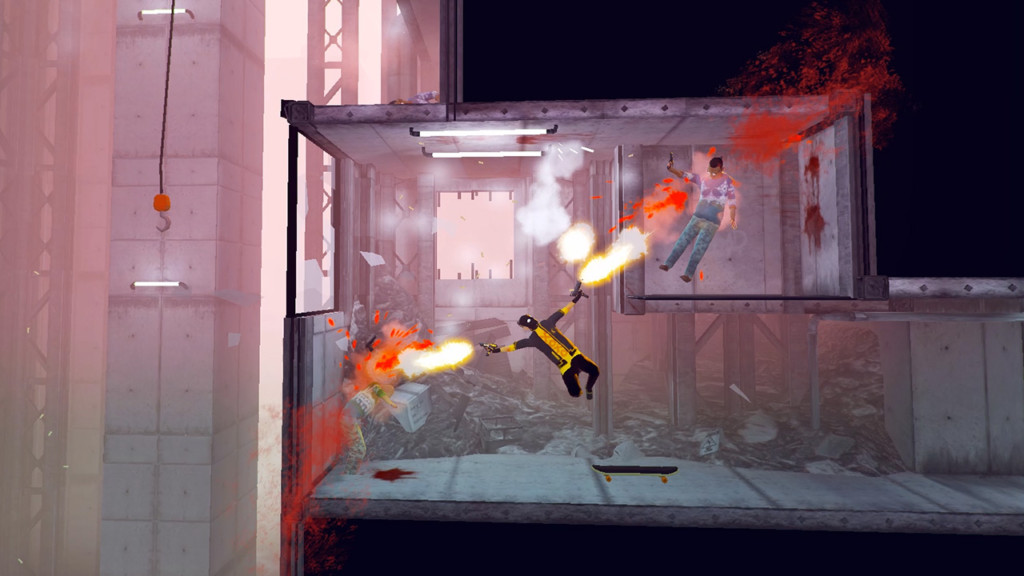 Based on a free-to-play browser release entitled MFP: My Friend Pedro back in 2014, the Deadtoast developed entry releasing in 2019 is a culmination of work by experienced game devs who had the desire to see it get the attention it deserves.
A track record of excellence
With Devolver Digital at the helm of publishing, I knew I was in for quite the experience. Adept at finding and supporting the latest and greatest development teams in bringing their indie creations to the market, they have a track record of excellence: Ape Out, Minit and Gato Robato to name a few.
Offering high-octane running and gunning on the Nintendo eShop listing, My Friend Pedro is described as 'a violent ballet about friendship, imagination, and one man's struggle to obliterate anyone in his path at the behest of a sentient banana.'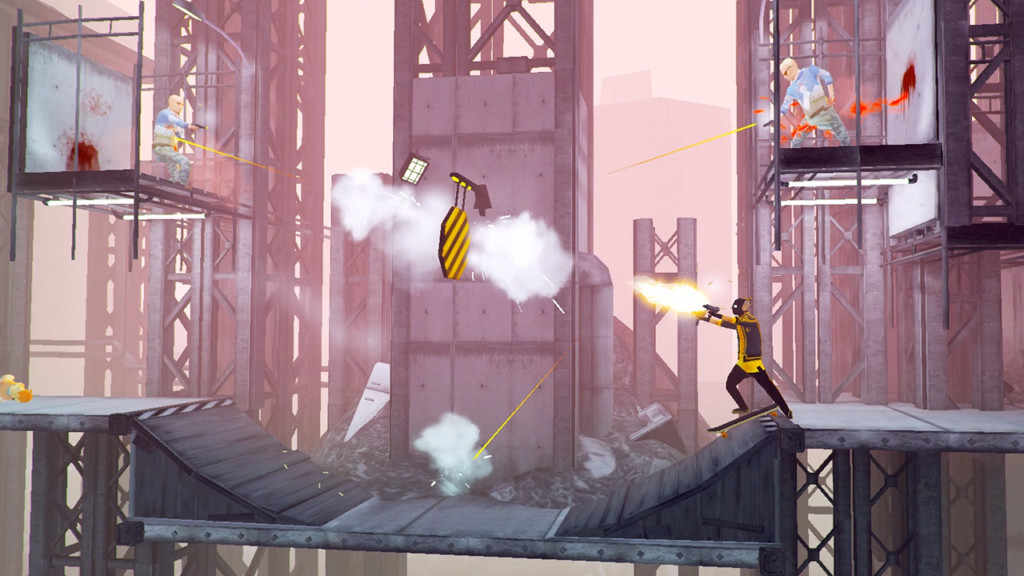 Assuming that 'ballet' was a typo, I jumped in to see just what this banana-wielding action title was all about. It didn't take long to realise that 'ballet' was not a typo: the graceful poise and calculated beauty with which you can engage in combat in this run and gun experience is nothing short of majestic.
Death-defying, slow-motion antics
Reminiscent of Max Payne and his death-defying, slow-motion antics, and Sega Genesis 1995 beat 'em up title Comix Zone for its level design, My Friend Pedro has been carefully curated to offer second to second combat that is as peaceful as it is violent. With the ability slow down time and yield two weapons at once, every enemy represents an opportunity to defeat them in ways never before imagined. Dive between two platforms and aim one weapon at each, hitting both sides of the screen at the same time. Kick a frying pan into the air between two unsuspecting victims and deflect bullets off it in either direction. Fly through the air in your skateboard and snipe someone from atop a building. The possibilities are seemingly endless.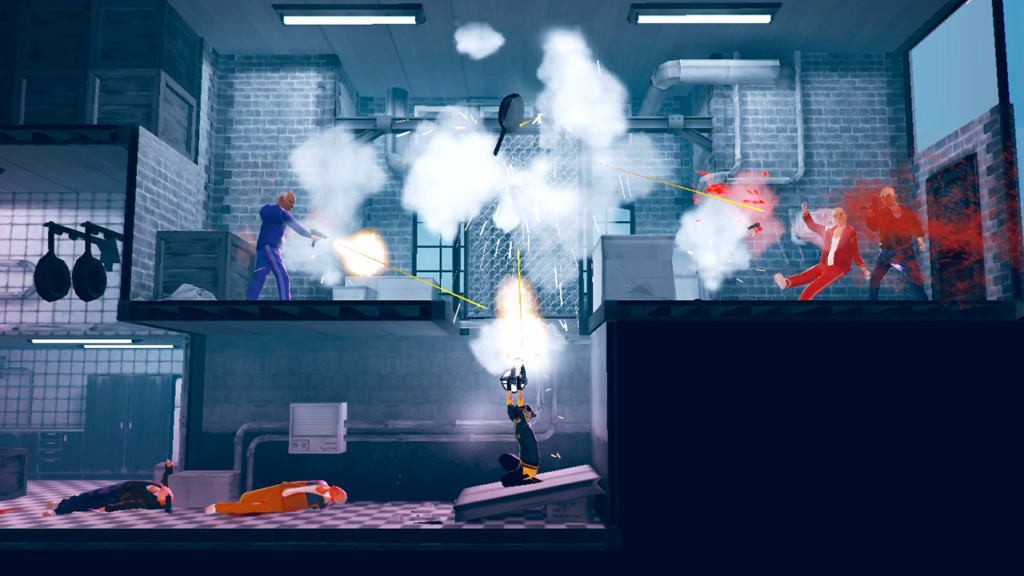 All of this action is coupled with a story full of metaphors and weirdness, unparalleled in my gaming experiences in recent years. I went from the streets, to the sewers, to the internet, with a whole host of other oddly designed environments in between. I fought bosses, became embroiled in a car chase, mastered platform puzzles, and defied the odds the whole time with my slo-mo skills and acrobatics.
When I say 'the whole time', I don't actually mean the whole time, mainly due to three reasons. First of all, it took me a little while to master the controls required for perfecting the ballet. My steps were ungainly and my pirouettes were untimely. Then, once mastered, I found that my landing was not as smooth as I would like, in part due to the game mechanics themselves. When offering such control over a players movement as individual arm control, there are always going to be some issues. The positives of manipulating both limbs far outweighs any mechanical issues, but it meant that my picture perfect moment wasn't always forthcoming.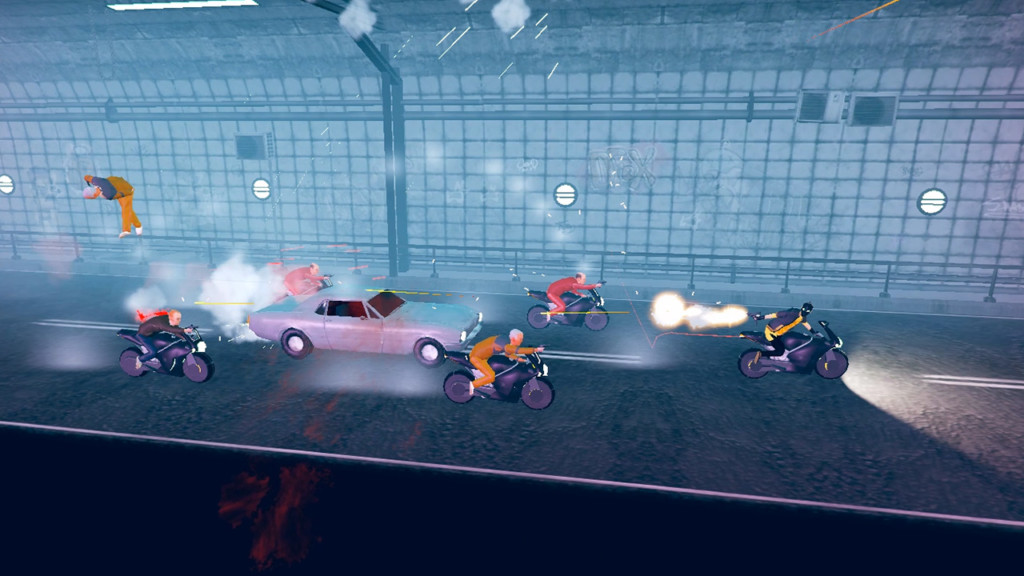 The final critique is one more of a missed opportunity than anything else. Throughout the game, Pedro offers timely and intuitive reminders of when to pull off certain moves etc. What I found though, was that most of the game could have been completed without the need for slow-motion and the like – on normal mode anyway. I would have liked more opportunity to practice my skills with the game producing more moments that could only be completed by using all that My Friend Pedro has to offer.
A speed runners delight!
For the foreseeable future, I envisage My Friend Pedro to be a speed runners delight. Taking around 5 hours to complete the story, there is more than enough argument to return and try to perfect those moments of beauty, but it won't be for everyone. For those seeking quick times and high scores, however, it is up there with the very best. I for one cannot wait to see videos on social media of all the trickery and deceit that players pull on the enemies in the game.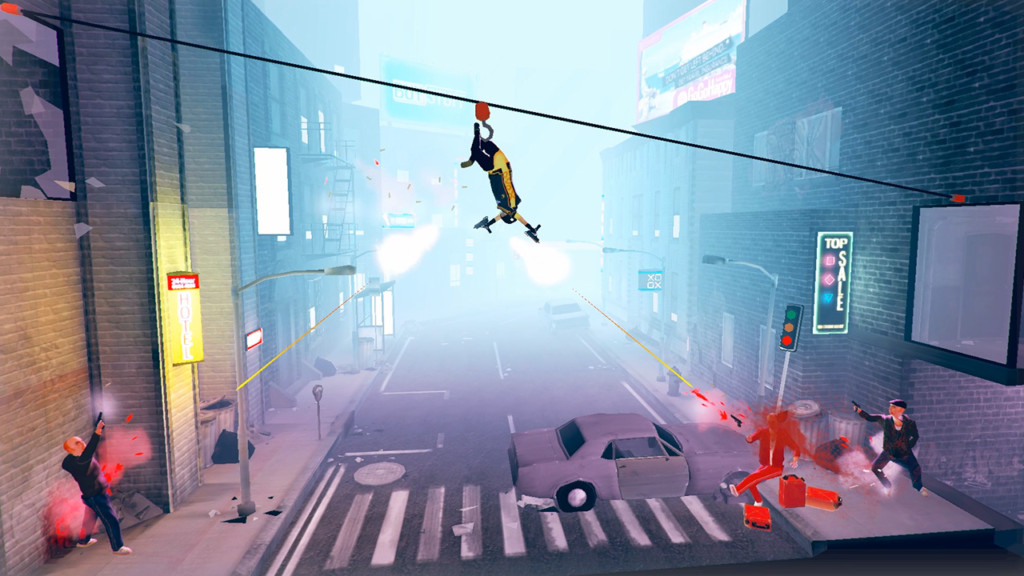 Conclusion
Releasing with much hype and furore, My Friend Pedro is an excellent indie title. It gets better and better as the game goes on, with more weapons available and a greater level of strategy required. It is a little shorter than I would have liked, but there is ample reason to return. On a personal level, the storyline wasn't engaging enough for me to get too heavily involved in it, and this is something I would have wanted to do. All in all, a fantastic example of thinking outside the box and delivering content that fans will adore.





Buy Now
$19.99

Check out the news from Deadtoast
Follow Devolver Digital for all the latest updates