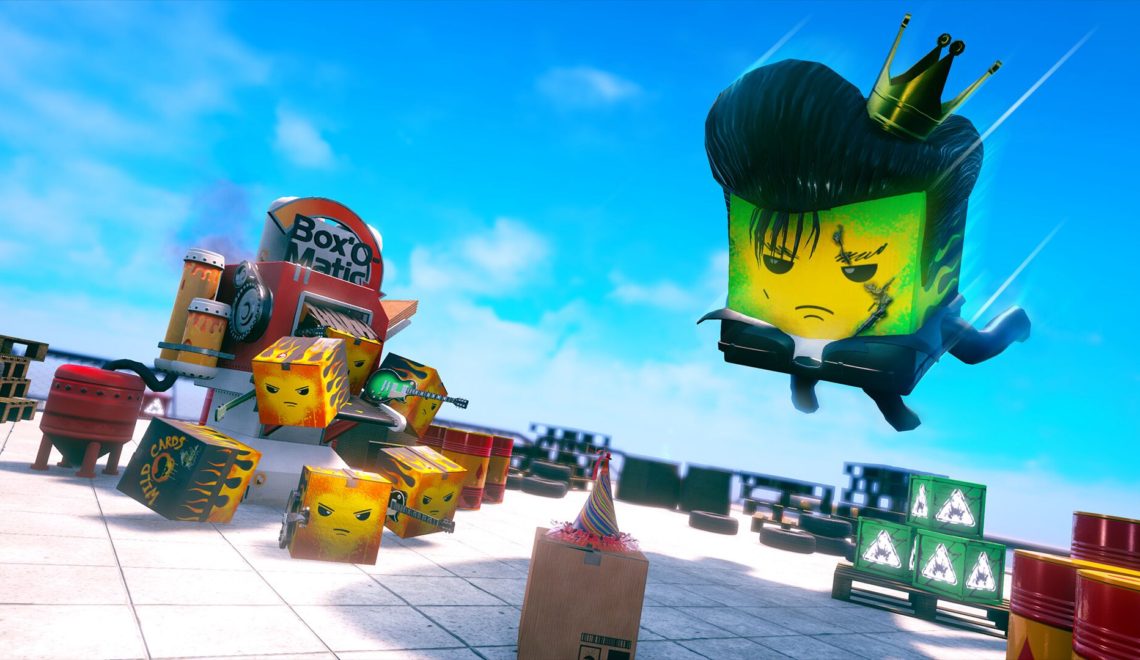 Unbox: Newbie's Adventure
Publisher: Merge Games Ltc.
Developer: Prospect Games
Release Date: 10.12.2017
"To save themselves from bankruptcy, the GPS have created living boxes that can deliver themselves to customers all over the world."
When I first heard about this game, I wondered to myself, "So…the main character and all the characters are boxes…wtf?" But I have to admit, it peaked my curiosity and I was determined to check it out.
You are Newbie, the new and improved box that will surely save the GPS (Global Postal Service) from bankruptcy by rolling, jumping, unboxing, and slamming your way to your destination. Prove yourself to be the savior and you will find success.
My first impression of the game is that I could definitely enjoy breaking out the old Nintendo 64 and play this game on there. It is nostalgic of the old 90s platformers like Super Mario 64, and that's not a bad thing. Unbox: Newbie's Adventure is a self proclaimed 90s inspired, physics platformer. Race against the clock, solve puzzles, learn about and have fun with physics as you travel over the islands and terrain.
Your colleagues at GPS give you a whole slew of tasks to complete tasks in order earn stamps. In addition to jumping and slamming, you can knock things over and even blow them up. Along the way, as you collect stamps, you will unlock that world's boss. Even though this game looks fun and cute, it's not all about rainbows and joy…there's an evil race of card board boxes that refer to themselves as the Wild Cards and they are out to completely ruin your day and not let you deliver yourself.
Don't let these guys get in your way. Defeat them and their Elvis impersonating boss so that you can continue on your journey to save the GPS.
This game is aimed towards a younger audience, but as a 31 year old child I enjoyed it quite a bit. The game provides a substantial amount of humor and joy which is perfect for breaking up anyone's monotonous day and bringing a smile to their face. It is apparent that the writer of Unbox: Newbie's Adventure is a child at heart…and a game creator after my own heart.
On your journey, you will find Stamps, Master Stamps, Zippies (Friendly, trapped boxes), and 200 Golden Tapes per level. The graphics are a fun throwback but also vibrant on the Nintendo Switch screen.
The game, though, does have a few drawbacks. The controls are very sensitive…almost too sensitive. If you want to make a slight right turn, be prepared to make a sharp right turn. The camera can cause a bit of dizziness as it bounces around, and I found the game to be a bit laggy (though, Pokemon Moon was very laggy, so this game isn't too bad in the lag department). My last drawback was that the loading screens seemed to take an excessive amount of time.
Overall, though, the game presents as an all ages platformer game. Local multiplayer adds an extra dimension of fun to the game, allowing for you to play on your own or split screen with others. I will be breaking out the dock (since I really only use the Switch as a handheld console) and playing Unbox: Newbies Adventures with my friends this weekend.
Unbox: Newbies Adventure, while it could use some improvements, is really a great game and I definitely suggest you add it to your Nintendo Switch collection.
Check out our Latest Reviews
You may also be Interested in