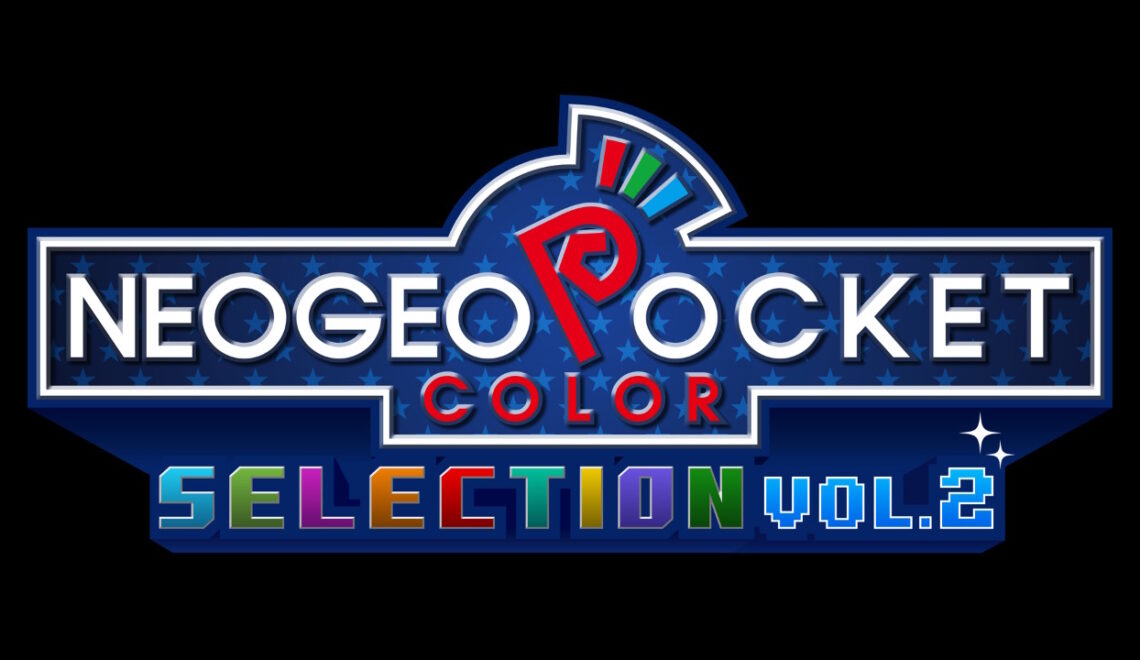 Developed By: SNK, Code Mystics
Published By: SNK
Categories: Compilation
Release Date: 11.09.22
I'll be honest, when I first started playing NEOGEO POCKET COLOR SELECTION Vol 2, I didn't really care as much for the actual games compared to all the accessories that each game was equipped with. Don't get me wrong, each of the ten games included in the pack are great, but I was personally amazed with all the extra stuff.
For example, you didn't just get to play Mega Man Battle & Fighters, you were able to see history. You're able to get a close up look at both the box and game cartridge with the ability to move them around in any direction. On top of that, you'd also see the English or Japanese version of the box and cartridge depending on which language you chose.
However, my favorite aspect was the game manuals. Gone are the days when every physical game had a little manual inside the case. Today, you need to go online to see the manual or you're out of luck and get no manual at all. Manuals were never truly necessary but were always a nice touch and I loved them growing up.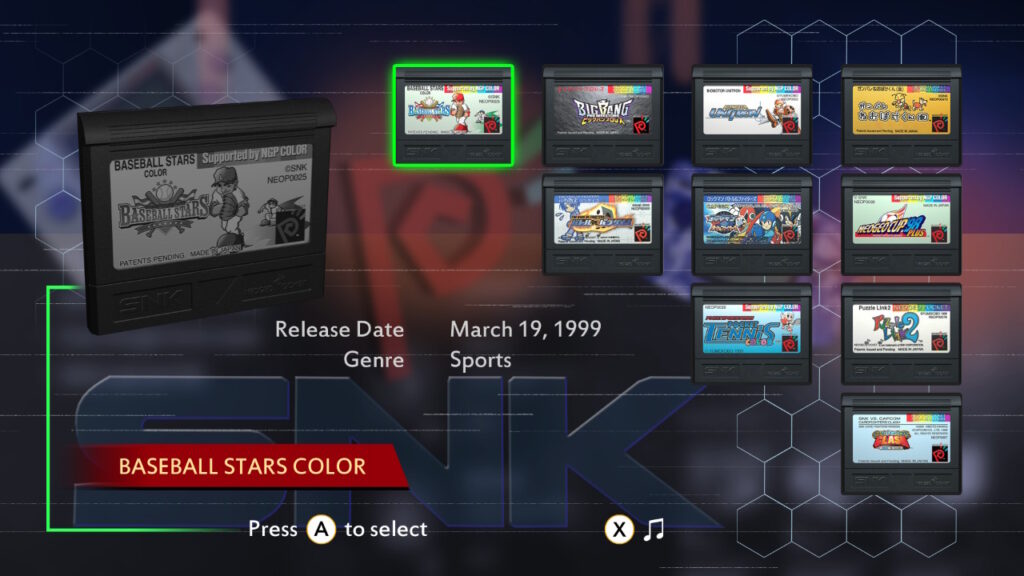 Some of the manuals are really short, but others like the one for Mega Man had close to 20 pages and others had even more. In total, there's more than 250 pages of manuals so it's basically the equivalent of having a really cool art or guide book with the game.
The games themselves are pretty cool as well, with some being significantly better than others, which is a good thing. For example, SNK Vs. Capcom Card Fighters' Clash is a pretty big game in its own right. It's a card game with more than 300 cards to choose from and hours of potential gameplay. Then you have Biomotor Unitron, which is a fun RPG with a campaign that should last you around 10 hours.
In my experience with these kinds of packages that bundle together many games, it's usually a collection of short games. More often than not it's games that require multiplayer or multiple repetitive playthroughs to bring up your total playtime. It's different with NEOGEO because even though there are short games, SNK Vs. Capcom and Biomotor Unitron really beef up the content and value.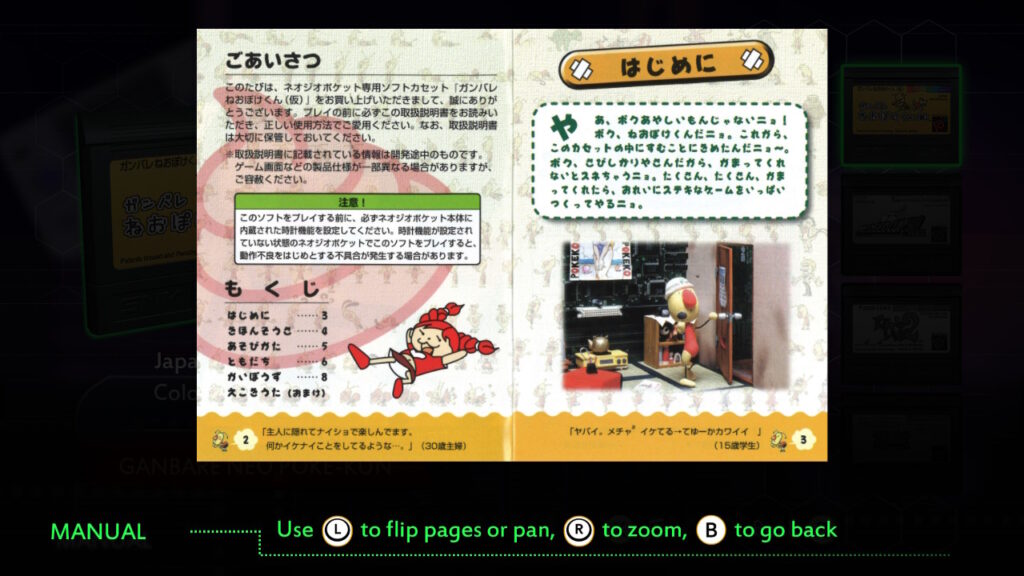 In addition to SNK Vs. Capcom, Biomotor Unitron, and Mega Man, NEOGEO is packed with seven additional games. The list includes Big Bang Pro Wrestling, Puzzle Link2, Ganbare Neo Poke-Kun, The King of Fighters Battle De Paradise, Baseball Stars Color, Pocket Tennis Color, and Neogeo Cup '98 Plus Color.
Of the ten titles, The King of Fighters, Mega Man, and Ganbare are only available in Japanese while the rest are available in both Japanese and English. Four of the games are available to purchase individually in the Nintendo eShop for $7.99 each but buying this package gets you all ten games for $39.99.
Personally I really think it's worth it. I had a lot of fun with Mega Man, SNK Vs. Capcom, and Biomotor Unitron and I think you can easily get 50 combined hours out of just those three. On top of that, having access to all the boxes, cartridges, and manuals only adds to the value.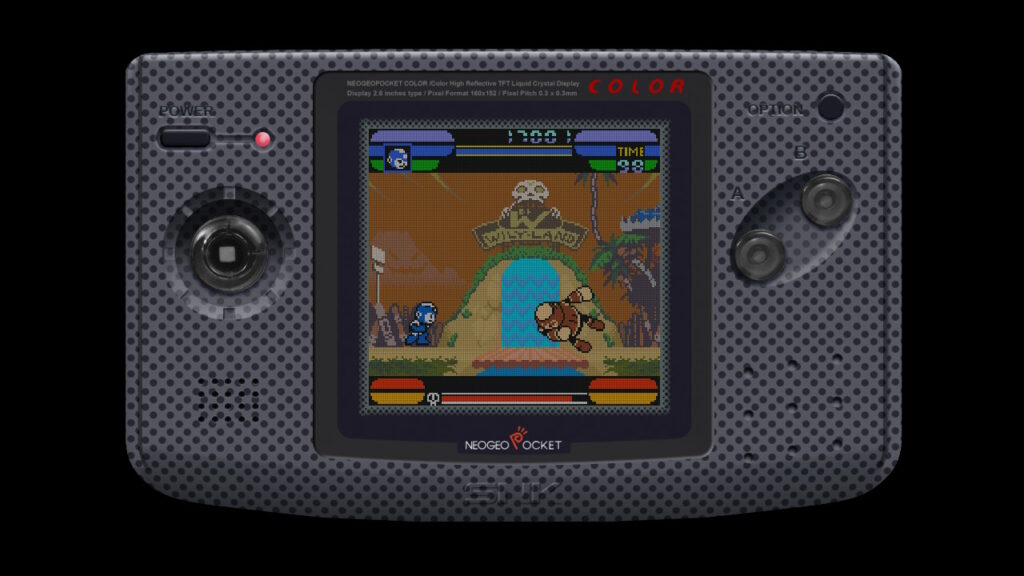 The only people who won't enjoy the game are those who just don't care for retro games or ones who won't get a lot of enjoyment out of those three because I do think that some of the others can be a little lackluster or too repetitive. But everyone else is going to love the NEOGEO POCKET COLOR SELECTION Vol 2.
4/5





Buy Now: $39.99

Follow

Follow