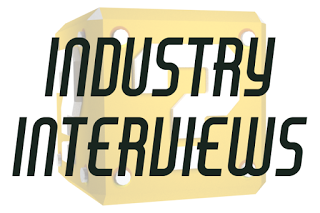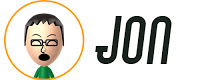 Joining The Switch Effect on today's Industry Interview is Josh Read from VooFoo Studios, a UK based independent game studio that was founded in 2007. Most known for their hit Pure (Pool, Chess, Hold'em) series as well as Hustle Kings and Mantis Burn Racing, this innovative company is making its way to the Switch. Announced this past October, Mantis Burn Racing will be speeding its way in glorious 60fps in both handheld and TV mode on November 23rd. If you're ready to tear up the roadway, then read on!
Josh, thank you for giving us this interview. Before we get into it, could you tell us a little bit about yourself and how you got involved with the gaming industry?
I have always had a passion for gaming; both playing and learning about the industry. Within the company I am currently fulfilling the role of PR and digital marketing assistant.
What was your first console/game you owned?
The first console I owned was the Nintendo 64 with its unique controller that will always stand out to me. There were so many games that I loved on that console, most notably games such as Star Wars: Shadow of the Empire and of course Super Mario 64!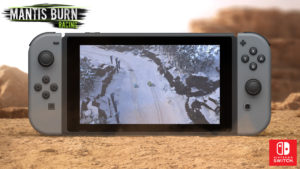 Growing up, what inspired you to pursue a career in the gaming industry?
Gaming has always been an industry that fascinates me. With my dad working in the industry for nearly 20 years, I have literally grown up around games. I've always shown an interest in PR and Social media. For a fairly small indie studio like VooFoo, social media is becoming an increasingly vital tool to promote our games. To be given the opportunity of working in such an innovative, fast paced industry is a dream come true for me.
That's amazing that your dad also works in the industry. Can you tell us a little bit about him?
My dad began his career at Rare Ltd. working on games such Goldeneye and Star Fox Adventures. He then became Creative Director working on the Kinect project creating games such as Kinect Sports and Kinect Sports 2. Now working with the same title at VooFoo, he has designed Pure Pool, Pure Chess, Backgammon Blitz and of course Mantis Burn Racing.
In just a decade, VooFoo Studios has really made an impact in the industry and produced many hits across multiple platforms. Can you share some insight into how the studio was formed?
VooFoo was formed back in 2007 by industry veteran Mark Williams and a couple of colleagues, with the vision of creating an efficient and dynamic independent studio consisting of experienced and talented game developers. It was an idea that Mark had been considering for some time and having seen other developers grow rapidly and exponentially, he has always been keen to keep the studio relatively small and focused. The approach has paid off; as you previously mentioned we have gone on to release a number of very successful games on a wide range of platforms.
What challenges and opportunities come with developing games for different consoles/formats?
Every console obviously has its own unique features. Working on multiple consoles requires us to take all of these things into consideration. Ultimately, when we are trying to make games that suit a variety of platforms, this can feed right back up to the design of the game itself. Switch, in particular, offers a number of quite unique ways to play games and we were very keen to ensure we didn't miss out on the potential gameplay enhancements that we could introduce to Mantis Burn Racing. There is the obvious benefit of targeting multiple platforms, most notably reaching more players which will hopefully generates more sales, but just recently this has provided a very substantial additional benefit – cross network play. Players on Switch will be able to play against players on PC and Xbox One, and this ultimately means that the online community is much more lively and diverse. Having a vibrant online community has obvious benefits both for the studio and our players. 
Let's "switch" gears a bit. We at The Switch Effect are obviously huge fans of Nintendo's newest console, the Nintendo Switch. What are your thoughts on the system?
The Switch is truly a great system; it packs so much into a small unit and provides something for everyone. The versatility of being able to play on the move, or at home on a large TV is fantastic. Not to mention the multitude of control methods available, it really allows developers to get more creative with their games.
Mantis Burn Racing will be releasing on the Switch on Thursday, November 23rd. What are the feelings around the office of developing games for Nintendo's newest console?
It's always exciting getting an opportunity to start developing games for a new platform. Switch has made that all the more fun with its unique features. Nintendo have offered great support to us, giving us a fantastic set of tools to allow us to get the most out of the system.
For those who have yet to try Mantis Burn Racing, can you briefly describe the game and why this needs to be in everyone's game library?
Mantis Burn Racing combines classic, top-down arcade-style racing with immersive and modern gameplay features. For a top-down racer it has so much depth; not least within the 20+ hour single-player career campaign. The multiplayer is lots of fun, with 4-player local split screen, an innovative 'cross-table' 2-player local multiplayer mode and up to 8-players online. Plus, there's a RPG-style upgrade system that provides players with deep tactical choices and tons of replay-value.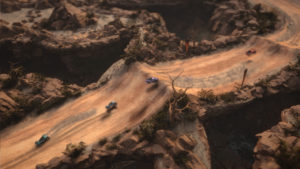 Personally, what new games (besides yours of course, haha) are you most looking forward to playing?
Being a fan of the FPS genre I am most looking forward to Far Cry 5 and the new Metro. Of course, Mantis Burn Racing on the Nintendo Switch tops my excitement list!
Finally, is there anything else you'd like to share?
It's been great talking to The Switch Effect and all of their followers! We can't wait to launch on Switch and to get involved with its fantastic community!
Thank you so much for taking the time to speak with The Switch Effect and our readers. We look forward to Thursday as Mantis Burn Racing debuts onto the Nintendo Switch.