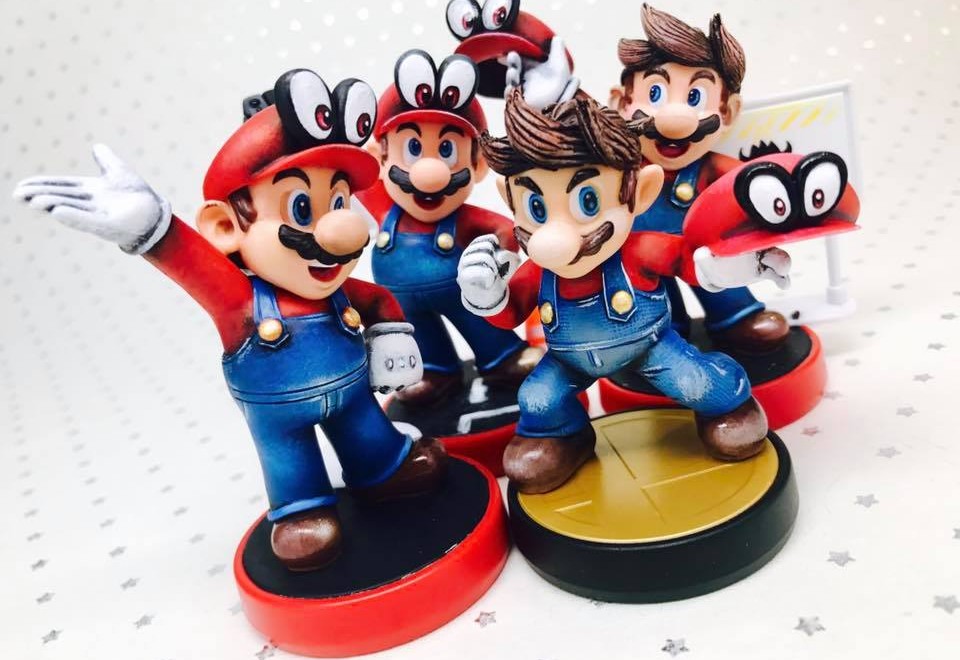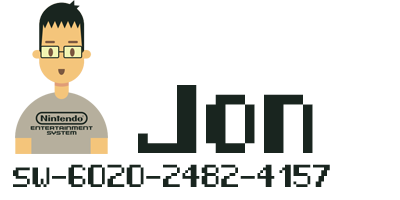 Welcome to a VERY SPECIAL Gabbin' with Gamers where The Switch Effect is honored to welcome Krystyne (a.k.a MissGandaKris) to share with all of us her passion for gaming, art, and custom amiibo work! If you thought the amiibos put out officially were impressive, you haven't seen anything yet! Make sure to check out Krystyne's pages below to not only see more amazing custom amiibos, but videos on how to make your own! We've got our art supplies ready!
Krystyne, thank you so much for taking the time to speak with us. Can you briefly tell us about yourself?
Hello! I'm a full time artist known mostly for my Custom Amiibos! I combined two things that I love, Video Games and Art, by just sharing what I know and inspiring others to be creative!
What was the first console and game you remember playing?
The first console I remember playing was the Nintendo 64 and trying to take pictures of all the Pokémon in Pokémon Snap. My only regret is not keeping the stickers you can print out at your local blockbuster, haha.
What is your fondest video game memory growing up?
It was the first night my sisters and I played Melee. We fell in love from the moment we played our first match. I remember sleeping in my room that I shared with my younger sister and talking till the sunrise about how we wanted to get better. We wanted to be the best players in our neighborhood, haha.
Before we get into your custom amiibos, which could easily pass and exceed the quality of the official
releases, were you always into art and custom work?
Always! It was my way of connecting with people. I was so quiet back then and scared of being judged to the point that it prevented me from making friends. I took art class and realized whatever I created people loved it and wanted to start a conversation with me. It helped because I didn't have to talk about myself so much but mostly about my art! Essentially, my creations were my shield that I could hide behind without the fear of being judged.
Did you ever create anything custom that was Nintendo related prior to amiibos?
Haha, dare I say I made the first custom amiibo before amiibo even existed?! I actually made clay figurines of a few Nintendo characters and even added the base on a few. My friend would go to Melee tournaments and get requests from players who wanted charms or figurines!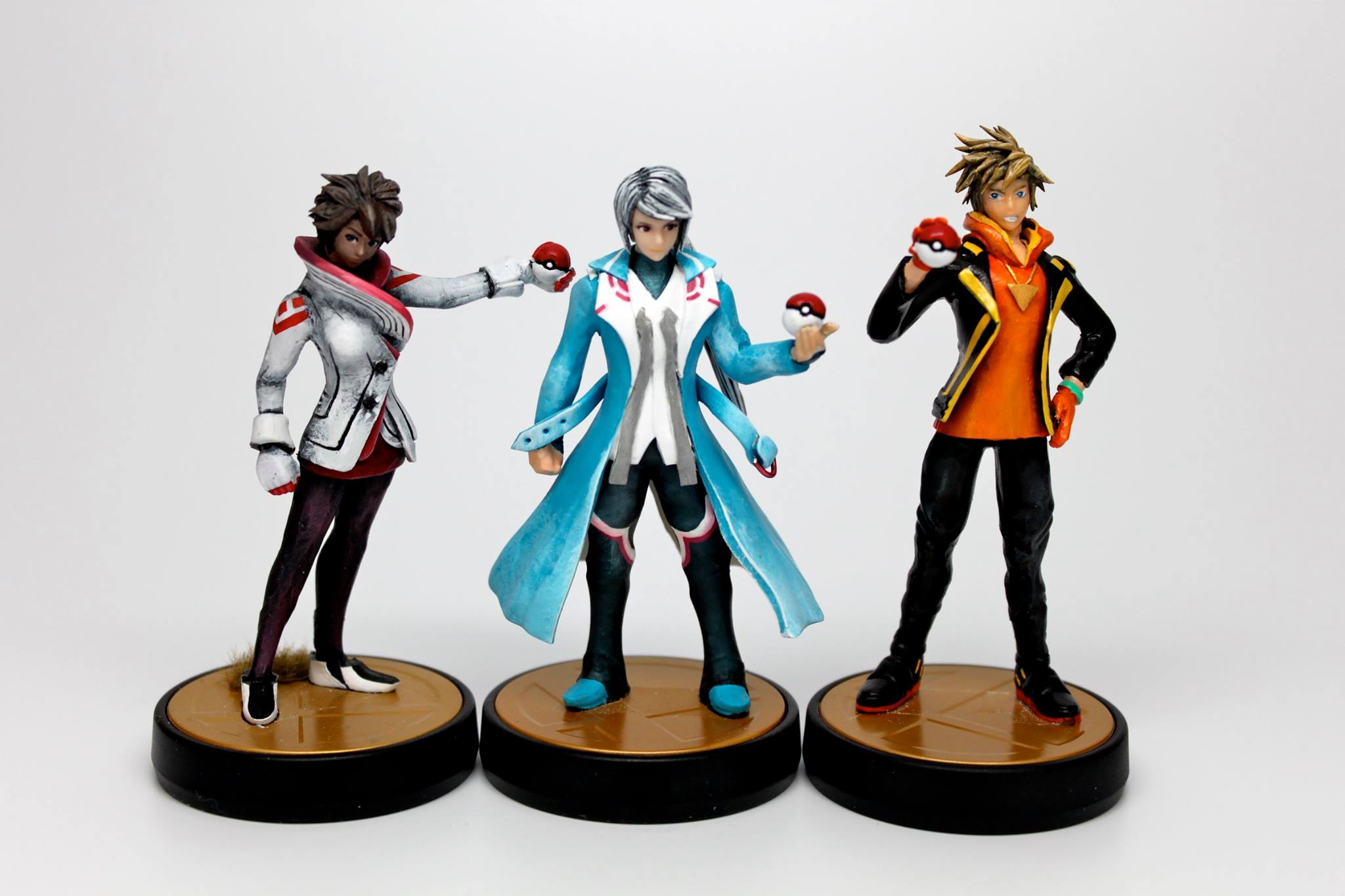 What was the first custom amiibo you ever created?
The first custom amiibo I've ever made was a Pikachu/Flash crossover! Pikaflash! My boyfriend Jason loves DC, specifically The Flash, and Pikachu not only being my main, but also an electrifying rodent was perfect!
Since that first one, how many have you done?
Haha, way too many to count! If I really had to throw a number out there I'd say possibly 400!
What has been your most favorite amiibo to create?
I love making gamers into mii! It's a break from the norm and I'm able to add as much detail as possible. I even research who I'll be making next making sure it captures their personality and appearance!
If you could have any Nintendo person, place, or thing turned into an amiibo, what would you choose?
That's a hard question to ask! Technically I can attempt to make it if Nintendo doesn't release their own. Honestly, the table filled with trophies you see in Melee are Amiibo goals.
How has it felt to share your work and have it received so favorably from people around the world?
I love to teach so Youtube has given me a platform where I can have thousands in my classroom without leaving my home! Overall and I know many can relate how absolutely scary it is to put yourself out there for ridicule. However, when even one person comments suggesting that I've inspired them in some way it makes it all worth it.
Can you touch upon your role as a Nintendo ambassador?
Hehe, well there's a few aspects I can't really talks about, but I can definitely say I'm living a long life dream of working with a company that has changed my life ever since I picked up my first controller. There's no other feeling of having been given this opportunity to review products and fly under the Nintendo name.
What are your thoughts on the Nintendo Switch?
AMAZING! It's a unique system that all ages can enjoy and it allows others to think creatively! I wish as a child I grew up with Nintendo LABO. For me, it's like Legos but better!
What game(s) are you most looking forward to playing?
SUPER SMASH BROS, but let's be honest…who isn't?! Detective Pikachu as well since I'm addicted to Sherlock and Detective Conan.
Finally, is there anything else you'd like to share?
Thank you for reaching out! I do appreciate you taking the time to interview me! If anyone is interested, I make Nerdy DIY Custom Amibo Tutorials and such on my Youtube channel! I do have a Twitter and Instagram as well and my username is MissGandaKris. Be creative in every aspect of your life! Making art has been a release and I know others will feel the same!
Follow Krystyne and learn how to make your own custom amiibos below!