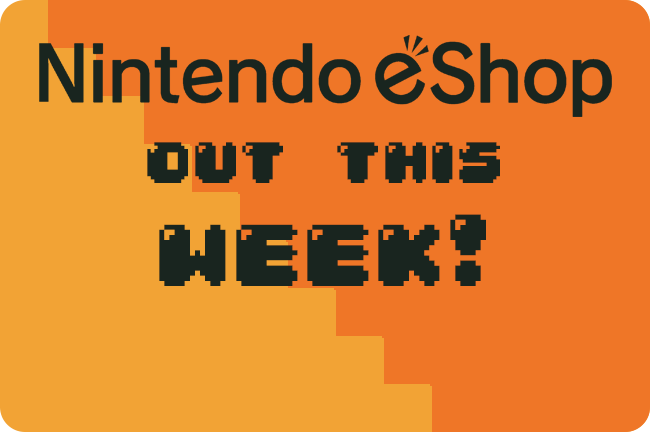 Out This Week 03.12 – 03.18
Nintendo Switch
Coffin Dodgers
Price – $12.99
Release Date – Mar 13, 2018
No. of Players – 1 to 4 players
Category – Racing, Action
Publisher – Wales Interactive Ltd.
Developer – Milky Tea
Armed with a variety of homemade weapons and gadgets, battle your way through a 13-race championship or face your friends in a 2-4 split-screen multiplayer race, where only the most skilled racer will survive.
There are 4 areas within the Sunny Pines Retirement Community, each featuring its own mini tournament in which your rank against other competitors will ensure you progress to the next stage; however finish bottom of the pile and the Reaper gets to take your soul! The final race takes place over each of the 4 areas in a straight shoot-out between you and the Grim Reaper.
Can you survive the retirement village?
FEATURES
Customise and modify your mobility scooter
Player to player combat & rag doll physics
Local multiplayer versus race mode (2-4 players)
3D open world game environment
13 unique race tracks
Single player Story and Time Trail modes
Race & Battle the Grim Reaper and his army of zombies.
Save one of the 7 quirky retirement village residents
Danmaku Unlimited 3
Price – $9.99
Release – Date Mar 13, 2018
No. of Players – 1 player
Category – Arcade, First Person, Action
Publisher – Doragon
Developer – Doragon Entertainment
SHOOT. DODGE. EXPLODE. Can you survive the Bullet Storm?
"Mastery of the Modern Day Shmup" – GameSkinny
"A Visual Masterpiece" – Overpowered Noobs
Take to the skies once more as the last defender of humanity against overwhelming odds! Lovingly built to be enjoyed by newcomers and genre veterans alike, Danmaku Unlimited 3 is a perfect medley of the best aspects of classic Bullet Hell shooters wrapped up in a modern and approachable package.
FEATURES
Authentically crafted Japanese style Bullet Hell shoot'em up
Action packed campaign with spellbinding bullet patterns and epic boss battles
Multiple levels of difficulty across two unique modes that caters to players of all skill ranges
Innovative SPIRIT/GRAZE system promotes stylish risk vs reward play
Brand new Ultra Wide Mode in 60FPS HD
TATE Mode for the ultimate arcade experience
Up to 25 unique weapon combinations
Music by the talented Japanese indie circle BLANKFIELD
Spiral Splatter
Price – $4.99
Release Date – Mar 13, 2018
No. of Players – 1 player
Category – Puzzle, Party
Publisher – Sometimes You
Developer – Sometimes You
Put your problem-solving skills to the test as you navigate over 100 levels and 11 different stages full of perplexing puzzles. Watch out for moving obstacles as you maneuver through each level. Think fast, if you're too slow, the ghost may catch up to you. Hustle to reach the finish before your time is up!
Each stage of gameplay adds a new challenge with an ever-increasing difficulty. Don't be fooled by appearances, Spiral Splatter will stump even the most adept puzzle game aficionado.
Stay calm, relax and see if you can take on Spiral Splatter!
Features:
Over 100 Levels of gameplay
11 unique stages with a new challenge on each one
Colorful and clean graphics
Challenging gameplay
BINGO for Nintendo Switch
Price – $4.99
Release Date – Mar 15, 2018
No. of Players – 1 to 4 players
Category – Puzzle, Party, Multiplayer
Publisher – Starsign
This game is four kinds of party games arranged around BINGO.
Buzzer BINGO
Buzzer BINGO is a game in which 4 players scramble for the number that appears.
Slide BINGO
Slide BINGO is a game in which you move the rows around to allign the red tiles on your card to make a row.
BINGO Poker
BINGO Poker is a game in which you try to get a BINGO using both the pre-existing red tiles and the new numbers you get.
However, when you acquire a new number, you must throw away one existing number in return.
Classic BINGO
Classic BINGO is a simple game in which you take in all the numbers that appear on your card.
Lay flat Mode
In "Lay flat Mode" you can face your opponent and play.
Enchanting Mahjong Match
Price – $4.99
Release Date – Mar 15, 2018
No. of Players – 1 player
Category – Puzzle, Board Game
Publisher – D3Publisher
Developer – Orgesta
Enchanting Mahjong Match is one of the connecting game classics.
The main goal of this game is to connect the identical tiles with lines and remove them from the board. In Enchanting Mahjong Match, The line can change direction only twice. Or less, of course. Also known as Mahjong Solitaire, Shisen-sho, Onet, Lianliankan.
28 beauties in the game have the name of an ancient Chinese constellation. Earn 3-stars rating, win Celestial Beauties artworks!
Enchanting Mahjong Match will be your perfect companion, whether it's hours or less than a few minutes!
FEATURES:
Challenge yourself to 140 levels
Easy to play, gets challenging as you level up
Use special item to break through difficulties
28 beauties has its own fantastical artwork to delight you
Replay each level as many times as you like
Gem Smashers
Price -$19.99
Release Date – Mar 15, 2018
No. of Players–  1-2 players
Category – Arcade, Puzzle
Publisher – TREVA Entertainment GmbH
Long ago, the Earth was devastated by a fearsome creature: the scientist IMBU and his henchmen robbed the Earth of all its energy and trapped its peaceful inhabitants in sparkling gemstones. Miraculously, three heroes escaped: BAU, BAM and BOM. They became the Gem Smashers – with impressive leaps and quick spins, they skillfully smash the colorful crystals to free their friends.
Help them on this exciting adventure!
Choose between three playable characters, each with different characteristics in terms of speed, jump and style
Story Mode with over 100 levels across eight different worlds
Challenge your friends in the Battle Mode
Neonwall
Price – $9.99
Release Date – Mar 15, 2018
No. of Players – 1 player
Category – Arcade, Action, Puzzle, First Person
Publisher – JanduSoft
Developer – JanduSoft S.L.
Escape your way out of Neonwall by solving puzzles and overcoming a variety of challenging levels. Over the course of the game you will need a combination of skill, concentration and precision to be victorious.
Drag, change color & shoot with your Joy-Con controller
Three game modes. Runner, Puzzle & Time trial.
More than 30 levels in 3D.
Support for different game controllers modes.
More levels coming soon.
Sparkle 3 Genesis
Price – $2.24 (pre-purchase price) $4.49 at launch
Release Date – Mar 15, 2018
No. of Players – 1 player
Category – Arcade, Simulation
Publisher – Forever Entertainment
Enter a surreal ocean thriving with life and lead a tiny spark of life in an evolutionary journey.
Step into the amazing world of Sparkle and take the evolution into your own hands. Discover a surreal ocean thriving with life, with conditions perfect to grow and evolve. Play as a tiny Spark of life, and start a journey filled with quests and battles against powerful bosses. Collect micro-elements, complete missions and stand on top of the food chain!
Sparkle 3 Genesis is a beautiful visual experience in which you take control over the fate of a single, dreamlike organism. Immerse yourself with mesmerizing, ambient soundtrack while exploring 12 dreamlike levels. Explore the vast ocean in search of micro-elements and evolve from a tiny speck of life into a magnificent Sparkle. Choose whether your Sparkle will become a quick and relentless hunter, a peaceful plant-eater or a creature, whose features lie in between.
Every element you eat matters – it will influence sparkle's growth, his skills, as well as his strengths and weaknesses. Spend the micro-elements in the genetic store to customize your Sparkle any way you want, with a nearly unlimited number of gene manipulation possibilities.
Become a master of the evolution.
The Long Reach
Price – $14.99
Release Date – Mar 15, 2018
No. of Players – 1 player
Category – Action, Adventure, Other
Publisher – Merge Games
Developer – Painted Black Games
The Long Reach is an adventure game filled with colourful characters, puzzles, and a shock of discovery. Wait, weren't we supposed to say, "joy of discovery?" That can't be right.
The Long Reach takes place in New Hampshire, in the fictional town of Baervox. The game draws its inspiration from Lone Survivor and The Cave and all the classical adventures (except that The Long Reach is set in the present day). You don't play in a post-apocalyptic world or explore a fairy-filled fantasy world. You're in the thick of it, just around the corner from the place where you buy your groceries.
WorldNeverland – Elnea Kingdom
Price – $29.99
Release Date – Mar 15, 2018
No. of Players – 1 player
Category – Simulation, Role-Playing
Publisher – althi
Developer – althi Inc.
Let's live in this kingdom! Enjoy a free life with love and adventure.
The kingdom simulation game where you immigrate to an imaginary kingdom and enjoy your free life.
This is the latest game of the World Never Land (Nickname is WorNeva) series. This is the imaginary kingdom that lives in the computer. You can walk wherever you wish to go. Beautiful woods, river, farms, stock farms, mines, schools, churches, and castles… And, it simulates the lives of the people who live there finely.
The users who go there and see the real communication with the habitats would feel like they are playing a MMORPG. They would have a boyfriend or a girlfriend and get married, have children, and their children will carry that over. The life in this kingdom is a one-time story that is different every time you play it. This is so much more than the normal game experience and will stay in your heart as a cherished memory forever.
Kirby Star Allies
Price – $59.99
Release Date – Mar 16, 2018
No. of Players – 1 to 4 players
Category – Action, Platformer
Publisher – Nintendo
Developer – HAL Laboratory, Inc.
Also Available Physically 
The pink puff is back—in HD—and he's not alone.
Kirby™ is back—and he's finally on the Nintendo Switch console in HD! But this time, he's not alone. Recruit enemies by hitting them with hearts and gather helpers for a party of up to four characters. On top of that, you can join with up to three friends for a different kind of team-up action!
Features:
The newest Kirby title comes to the Nintendo Switch console in HD
Recruit up to three enemies as helpers by hitting them with hearts
Returning copy abilities include, Sword, Fire, Water, Bomb, Broom and many more!
Imbue copy abilities with different elements, such as wind, water, fire and electricity, by borrowing or giving them to helpers to add more attack power, unleash powerful attacks, or solve puzzles
Up to 4 players can join in with the horizontal Joy-Con™ controller configuration, or 8 Joy-Con with 4 Joy-Con Grips
Splatoon 2 – Starter Edition
Price – $59.99
Release Date – Mar 16, 2018
No. of Players – 1 to 8 players
Category – Action, First Person, Multiplayer
Publisher – Nintendo
Developer – Nintendo
Also Available Physically 
This bundle is perfect for first-time Inklings; it contains the game, a detailed strategy guide which will help equip you with the knowledge you'll need to become the freshest squid on the battlefield, and two stylish sticker sheets.
Take Turf War battles on-the-go with the Nintendo Switch™ system, and use any of the console's portable play styles for intense local multiplayer* action. Even team up for 4-player co-op fun in Salmon Run! Dual wield the Splat Dualies or stick to mainstays like chargers and rollers, which have been remixed with additional strategic possibilities. As always, Turf War is the favored sport among Inklings, but they also dig ranked battles**, taking down Octarians in a robust single-player campaign, and battling enemy Salmonids in one dangerous part-time job! No matter which way you play, splat at home or on-the-go with Nintendo Switch. Staying fresh never felt so good.
Toki Tori
Price – $4.99
Release Date – Mar 16, 2018
No. of Players – 1 player
Category – Puzzle, Platformer
Publisher – Two Tribes Publishing
Developer – Two Tribes
Take control of Toki Tori, a surprisingly heroic chicken, as he puzzles his way through 80+ levels spread over 5 unique worlds.
Toki Tori isn't very athletic, he can't even jump! Luckily he has some great tools at his disposal, including the Telewarp, Freeze-o-Matic and InstantRock™.
Creative thinking and problem solving are required to collect all eggs in each level, but don't worry! When you get stuck, you can always rewind the time. And if all else fails, use the Wildcard to skip a level.
Toki Tori for Switch is the most detailed portable version of the game so far. And at this price, why wouldn't you give it a go?
Classic egg-collecting puzzle platformer
80+ levels, 5 worlds, dozens of hours of gameplay
A wide variety of puzzle-solving items and weapons
Never get stuck: rewind the time or skip a level
Super smooth graphics at 60 fps
HD Rumble support
Video capture support
Buy all this weeks great games here – Nintendo eShop
Source – Nintendo